Joy Wilson, aka Joy the Baker, introduces a delicious and unexpected flavor combination in this side dish recipe.
By Joy Wilson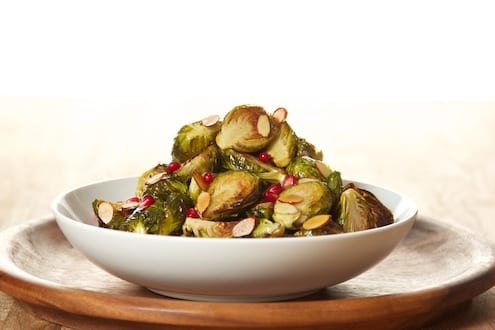 I love introducing new flavor combinations at my dinner parties. And that's what I did with this Brussels sprouts side dish. I combined hearty roasted Brussels sprouts with bright, fresh pomegranate seeds and roasted sliced almonds.
Roasted Brussels Sprouts with Toasted Almonds and Pomegranate Seeds
A delicious side dish recipe from Joy Wilson, aka Joy the Baker.
Author:
Joy the Baker, Joy Wilson
Ingredients
2 pounds fresh Brussels sprouts
¼ cup olive oil
¾ cup sliced almonds
1 teaspoon coarse sea salt
½ teaspoon freshly ground pepper
½ cup pomegranate seeds
Instructions
Place rack in the center and upper third of the oven. Preheat oven to 375 degrees F.
To prepare the Brussels sprouts, trim the bottom off each sprout and slice in half or in quarters and place sprouts on two rimmed baking sheets. Drizzle with olive oil and sliced almonds. Sprinkle with salt and pepper and place in the oven.
Roast Brussels sprouts until tender and golden brown, about 35-40 minutes, removing pans once or twice during baking to stir and toss the Brussels sprouts.
Transfer sprouts to a large bowl and toss with pomegranate seeds. Season with salt and pepper, to taste. Serve warm.