Sweet, spiced and floral, this date challah is braided with a sweet cardamom filling complete with rose water. It's a show-stopping presentation, too!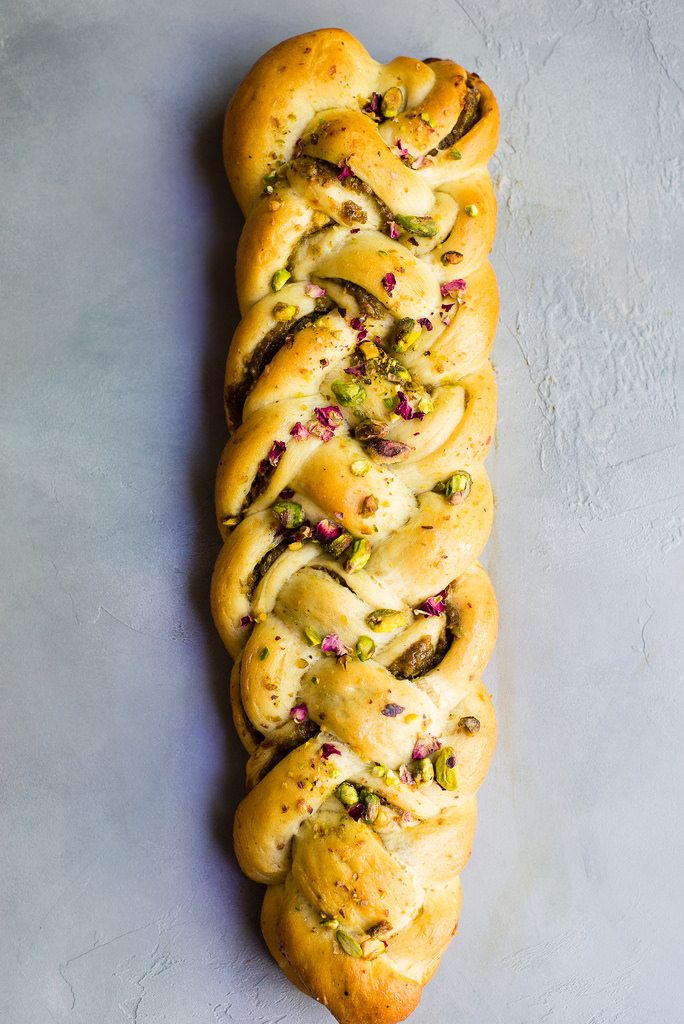 To make this bread, I raided my spice drawer and bulk bin assortment and created the most luxurious mixture to stuff inside challah braids. Aromatic cardamom with sweet dates, pistachios and a touch of rose water was the most delicious fabulous combination. I would also suggest making this mixture and serving it along side a cheese platter as a sort of chutney.
I tuffed the mixture into all the braids rolled it tight and once it was all braided up, topped with with a brush of honey and more chopped pistachios and rose petals. I can't even begin to tell you how amazing this challah is. It is so amazing we've already made it 2 more times. I'm telling you…THIS cardamom date and rosewater challah is where it's at.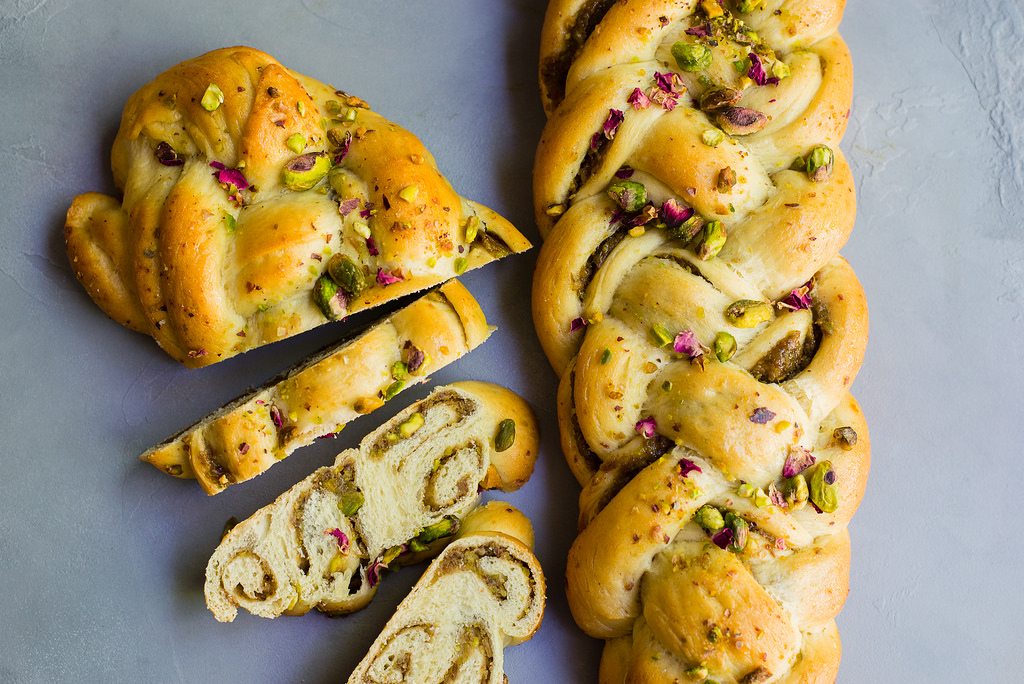 See Also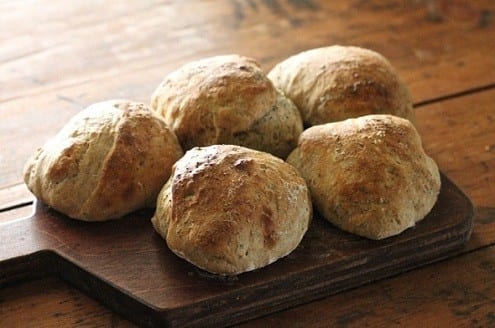 Looking for a savory version? Try this tomato challah bread.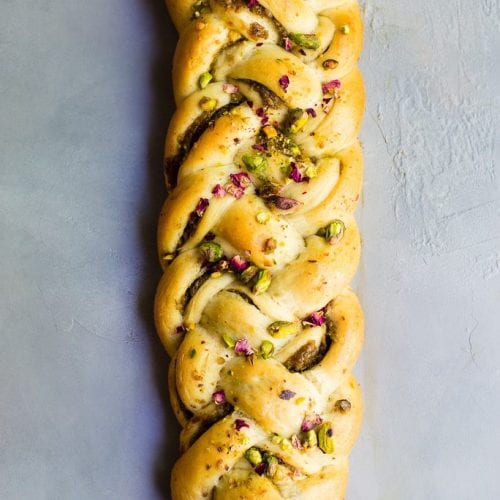 Rose, Cardamom and Date Challah
Samantha Ferraro
Sweet, spiced and floral, this date challah is braided with a sweet cardamom filling complete with rose water. It's a show-stopping presentation, too!
Ingredients
1

cup

lukewarm water

1

packet yeast

1/4oz

1

Tb

sugar

3

Tb

honey

1/4

cup

vegetable oil + more for greasing bowl

2

eggs

4

cups

all purpose flour + more for kneading

2

tsp

kosher salt
Date Mixture
2

cups

chopped dates

1

cup

pistachios

2

tsp

cardamom

1

tsp

vanilla

2

tsp

rose water

1/2

lemon

zested and juiced

1

cup

water

1

tbsp

honey
Topping
1

egg + water for egg wash

1

tsp

honey

Rose petals

Chopped pistachios
Instructions
In the bowl of a stand mixer, add 1 cup warm water, yeast and sugar. Mix lightly with a fork to get all the yeast in the water and set aside for about 10 minutes. It should begin to foam up and you should see little bubbles.

Next, add eggs, oil and honey and whisk together.

Using a dough attachment on your mixer, gradually add flour and salt, about 1/2 cup at a time with the mixer on low. Continue to mix until everything is incorporated. The dough should begin to pull away from the bowl and come to 1 large ball of dough.

Turn the dough onto a very well floured surface and knead for about 5 minutes. You can use your finger to see if it's ready. Press your finger in and if the dough bounces back quickly, it's ready.

In a large bowl, pour a bit of oil in and place your dough ball in the bowl. Turn it around so the entire dough is covered with a thin layer of oil. Cover with a clean towel and place bowl in a warm spot. (for me, it was my oven).

Allow to rest and rise for 1 1/2hours until doubled in size.

While the dough is rising, make the filling. In a medium sized pot, add together all of the mixture ingredients and place on medium heat. Cook until dates are softened and taste for seasoning adjustments. Turn off heat and allow to cool for a few minutes. Then transfer mixture to a food processor and puree until a thick paste forms. Set aside.

Pre-heat oven to 350 degrees F.

When dough is ready, it should have doubled in size. Punch the dough down and knead a bit to soften. Divide dough into 2 balls, this will be your challahs. Cover 1 ball of dough as you work with the other.

Divide dough into 3 pieces (or more if you're making another braid), these will be your braid strands. Take 1 of the strands and roll making a long snake, about 12-15 inches long, but it should be thick enough to stuff, about 1-2inches thick. Use a rolling pin to flatten the strand.

Next use a teaspoon to fill the strand all the way down. You can also press the mixture gently in the dough, but don't overfill. Bring the strand together, pinching with your fingers and making sure no filling peeks out (but it's ok it some does). Once strands are sealed, gently roll the strands and begin braiding.

Line 3 strands together and pinch at 1 end. Braid a 3-strand bread and pinch the bottom ends together.

Place on baking sheet and cover challah with a towel. Allow to rise for another 30 minutes.

When done, Brush challahs with egg wash and honey and sprinkle rose petals and pistachios on top.

Bake at 350 degrees F for about 30 minutes or until the challah is a light golden brown color.

Allow to cool before cutting.
Samantha Ferraro
Samantha Ferraro is the food blogger and photographer for The Little Ferraro Kitchen. Samantha comes from a diverse background and is originally from Brooklyn NY, until she turned to the island life and moved to Hawaii. Now Samantha blogs about world cuisine recipes made easy in Southern California with her Italian husband and their dog Hula. When she's not blogging or making a mess in the kitchen, you can find her traveling the world for recipe inspiration.