Spruce up a bowl of brown rice with fresh vegetables and a smokey, roasted red pepper Romesco sauce.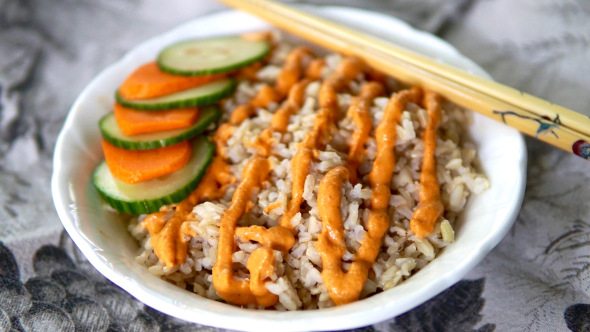 This special rice bowl is topped with a truly unusual sauce. The red pepper and smoked paprika are the stars here, but all of the ingredients in combination support the balance of sweet, sour, savory, hot, and smoky. It's rich and creamy, with stunning color and jaw-dropping flavor.
Treat your favorite people to this fabulous Smoky Roasted Red Pepper Cream Sauce for an indulgent bowl of yummy goodness. It's not only vegan, it's oil-free and gluten-free. Hope you love it too!
Click here for more delicious vegan recipes.

Romesco Sauce and Brown Rice Bowl
Ingredients
1 red bell pepper, roughly chopped, seeds removed
1 cup cashews
½ cup water
1 tablespoon lemon juice
1 tablespoon apple cider vinegar
1 teaspoon salt
¾ teaspoon smoked paprika
¼ teaspoon yellow mustard
pinch of garlic powder
pinch of cayenne
Serve with: bowls of steamed brown rice, and garnish with sliced raw vegetables
Instructions
Roast the red pepper on a baking sheet in a 450 degree oven for about 25 minutes or until the skins are completely wrinkled and the peppers are charred. Stir pan while roasting if necessary to cook evenly. Once charred, remove from oven and cover the pan for 10 minutes to steam. Uncover the pan, and remove and discard the charred skin.
Add the roasted red pepper to a high powered blender with the cashews, water, lemon juice, apple cider vinegar, salt, yellow mustard, smoked paprika, garlic powder, and cayenne. Blend until smooth and creamy. Taste and adjust seasonings if needed.
To serve, warm sauce briefly if desired and drizzle over bowls of steamed brown rice. Garnish bowls with sliced raw vegetables.