Serve this soup with a grilled cheese or some nice crusty bread for a dinner that will keep you warm.
By Soni Sinha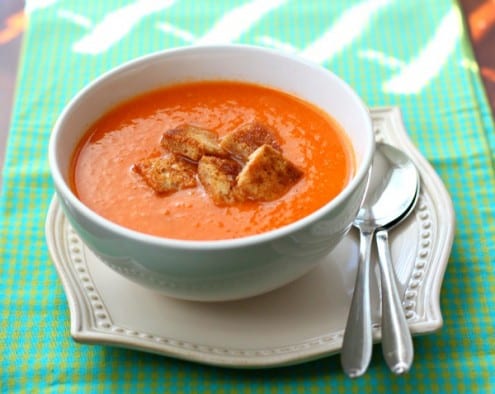 Roasted Tomato Soup
Serve this soup with a grilled cheese or some nice crusty bread for a dinner that will keep you warm.
Ingredients
Large ripe Tomatoes-4-5 quartered
Garlic Cloves-3 sliced
Thyme - 1 tsp
Extra Virgin Olive Oil- 2 tbsp
Chicken or Vegetable Broth-2 cups
Salt- to taste
Pepper- ½ tsp
Brown Sugar-1½ tbsp
Half and Half-3/4 cup
Instructions
Pre-heat the oven to 375 degrees.
Place the tomatoes on a sheet pan and drizzle with olive oil,salt,pepper,garlic and thyme.
Bake for about 20-25 minutes until tomatoes are softened.
Transfer all the contents including the juices and all into a deep pot.
Add the stock, sugar, salt and bring to a boil and cook for about 5-10 minutes.
Transfer into a blender and puree the soup. Be careful to not burn since it will be really hot.
Transfer the puree back into the pot. Add the half and half and cook for another minute or two.
Your soup is ready.