Okra absorbs all the flavors of the different spices in this delicious and hearty stew.
By Siri Pulipaka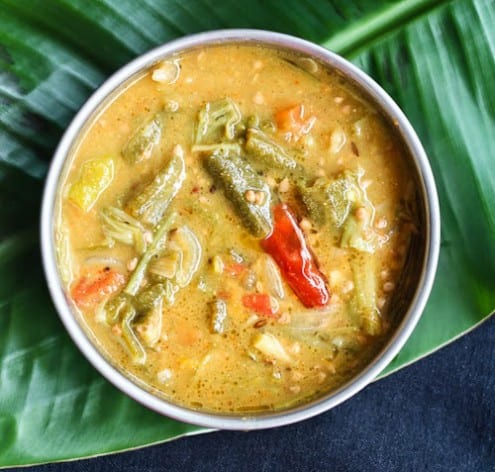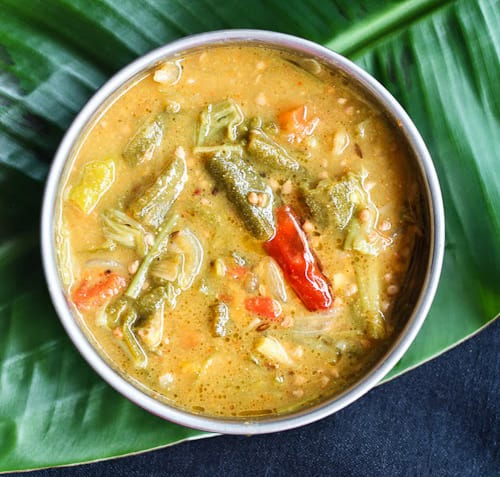 Bendakaaya Sambar
Okra absorbs all the flavors of the different spices in this delicious and hearty stew.
Ingredients
10 okra, washed and cut into long pieces
½ cup toor dal, washed and drained
1 onion, chopped
1 tomato, chopped
2 tbsp tamarind pulp
1 tsp sambar powder
1 tsp coriander powder
¼ tsp turmeric
½ tsp salt
½ tsp oil
For Tadka:
1 tsp oil
½ tsp each - cumin seeds, urad dal, mustard seeds
2 dry red chillies
few curry leaves
a pinch of hing
Instructions
In a pressure cooker, add toor dal with 1 cup water and cook for 3 to 4 whistles. Mash the dal.
Heat ½ tsp oil in a kadai and add onion and tomato. Cook for few mins and then add okra pieces. Saute until soft.
Add a glass of water, tamarind pulp, turmeric, salt, coriander powder and sambar powder. Mix well, cover and let it simmer for about 10 to 12 mins on low-medium heat. Okra must become tender.
Add mashed dal and continue to simmer for 10 mins. Adjust salt if necessary. Turn off heat and cover.
In a separate kadai, add a tsp of oil. Once hot, reduce heat and add urad dal, mustard seeds and cumin seeds along with red chillies, curry leaves and hing.
Once mustard seeds start to splutter, gently add the tadka mix to sambar. Cover and let it sit for few minutes so that the flavors blend in.
Serve hot with rice and papad.