An elegant tomato tart to impress your party guest or your family with.
By Nancy Lopez-McHugh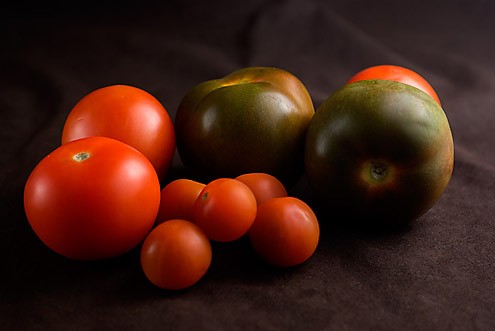 Tomatoes are a fruit, bet you thought they were vegetables. It is a common misconception. Botanically wise they are a fruit but for culinary purposes are considered a vegetable.Tomatoes originated in South American then were spread around the world after the colonization of the Americas by the Spanish. Kind of weird to think there was a time when Italians didn't have tomatoes for pasta sauce, isn't it? " In certain areas of Italy, such as Florence, however, the fruit was used solely as a tabletop decoration before it was incorporated into the local cuisine in the late 17th or early 18th century." Apparently this fruit was once considered deadly and poisonous, another hard to believe fact. So to the first guy who ate this delicious fruit and didn't die I say thank you for being the Guinea pig.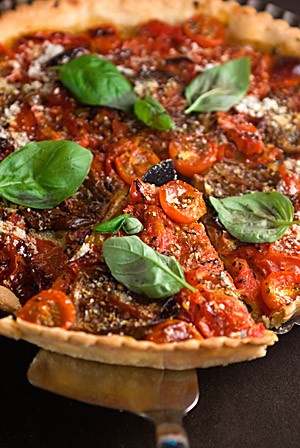 Another really cool fact I learned about tomatoes was the origin of the word. "The Aztecs called the fruit xitomatl pronounced [?i??tomat?], meaning plump thing with a navel. Other Mesoamerican peoples, including the Nahuas, took the name as tomatl, from which some European languages derived the name "tomato". " The English word was obviously derived from those native pronunciations. Pretty cool no? Actually if you have a few minutes to spare I highly suggest reading about tomatoes and their history it is quite interesting.
In a previous post on my blog I showed you how easy it is to roast tomatoes. So today we will be putting those roasted tomatoes to some use, that is if you didn't eat them all yet. Other than just snacking on the roasted tomatoes I love using them in tarts, galettes or crostatas. Besides the amazing burst of flavors using the roasted tomatoes this way allows you to have a scrumptious lunch or dinner on the table with little effort. These roasted tomatoes tarts, galettes and/or crostatas are my cheat recipes that I often go to in summer or any lazy day of the year.
I can also assure you that everyone you serve this tart to will absolutely love it. Well,unless they hate the taste of tomatoes and are like aliens from another universe. But seriously this tart tastes amazing warm out of the oven or cold straight from the fridge the next day. I typically serve it with a small salad and or a soup on the side for a complete meal. You could also just cut it up into small pieces and serve as an appetizer for a dinner party. See how versatile and easy this sounds?
Recipe notes: If you do not know how to roast tomatoes please get my recipe here. As for the pastry dough used in this tart recipe, it is store bought. But feel free to use your favorite homemade pastry dough or pie crust recipe.

Roasted Tomato Basil Tart
An elegant tomato tart to impress your party guest or your family with.
Author:
Nancy Lopez-McHugh
Recipe Type:
Appetiser, Main, Lunch
Ingredients
Roasted tomatoes, any variety or mixture you like
fresh Basil leaves, to taste
olive oil, to brush over pastry
freshly grated parmesan, to taste
1 pastry dough
Instructions
Preheat oven to 200 c / 392 and prepare a tart mold by buttering it and dusting it with a little flour, shake out the extra flour and set aside. Roll out the pastry dough and place and shape into tart mold.Use a fork to pierce small wholes around the raw dough then brush a thin coat of olive oil around the inside of the dough. Sprinkle the grated parmesan cheese around the dough, use as much as you like. Distribute fresh basil leafs around the dough again using as much as you like. Lastly arrange the pre-roasted tomatoes around the inside of the mold. Place the tomatoes in a circular patter and skin facing down. Lastly sprinkle with more fresh herbs and grated parmesan cheese.
Bake in the center of the oven for 25-30 minutes or until the pastry dough has cooked through and is golden brown. Remove from the oven and allow to cool slightly before serving.
Decorate with freshly grated parmesan and fresh basil just before serving.
Notes
The amounts of roasted tomatoes is not indicated because it is up to your individual taste how light or dense you want to make the tart. If you need a recipe for roasting tomatoes try mine here, http://www.spiciefoodie.com/2011/09/07/how-to-roast-tomatoes/
The tart tastes great warm from the oven or cold straight from the refrigerator. The tart could also be shaped to cut into small pieces as an appetizer for a party. Alternatively serve as a meal with a salad and or soup on the side.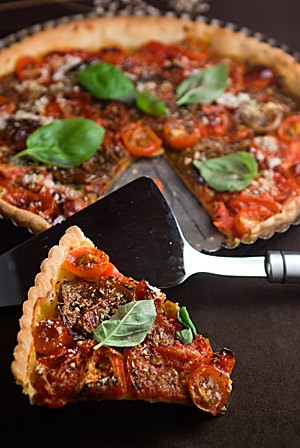 Nancy Lopez-McHugh
Nancy Lopez-McHugh is a food blogger, photographer and published author. Most recently she has published "Yummy Pics: A Food Blogger's Guide To Better Photos".