Make your hummus nutty, a touch sweet, and beautifully earthy with bright butternut squash.
By Mariela Alvarez Toro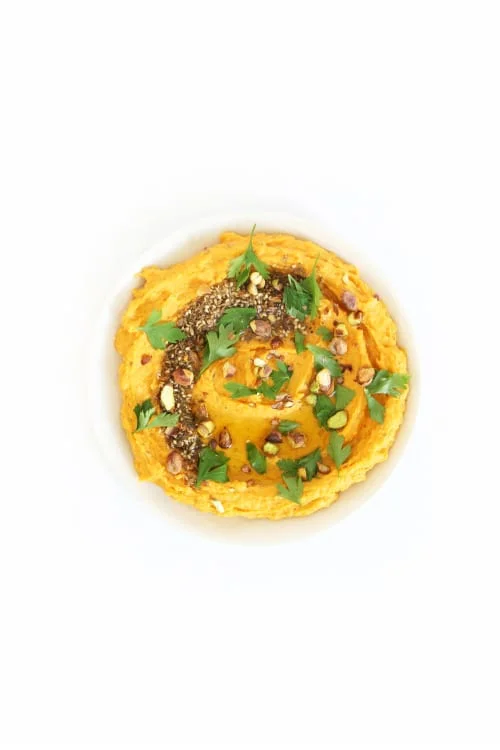 Hummus is about to get a makeover, and I think you are going to like it.
Butternut squash, is the king, ( or at least until future notice). Don't get me wrong, chickpeas are great. Hearty, earthy, and creamy, but vegetables offer, a smoother texture, color, and in my opinion a more interesting flavor profiles. While carrots make for a sweeter flavor, and eggplant provides smoke to hummus, the hummus made with butternut squash is slightly more complex, sweet, yet earthy, and nutty beyond belief.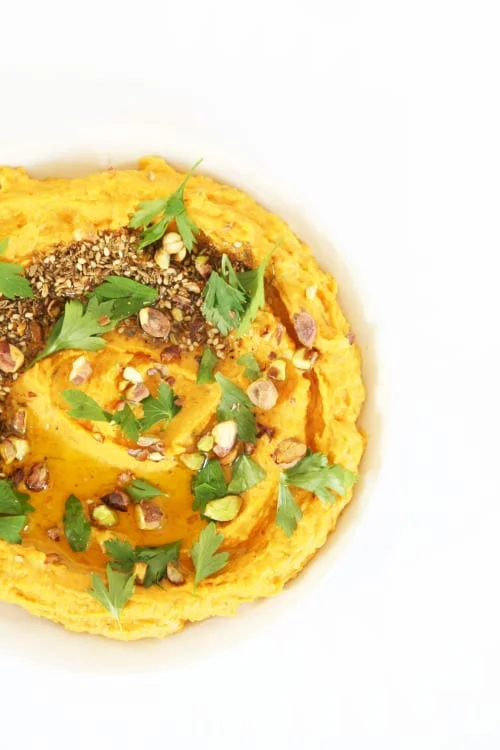 Roasted Squash Hummus
Author:
Mariela Alvarez Toro
Cook time:
Total time:
Make your hummus nutty, a touch sweet, and beautifully earthy with bright butternut squash.
Ingredients
2 cups roasted butternut squash
2 tablespoons tahini
1 tablespoon olive oil
½ tsp. sea salt
1 clove garlic
1-inch knob fresh ginger
1 tablespoons dukkah
To Serve
fresh parsley
handful of chopped pistachios, hazelnuts, or pumpkin seeds
¼ tsp. dukkah
olive oil
finishing salt
Instructions
Preheat oven to 400 degrees Fahrenheit. Cut butternut squash into half. I like to use a heavy knife and a pestle to hammer the knife through. Remove seeds. Place one butternut squash half into baking sheet, save other half for later use (or double recipe and make the whole squash) Place in oven and roast for 50-60 minutes.
After 45 minutes, pierce squash with fork, if soft, remove from oven. Otherwise cook until tender. Wrap squash in foil paper, then let cool for 15 minutes. This will help the vegetable to continue cooking once out of the oven.
Remove the skin from the meat. You should have about 2 cups. Place in food processor with tahini, olive oil, salt, garlic, ginger and dukkah. Pulse until everything comes together into a smooth puree.
To serve, transfer into a place. Pour a good drizzle of olive oil, sprinkle with dukkah and pistachios and a pinch of finishing salt. Serve with crudités, pita, or toast.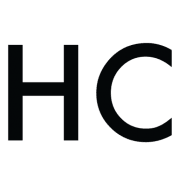 Mariela Alvarez Toro
Recently graduated with from Harvard University's Graduate School of Design. She has recently completed "People in Food-Space", an ethnographic study on the cultural production of taste in space. She has also examined post-soviet food production systems and housing projects in Havana, Cuba. Originally from Puerto Rico, Mariela has been living in the United States for eight years. She has involved herself in both teaching and practice, while writing on food at tastyplan.com. Her goal as a food writer is to cook creatively, using the best ingredients to find new flavor combinations every day.