This warm grain salad would make a great nutritious lunch as leftovers throughout the work week.
By Zita Nagy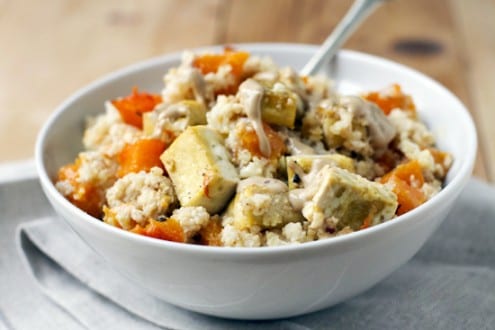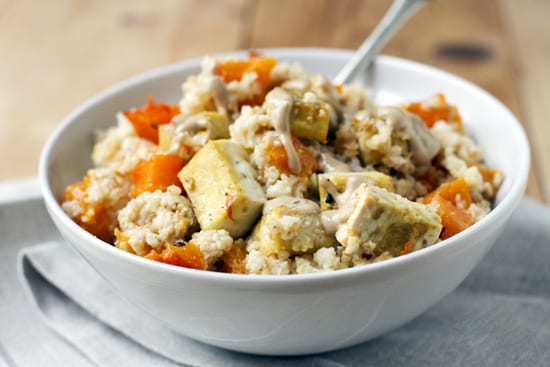 Roasted Millet with Butternut Squash and Tofu
This warm grain salad would make a great nutritious lunch as leftovers throughout the work week.
Ingredients
150 g millet
300 g firm tofu
350 g butternut squash (or any kind of squash), peeled and cubed
3 cloves garlic, chopped
4 tablespoons tahini
2 teaspoons soy sauce
1 teaspoon chili flakes
2 teaspoons nutritional yeast (optional)
juice of 1 lemon
salt, pepper
coconut or olive oil
Instructions
Roast the millet in a dry pan for 5 minutes then set aside. Press the unnecessary liquid out of the tofu, then dice into small cubes (about 1 cm * 1 cm, 0.39 inch * 0.39 inch). Peel the butternut squash then dice into the same size like tofu. Preheat the oven to 180C (356F).
Arrange the tofu and butternut squash cubes on a baking sheet, sprinkle with 2 tablespoons coconut oil, season with salt and pepper. Roast for about 10 minutes then sprinkle with the chopped garlic and roast for another 10 minutes or until golden brown. Set aside. Cook the roasted millet in salted water according to package directions. Set aside.
In a small bowl whisk together tahini, soy sauce, lemon juice, chili flakes and nutritional yeast.
In a big bowl toss the millet and roasted squash, tofu togetherand add the tahini sauce.