Roasted Millet with Butternut Squash and Tofu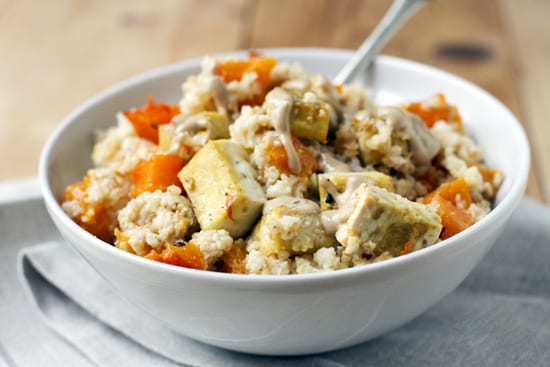 This warm grain salad would make a great nutritious lunch as leftovers throughout the work week.
By Zita Nagy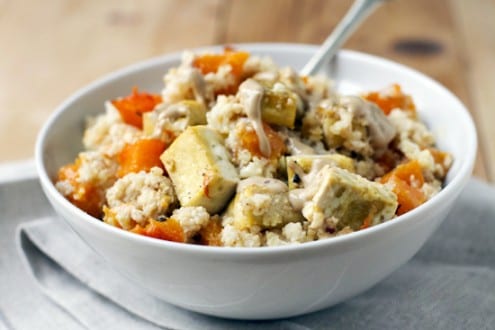 Roasted Millet with Butternut Squash and Tofu
This warm grain salad would make a great nutritious lunch as leftovers throughout the work week.
Ingredients
150 g millet
300 g firm tofu
350 g butternut squash (or any kind of squash), peeled and cubed
3 cloves garlic, chopped
4 tablespoons tahini
2 teaspoons soy sauce
1 teaspoon chili flakes
2 teaspoons nutritional yeast (optional)
juice of 1 lemon
salt, pepper
coconut or olive oil
Instructions
Roast the millet in a dry pan for 5 minutes then set aside. Press the unnecessary liquid out of the tofu, then dice into small cubes (about 1 cm * 1 cm, 0.39 inch * 0.39 inch). Peel the butternut squash then dice into the same size like tofu. Preheat the oven to 180C (356F).
Arrange the tofu and butternut squash cubes on a baking sheet, sprinkle with 2 tablespoons coconut oil, season with salt and pepper. Roast for about 10 minutes then sprinkle with the chopped garlic and roast for another 10 minutes or until golden brown. Set aside. Cook the roasted millet in salted water according to package directions. Set aside.
In a small bowl whisk together tahini, soy sauce, lemon juice, chili flakes and nutritional yeast.
In a big bowl toss the millet and roasted squash, tofu togetherand add the tahini sauce.
Zita Nagy
Zita's love for cookbooks and delicious food started at the age of 9. Whenever she went home from school her little brother and she would wait for mom to make dinner for them. Until the dinner was ready, she was turning the pages back and forth and was staring at photographs of amazingly looking dishes in mom's cookbooks to kill her appetite somehow. She couldn't have known then, that she would be collecting cookbooks after reaching adulthood and would still be, just like in her childhood, staring at awesome photos of delicious dishes. The only difference is that she does the cooking now. She loves traveling, going to the organic market and browsing foodblogs. Her vegetarian food and travelblog is Zizi's Adventures.