Roasted Garlic, Beer and Cheese Dip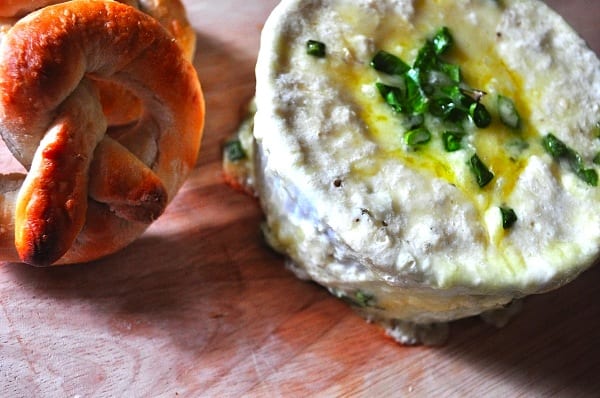 SPONSORED STORY – BROUGHT TO YOU BY CASTELLO ALPS SELECTION
The hoppy notes in the Weissbier cheese blend perfectly with the garlic and beer to create a addictive dip that's perfect with crackers, bread or even just a spoon.
By Liz Swartz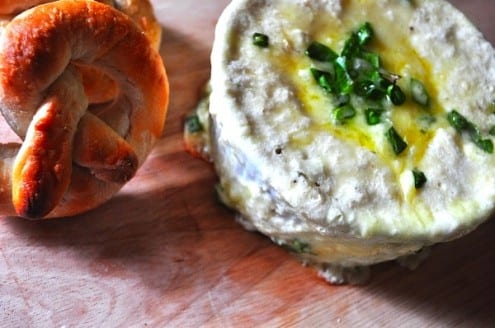 I just ate a bowl full of the most garlicky cheese dip. It was a bubbly hot and flavorful mess. I'm going to have garlic breath for at least a day, and I don't even care.
I roasted two heads of garlic until they were soft. Then I mixed that with cream cheese, some Lefthand 400 Pound Monkey, some chives, and Castello Weissbier cheese. The hoppy notes in the cheese were perfect for this recipe.
Soft pretzels are perfect to dip into this magic, but crackers, bread, or just a spoon would be equally amazing. I also suggest waiting until it's cool enough to scoop it out of the bowl with your hand like a bear.
Just kidding. Maybe.
I guarantee this hot, bubbly, cheesy concoction will be a hit with everyone. Including you, for dinner tonight. I won't judge you, promise.
Win a Castello Alps Selection Cheese Tasting
Roasted Garlic, Beer and Cheese Dip
The hoppy notes in the Weissbier cheese blend perfectly with the garlic and beer to create a addictive dip that's perfect with crackers, bread or even just a spoon.
Ingredients
2 large heads of garlic
2 tbs olive oil
8 oz cream cheese
1½ cup Castello Weissbier cheese, plus an additional ¼ cup for top
1 cup 400 Pound Monkey
½ tsp salt
½ tsp pepper
1 tbs cornstarch (this keeps the cheese from separating)
¼ cup chopped green onions
Instructions
Preheat oven to 425.
Cut the top tip of each head garlic off. As long as you expose most of the cloves, it will work fine. Place them in a piece of tin foil. Drizzle with olive oil and seal the foil. Roast in the oven for 30 minutes. Poke with a knife to make sure the coves are mushy and soft.
Wait until these are cool! You'll end up popping the cloves out mostly with your fingers and hot oil is no funsies.
Reduce oven temp to 350.
In a stand mixer or bowl with a hand mixer, add the cream cheese, 1½ cups of delicious cheese, beer, salt, pepper and corn starch. Mix thoroughly. I mixed it all on high for about two minutes. This will leave some large pieces of garlic, but some of it will also combine with the other ingredients.
Add to a baking dish, top with the remaining cheese. Bake it in the preheated oven until it is bubbly. If you want it browned on top, bake it for 20 minutes and then broil for 5 minutes. Make sure the dish you're cooking in is broil friendly.
Lizzy Wolff
Lizzy Wolff, creator of Sugar + Butter, loves to make you drool on your keyboard. It's a real thrill for her. For more recipes, click 'website' below.