A simple side that reinvents a delicious but often maligned vegetable.
By Amanda Marsteller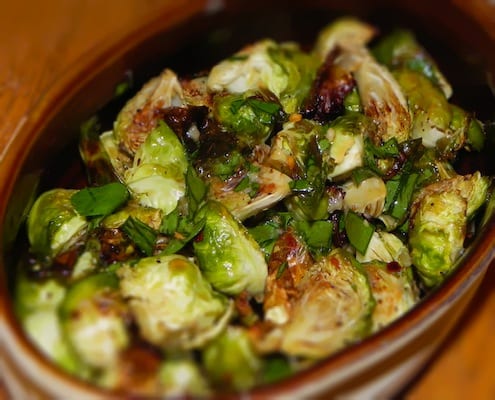 Brussels sprouts are the Cinderella of the cruciferous vegetable family, and as such, they are often unfairly dismissed as an odorous sideline vegetable. For those in the know, brussels sprouts are in truth one of the most delicious and dainty vegetables, if you cook them with respect. This is accomplished by avoiding overcooking, which is the root cause of any sulfurous odors they may emit. This recipe, adapted from Momofuku, ensures that no overcooking takes place as the brussels sprouts are roasted and tossed in a tangy fish sauce vinaigrette. The piquant, salty zip of the fish sauce provides an unexpected savory partner to a vegetable that is too often laden down with heavy flavors that hide the natural sprouty mystique. Gone are the days of mushy brussels sprouts, and enter in the era of crisply browned, texturally satisfying, boldly flavored cultivars.
Roasted Fish Sauce Brussels Sprouts
A simple side that reinvents a delicious but often maligned vegetable.
Author:
Amanda Marsteller
Ingredients
2 pounds small brussels sprouts
2 tablespoons olive oil
½ cup fish sauce (or oyster sauce)
3 tablespoons rice vinegar
1 garlic clove, minced
¼ cup sugar
Juice of one lime
Dash of red pepper flakes
1 tablespoon parsley, chopped
Instructions
Preheat oven to 400 degrees F.
Remove any dirty outer leaves from the brussels sprouts, trim the stems, and cut them into quarters.
Toss the sprouts with the olive oil and roast them on a sheet tray about 20-25 minutes, or until nicely browned.
Check on them every 10 minutes and flip with a spatula for even browning.
While the brussels sprouts are roasting, combine the fish sauce, rice vinegar, garlic, sugar, lime juice, red pepper flakes, and chopped parsley in a bowl.
When the sprouts have finished roasting, toss them with the vinaigrette and serve, adding extra parsley for garnish.