Roasted chestnuts are delicious all on their own but this faux-hummus is a fun way to experiment with the seasonal treat.
By Priya Mahadevan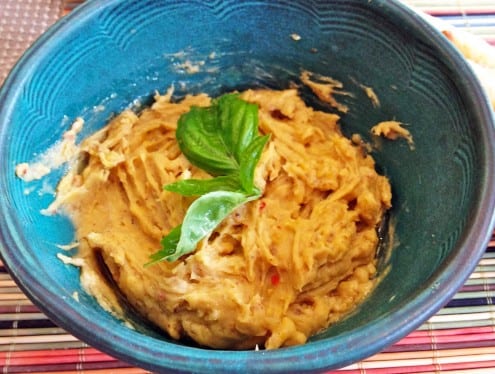 Roasted Chestnut Hummus
Roasted chestnuts are delicious all on their own but this faux-hummus is a fun way to experiment with the seasonal treat.
Ingredients
1 cup of roasted and shelled chestnuts (about 20 nuts)
3 cloves of garlic
1 tsp of brown roasted sesame
1 red chili
salt a pinch
2 tsp olive oil
¼ cup of water
2 tsp lemon juice
Instructions
In a pan, add the oil and the chili first followed by all the ingredients
Cook for a couple of minutes only until the chili turns brown
Grind to a fine paste
Garnish with Basil or mint (optional)
Serve with warm bread or with a veggie platter
Priya Mahadevan
Priya Mahadevan is a writer and food blogger with a background in journalism & communication. Priya's mission with her food blog is to blow the myth that healthy cannot be tasty. She was a political and feature correspondent for a prominent Indian newspaper in the 90s before moving to the US. She lives in Virginia with her husband and 3 beautiful children. You can find her world of vegetarian recipes at http://priyasnowserving.blogspot.com.