Roasted Broccoli and Kale Salad with Hemp Hearts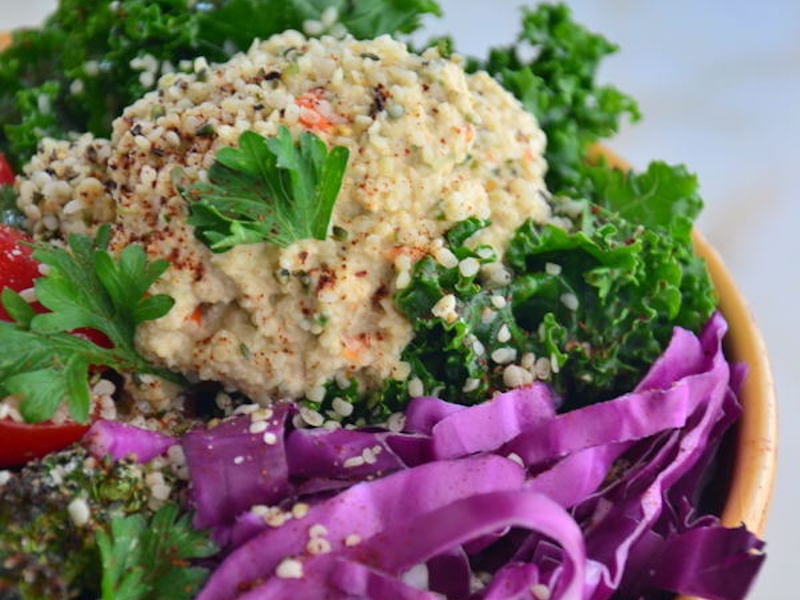 It's that time of the year where we are all craving something cool, like a good salad. Break out of your salad rut with one that's full of fiber, healthy fats and lots of anti-inflammatory protein.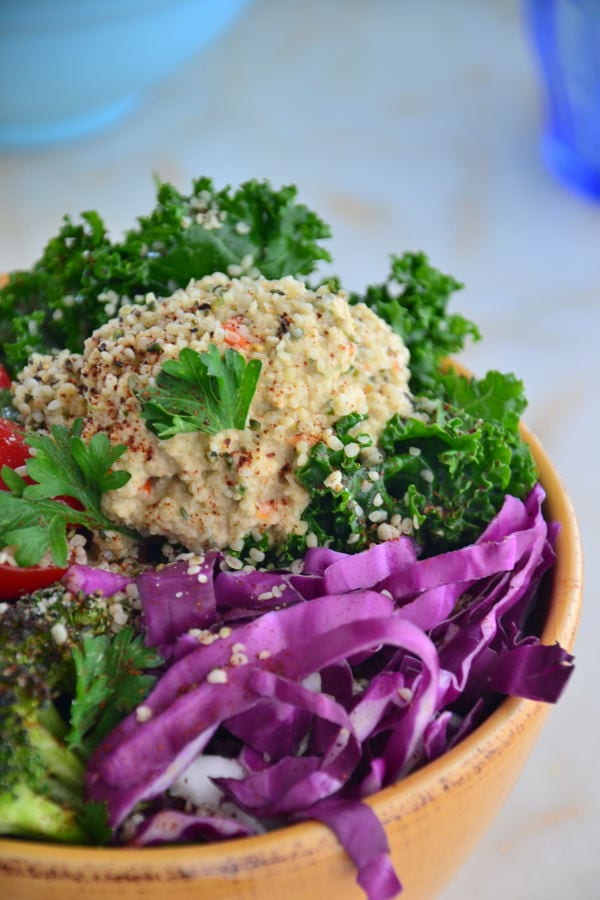 This is the time of the year that everyone's ready to toss together a good salad recipe just as the warm weather starts rolling in. Say good-bye to those cold-weather comfort foods and break out of your rut with a simple salad that's full of fiber, healthy fats and lots of anti-inflammatory protein. This roasted broccoli and kale salad with hemp hearts is just the thing you need to spice up your spring. Trust me.
This recipe takes about 20 minutes to make and it's quite simple to put together. Simply roast the broccoli in the oven, then toss it together with your massaged kale, red cabbage (lots of fiber here) along with a scoop of hummus (more amazing fiber and protein) and two tablespoons of hemp hearts, my go-to anti-inflammatory seed that's full of protein, heart-healthy fats and Omega 3 fatty acids to fight inflammation. You'll find a whole lot of flavor in every bite of this salad and it can be enjoyed throughout the spring and summer. The fresh parsley adds a springtime fresh touch and you'll be eager to make this recipe over and over again!
Feel free to mix up the broccoli for cauliflower and the red cabbage for green cabbage if desired, but keep the tender and delicious hemp seeds on top- they are the icing on the cake here, folks- they pack a lot of nutritional-boost into each bite. They're so easy to digest and satisfying so you won't be starving an hour after you eat this bowl of goodness. You can serve this salad with my Quinoa Pizza Crust recipe from my new cookbook for a dinner the whole family will enjoy.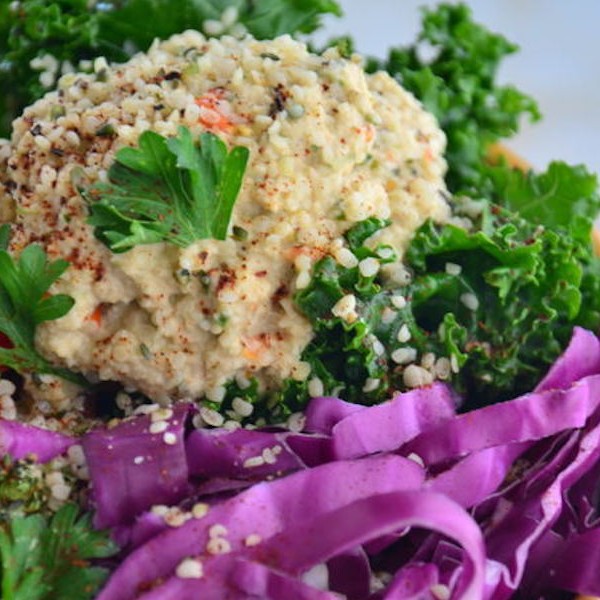 Amie Valpone
Ingredients
1

head broccoli

cut into small florets

1

Tbsp.

plus 2 tsp. extra-virgin olive oil

divided

sea salt and freshly ground pepper

to taste

pinch

cayenne pepper

plus more for garnish

1

head curly kale

finely chopped and ends trimmed

1

cup

red cabbage

thinly sliced

6

grape tomatoes

halved

1/4

cup

hummus

1

Tbsp.

finely chopped fresh curly parsley

2

Tbsp.

hemp hearts
Instructions
Preheat oven to 400 degrees F.

In a large bowl, combine broccoli, 2 tsp. oil, sea salt and pepper and a pinch of cayenne pepper; toss to combine then transfer to a baking sheet and roast for 20 minutes or until golden brown and tender.

Meanwhile, combine the remaining 1 Tbsp. oil with the kale and red cabbage in a large bowl. Massage the kale with your hands in the oil until it is soft and tender. Add the tomatoes, the roasted broccoli and the hummus in the center. Garnish with the parsley and hemp hearts. Add a pinch of cayenne pepper, if desired, for a spicier salad.

Serve warm.
Amie Valpone
Amie Valpone is a Manhattan based Personal Chef, Culinary Marketing Consultant, Whole Living Expert, Professional Recipe Developer and Food Writer specializing in simple Gluten-Free 'Clean' recipes for the home cook.