Risotto allo Zafferano: Saffron Risotto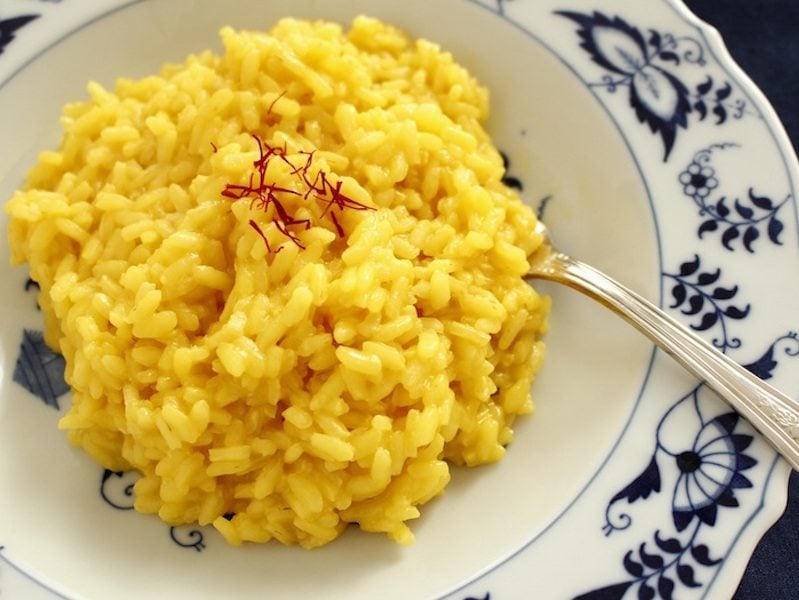 A traditional, colorful saffron risotto from Lombardy, that is rumored to have been invented by accident in 1574.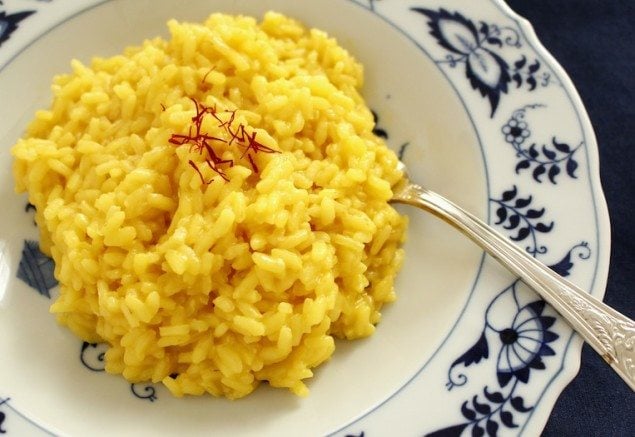 Saffron risotto is one of the staples of Lombardy, a region in Italy where rice is widely cultivated. With Italy's reputation as the country of art and culture, a popular legend ascribes the origin of saffron risotto to art.
In 1574 an artist, who was working on the Milan Cathedral, accidentally poured some saffron (a natural pigment, largely used in the past by artists) into his rice. Since then this dish became very popular. Saffron risotto is often confused with risotto alla Milanese, Milanese-style risotto. There is just one difference between these two dishes: the Milanese version is prepared with beef bone marrow as an additional ingredients.
In the North of Italy saffron risotto is definitely the most popular risotto it is enjoyed by both children and adults. It is easy to prepare and light to digest. It can be enjoyed as a delicious first course or as a tasty main course when it is served with ossobuco (literally bone with a hole), otherwise known as braised veal shanks.
The addition of saffron (more information on saffron here) gives a colorful touch and a special flavor. There are several variations of the traditional recipe. Many chefs around the world interpret it in their own personal manner: for example the addition of porcini mushrooms, sausage, or prawns and other seafood. My recipe is simple, as tradition would have it, but with a little less butter and Parmesan.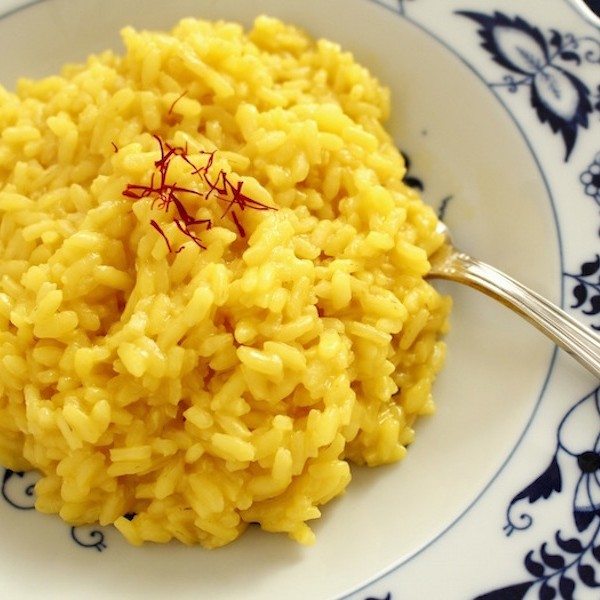 Paola Lovisetti Scamihorn
Ingredients
1

l

1 quart meat stock

80

g

6 tablespoons unsalted butter

1

small yellow onion or shallot

finely chopped

300

g

1 ½ cups Italian Carnaroli or Arborio rice

240

ml

1 cup dry white wine, at room temperature

¼

teaspoon

saffron threads or 1 envelope of saffron powder

25

g

¼ cup grated Parmesan cheese

Salt and freshly ground white ground pepper

Grated Parmesan to serve

optional
Instructions
Warm the beef stock in a saucepan over medium heat

Soak the saffron threads or powder in 5 teaspoons of stock (hot –not boiling) for 15 minutes

In a large saucepan heat 50 g (4 tablespoons) butter. Add the chopped onion and sauté for 2-3 minutes over medium heat. Add the rice and stir thoroughly for about 3 minutes, in order to "coat" the rice well with the butter and onions. (This helps regulate absorption of the liquid.). Add the wine and stir until completely absorbed

Add a soup ladle or two of the stock until the rice is just covered, and stir continuously with a wooden spoon. When the stock is almost completely absorbed by the rice, repeat this process as necessary for a total of 9 minutes

Add the saffron to the risotto. Mix well and add one more a soup ladle of stock. Cook for 5-6 minutes until the stock is completely absorbed. It depends on the rice's cooking time, which should be clearly indicated on the package.

The end of the cooking is critical for the final texture of the dish, so when the rice is nearly tender to the bite, but with just a hint of resistance (al dente), and the liquid you have added up to this point has been mostly absorbed (the risotto should still seem a bit "soupy"), add the Parmesan and butter to taste, about 30 g (2 T).

Remove your risotto from the heat. At this point, keep stirring the risotto to blend in the cheese and butter. You can also add some salt and freshly ground pepper to taste. Let it stand for 1 or 2 minutes. Arrange the risotto on a serving dish or 4 singular plates, serve immediately (plan your timing well – it is very easy to overcook risotto!). You can season with Parmesan and decorate with some saffron threads. Paola
Paola Lovisetti Scamihorn
Paola is Italian and cooking has always been her passion. In October of 2012 she founded her cooking blog "Passion and Cooking" to collect her recipes and give friends a sampling of true Italian cuisine. She collaborates with several Italian and American magazines and just published her first book - Love is Eating - Healthy and Tasty Italian Recipes for Family Meal (click on http://www.passionandcooking.com/book/).