An Arborio or Carnaroli rice would work just as fine as the Vialone Nano risotto rice used in this recipe.
By Kathy Bechtel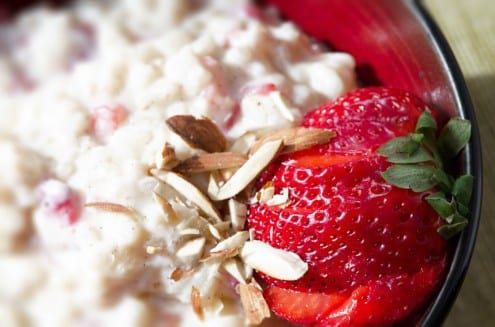 Riso al Latte con Fregole e Mandorle - Easy Rice Pudding
An Arborio or Carnaroli rice would work just as fine as the Vialone Nano risotto rice used in this recipe.
Ingredients
4 cups whole milk
¼ cup sugar
1 vanilla bean, split lengthwise, seeds scraped out and reserved
¼ teaspoon fine sea salt
¾ cup Arborio rice
3 tablespoons toasted almonds, finely chopped
8 large strawberries, 4 finely chopped, 4 sliced
Instructions
In a medium saucepan, combine milk, sugar, vanilla bean and seeds, and salt; bring to a boil. Add rice, reduce to a gentle simmer and cook, stirring frequently, until rice is tender and pudding is creamy, about 45 minutes.
Stir in 2 tablespoons of the finely chopped almonds and the finely chopped strawberries. Serve the rice pudding warm or at room temperature, topped with the remaining strawberries slices and chopped almonds.