Sponsored Post: We've partnered with Pacific Rim to bring you vivid and elegant pairings and tips with food-friendly Riesling wines.
This pear and gorgonzola flatbread with prosciutto is a perfect combination of flavors. It's easy, a delicious appetizer or main dish and utterly delicious when paired with Riesling.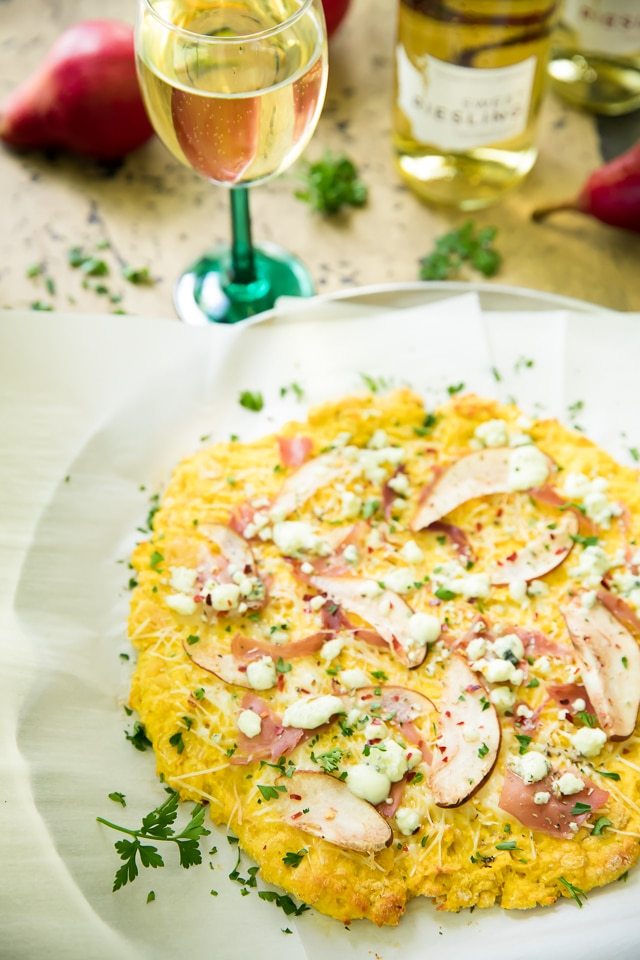 When I need a simple appetizer with tons of flavor that will please everyone and pair perfectly with my favorite wines, flatbreads are always a winner. There are so many ingredient options and combinations when it comes to toppings that you can pretty much develop a flatbread that will serve well with any variety of wine you happen to serve.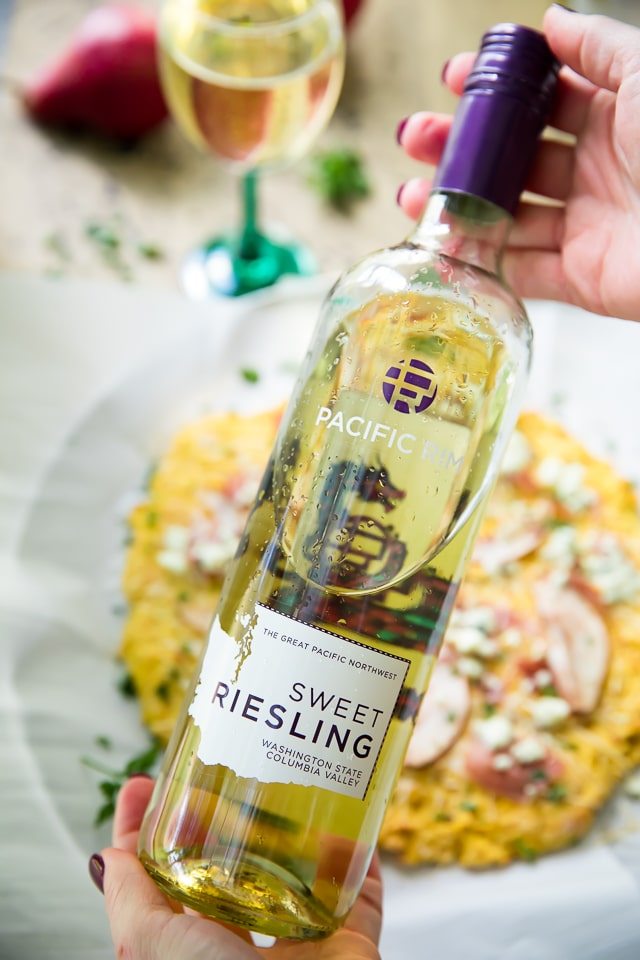 I've stocked up on Pacific Rim to serve at my holiday gatherings. I totally adore the Riesling options that range from dry to sweet. The Pacific Rim Riesling varieties, all sustainably produced in the Pacific Northwest, are especially great when hosting a crowd because the crisp, vibrant characteristics are a fresh alternative to heavier, oak-laden white wines. There truly is a Riesling for every dish!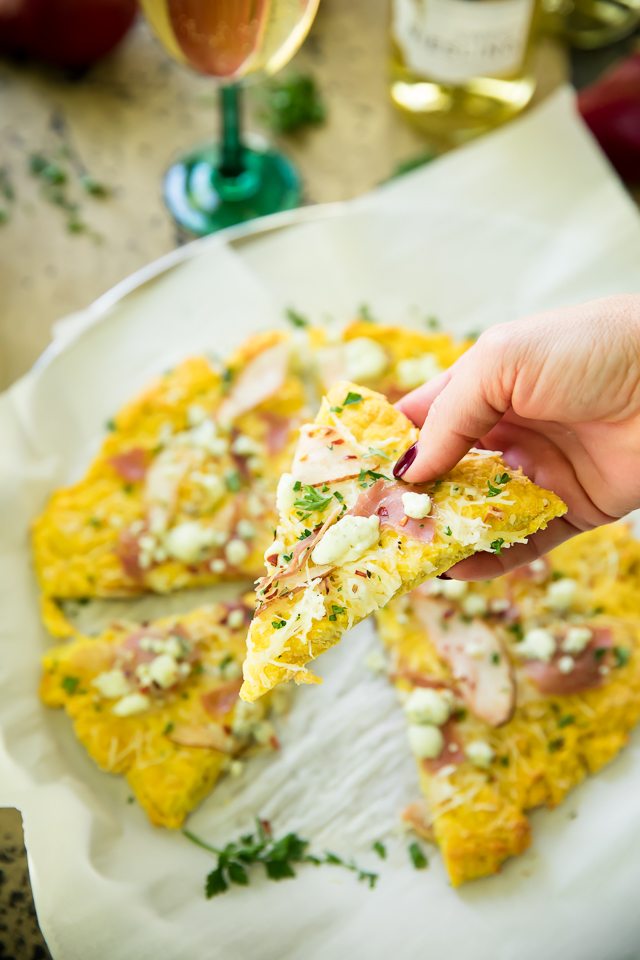 My personal favorite Pacific Rim selection is the Sweet Riesling. And pictured, here, you'll see that I plan to cook up this tasty Pear, Gorgonzola and Prosciutto Flatbread to pair perfectly with the fresh, light and fruity flavors of the Sweet Riesling variety. The sliced pear gives this app a lovely sweetness that goes perfectly with the salty prosciutto and robust gorgonzola cheese.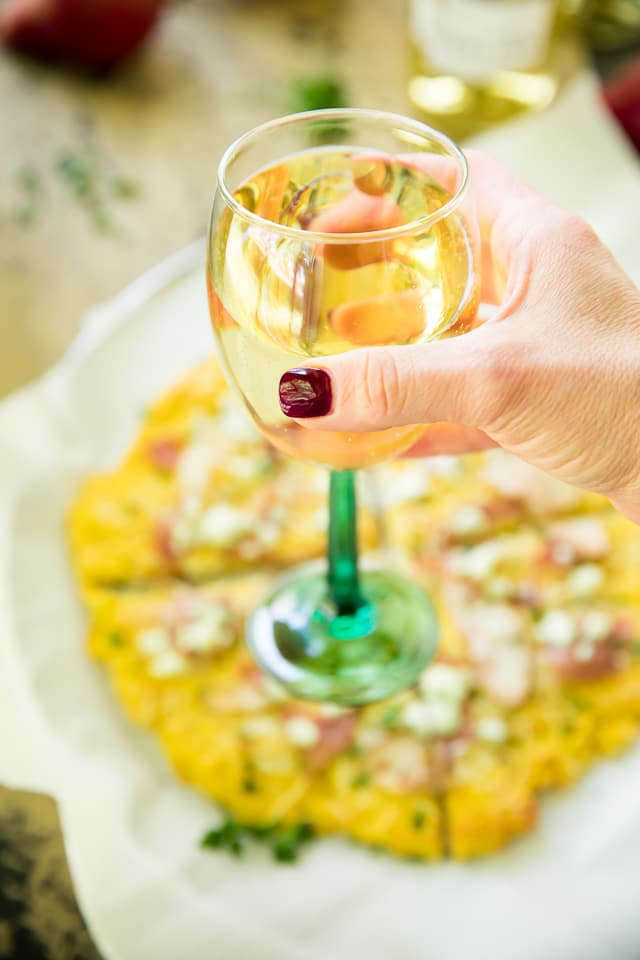 I won't be stopping there, though. I'm hosting quite an eclectic group and I plan on offering something for everyone. To pair with the Dry Riesling, that is lush with flavors of citrus, jasmine and minerals, I'll be creating a meat and cheese board. And then to pair with the Riesling J, which is moderately sweet, I'm planning to create a different flatbread that includes more traditional toppings of pizza sauce, mozzarella cheese, tomato and basil. So tasty!
Not only are flatbreads great because they're so versatile, but they're also super simple, especially if you go with store-bought crust. These days there are so many awesome options when it comes to buying dough and premade crusts from the store, why not?
Don't worry… I haven't forgotten about dessert. I will definitely have the Vin de Glaciere available to serve with my pumpkin and pecan pie. Yum!
I'm planning to have all wine options available the entire evening, that way my guests can choose the pairings they love best. I just love seeing what everyone chooses to combine!
Cheers, friends and happy holidays!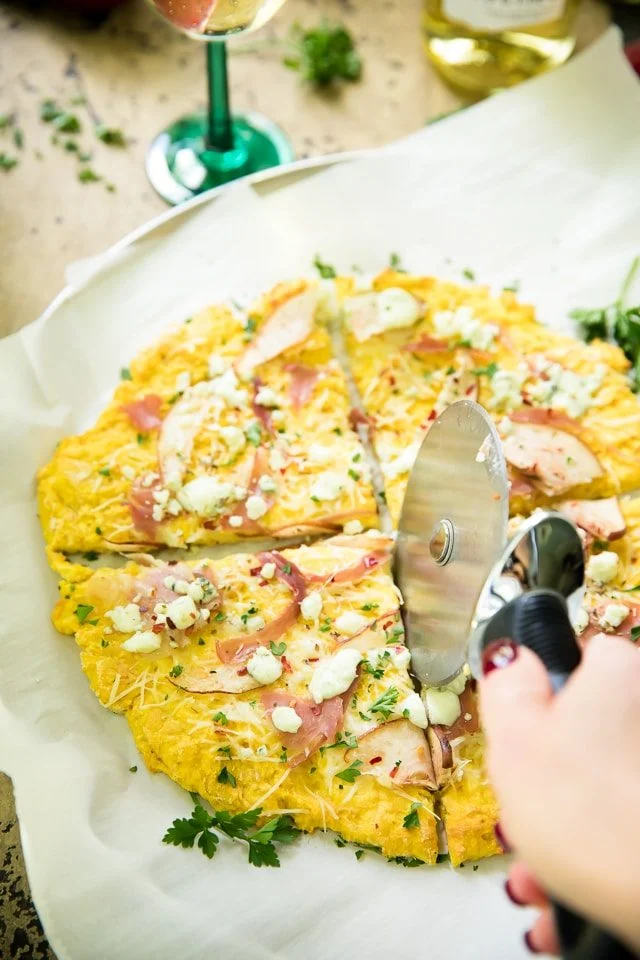 Print

Riesling Wine Paired with Pear and Gorgonzola Flatbread
---
Author:

Kim Lee

Total Time:

25 minutes

Yield:

2 large servings or 6 appetizer servings
Description
This pear and gorgonzola flatbread with prosciutto is a perfect combination of flavors. It's easy, a delicious appetizer or main dish and utterly delicious when paired with Riesling.
---
Store-bought or homemade pizza dough/flatbread
Thinly sliced pear or apple
Crumbled gorgonzola (goat cheese, feta or blue cheese)
Shredded Italian blend or mozzarella cheese
Sliced prosciutto (cut into thick pieces)
---
Instructions
Preheat oven based on instructions for dough.
Prepare dough, as instructions call for, as well as other ingredients.
Precook dough, if directed.
Layer the dough with shredded Italian cheese then top with slices of the pear, prosciutto and chunks of gorgonzola cheese.
Bake for about 8-10 minutes or until the cheese is melted and the crust is golden. Cut and serve immediately.
Prep Time:

10 minutes

Cook Time:

15 minutes

Category:

Appetizer, Main
Kim Lee
Kim is a freelance recipe developer, writer, and the author behind the healthy living blog, Kim's Cravings. Kim has a passion for sharing nutritious delicious recipes and showing others that eating right can be easy and tasty.