With the combination of quinoa and fresh garbanzo beans, this protein packed side is a meal in its self. 
By Alisha Randell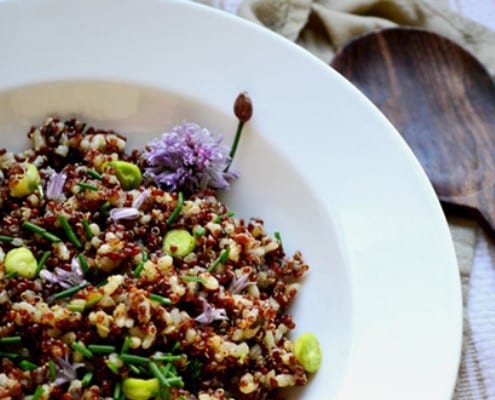 The markets and gardens everywhere are bursting with edible blooms this time of year.  But aside from their obvious aesthetics, they provide a tasty addition to salads, soups or even sandwiches.
The first beauty is the Spring Onion Chive in full bloom…They have a much milder taste than the leaves, adding just a touch of fresh garlic aroma and flavor.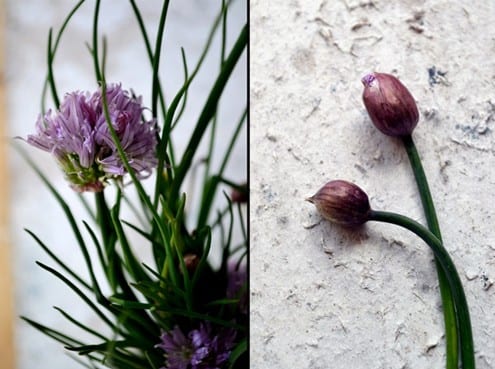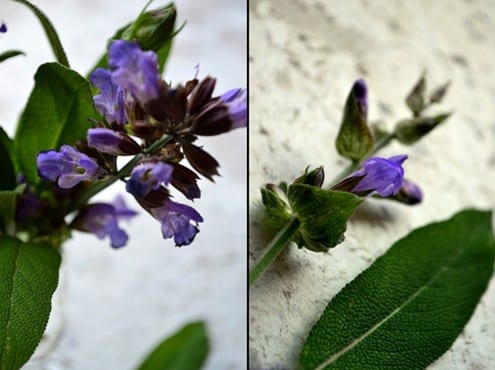 The second is the gorgeous flowering answer to spring, in the form of Sage blossoms…And like the chive blossoms, have a subtle hint of sage.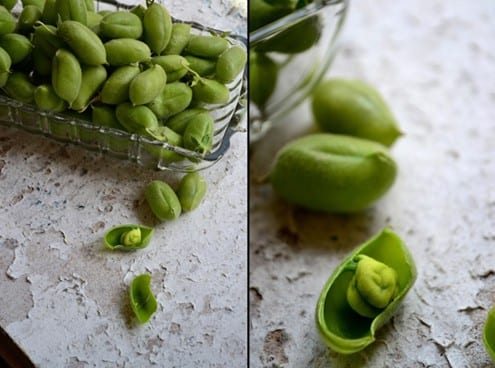 These delightful little legumes are fresh chickpeas, or garbanzo beans. They make a perfect snack to just munch on and have a bright nutty spring green flavor. We added them raw to our quinoa dish for an added spring touch.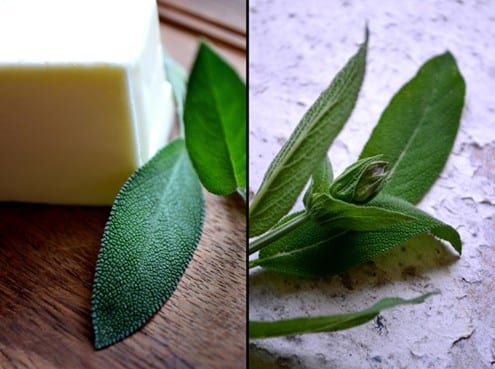 The browned butter, wish some crispy sage,  lends an incredible warming nutty flavor that should not be missed.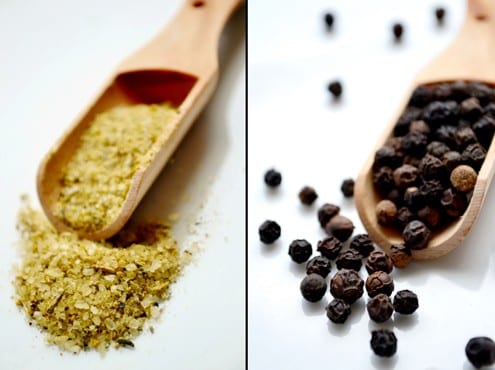 For our salt and pepper seasoning, we are going with a Fennel Salt and a favorite pepper of mine the Tellicherry. They are both fantastic additions to top off any dish, and add some earthy warmness to give a bit of a royal touch. However any of your favorites or what you have on hand will do nicely.
To add a bit more spicy warmth we will be infusing our rice in a tea mixture of cardamom and pepper corns, with a bit of laurel and cloves. Then topping it all of with pan roasted walnuts dusted in Pimenta dioica berries (allspice).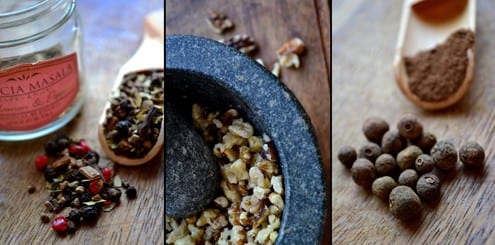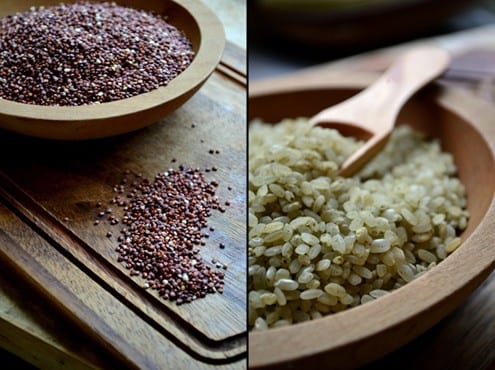 This rice is a pearl rice that has been infused with bamboo extract giving it a slight green tint. But aside from its unique coloring and exotic aroma, there is just a hint of a vanilla flavor that really sets this rice apart from any other.
The quinoa, although used frequently as a grain, is actually a seed. These little beauties have a nutty slightly smokey flavor and aside from being delicious, are packed with nutrients.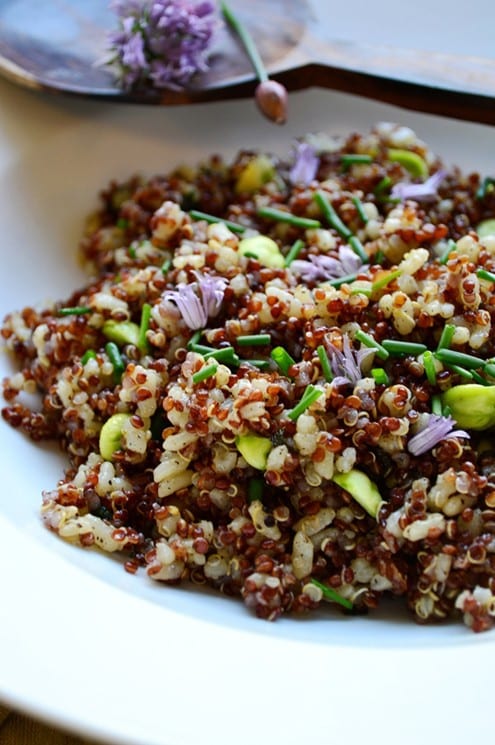 Print
Red Quinoa and Jade Pearl Rice with Sage Brown Butter
This protein packed and flavorful dish makes a great "meatless" main as well.
Author:

Alisha Randell

Prep Time:

15 mins

Cook Time:

20 mins

Total Time:

35 minutes

Yield:

4

-6

1

x
For the quiona and jade peal rice

1

C (190g) raw organic red quinoa

1

C (190g) raw jade pearl bamboo rice

1

Tbs (15g) cardamon pepper tea(steeped in

1 cup

boiling water)
For the sage browned butter

6

Tbs (90g) organic unsalted butter, softened

10

large fresh sage leaves
For the toasted walnuts

1

C (190g) shelled walnuts, crushed

1 tsp

(

5g

) Pimenta dioica berries, ground (allspice)
For the garnishes

1

small bunch of spring onion chives

1 1/2

C (225g) un-shelled fresh chickpeas

1 tsp

(

5g

) fennel salt

1 1/2 tsp

(

7.5g

) tellecherry pepper, ground
Instructions
For the quiona and jade peal rice
Begin by preparing your rice, 1 cup rice to 1 cup cardamon tea and 1/2 cup water.
Bring to a boil over high heat, reduce to low and simmer for 20 minutes, fluff with a fork and set aside.
For the quinoa, add 1 cup quinoa to 2 cups water, and bring to a boil over high heat.
Reduce heat to low and simmer 10-15 minutes or until liquid has absorbed, fluff with a fork.
Place in a large mixing bowl.
For the sage browned butter
Place softened butter in a sauté pan over medium heat, once butter has melted, add torn sage leaves.
Continue to sauté until butter begins to brown having a nutty toasted aroma, and sage is dark and crispy. About 4-5 minutes.
For the toasted walnuts
Place crushed walnuts in a hot pan over high heat, toss a bit for about 1 minute.
Then add the allspice and continue to move around in the pan until well toasted and fragrant. About 2-3 minutes.
For the garnishes
Place rice along with quinoa into your large mixing bowl.
Toss a few times to incorporate.
Shell your fresh chickpeas and slice in half, toss in with your quinoa and rice.
Add sage brown butter and toss again.
Now add toasted walnuts and chopped spring onions.
Garnish further with spring onion and sage blossoms.
Notes
You can replace the Jade Pearl rice with a brown rice, and the fresh garbanzos can be replaced with a canned variety that have been well rinsed to remove the salt.
For a vegan friendly version use a butter substitute like Hearth Balance, our sauté sage in a nut or palm oil.
Alisha Randell
Alisha Randell is a former Executive Chef turned Private Chef and Culinary Instructor. She is the Co-Creator/Author of The Ardent Epicure blog "An Ode to the Pleasures of Food". Growing up with a dad as a culinary guide, whom was as well an executive chef, food and seeing food as an art form has been a lifelong passion and exploration.