PARTNER POST — The holiday season is here and it is time to add some Italian flair to your menu with authentic ingredients from Colavita and Perugina's rich Italian chocolate.
Make an Italian-inspired holiday meal that keeps you out of the kitchen and celebrating with family. Dish out a comforting shrimp pasta with red pepper flakes and a creamy tomato sauce, finishing the meal with a flavorful whole wheat chocolate olive oil cake.
By Kim Lee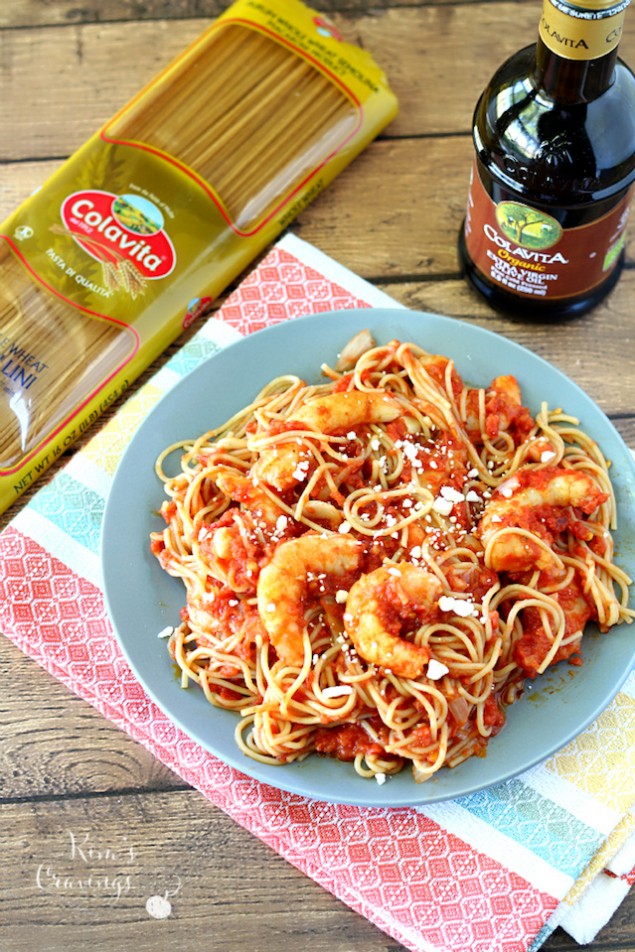 If you're looking to change things up this holiday season, go Italian! My family loves to follow a different theme for each year's holiday celebration. This year we're holding true to our heritage and celebrating Italian-style.
Red Pepper Shrimp Pasta in a creamy tomato sauce is an easy meal that keeps me out of the kitchen and enjoying family time.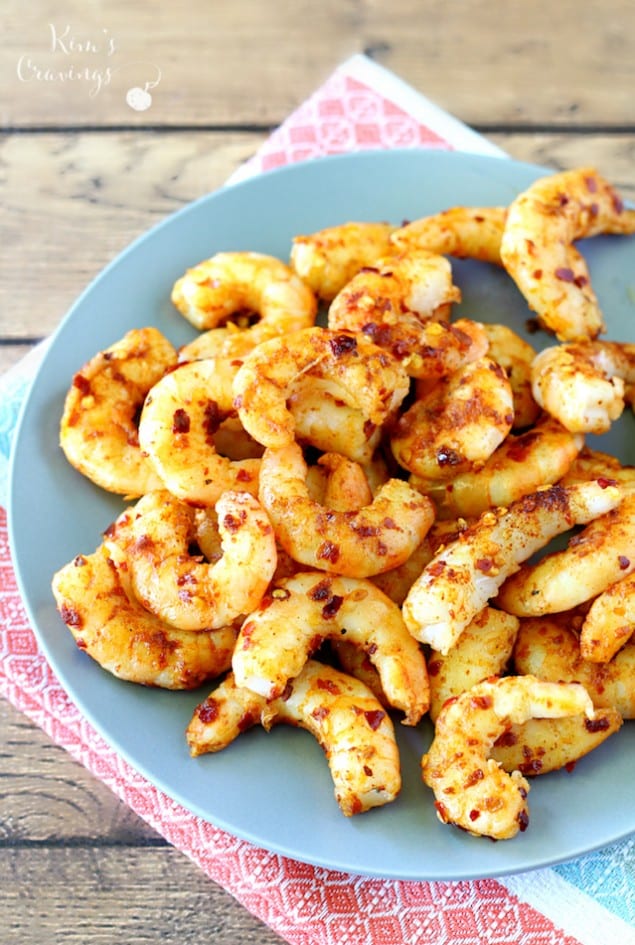 For both, the main course and dessert, I used Colavita Organic Extra Virgin Olive Oil. Colavita offers a huge selection of Italian specialty products, including durum wheat semolina pasta, balsamic and wine vinegars, pasta sauces, and a wide range of olive oil and olive oil blends.
Italian Holiday Table: Red Pepper Shrimp Pasta
Recipe Type
:
Main Italian Inspired
Cuisine:
Italian Inspired
Prep time:
Cook time:
Total time:
Shrimp Pasta in Creamy Tomato Sauce is an easy recipe and a major comfort food- perfect for enjoying during the holiday season!
Ingredients
2 tablespoons Colavita Organic Extra Virgin Olive Oil
1 pound shrimp, without shells, and deveined
2 teaspoons crushed red pepper
1 teaspoon paprika
½ teaspoon salt
½ small onion, finely chopped
3 garlic cloves, minced
1 (28 oz.) can Colavita crushed tomatoes
½ teaspoon oregano
½ cup heavy cream
8 oz. Colavita Whole Wheat Capellini Pasta
Instructions
Heat olive oil in a large skillet on medium-high heat. Add shrimp and cook on one side for about 1 minute, until shrimp turns pink on that side. While it cooks, sprinkle the top of shrimp with crushed red pepper, paprika and salt. Flip shrimp and cook for about 2 more minutes.
Remove shrimp to a plate and set aside.
To the same skillet, add chopped onion and minced garlic and cook on medium-high heat for about 2 minutes and until onions are soft.
Add crushed tomatoes and oregano, bring to boil and reduce to simmer. Simmer for about 10 minutes, mixing occasionally. Just before removing from heat, stir in heavy cream and remove from heat.
While sauce is simmering, prepare pasta according to package instructions.
Add shrimp and pasta to sauce and mix everything well to combine.
Serve with a sprinkle of crushed red pepper and parmesan cheese. Enjoy with a small salad and garlic bread!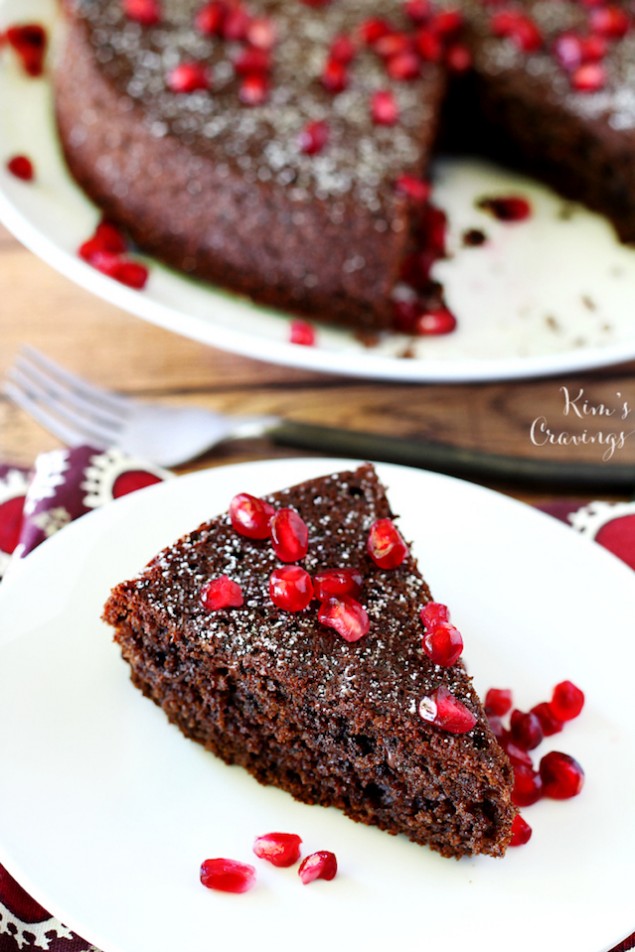 See Also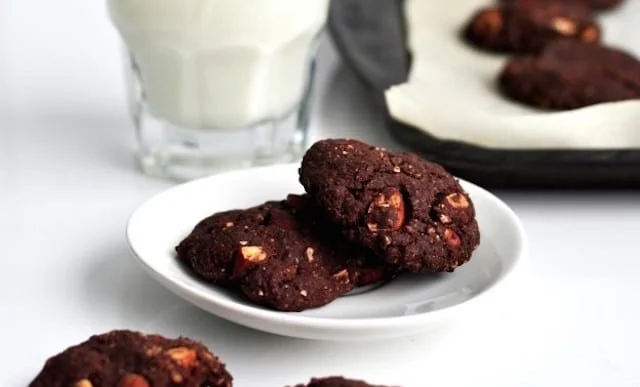 Chocolate olive oil cakes are rich, luscious and absolutely irresistible. My whole wheat healthier version still has that classic taste and texture, but is the perfect solution for those of you who want to make a cake from scratch without spending days in the kitchen or have the end result look like it was decorated by a child.
It is seriously the easiest cake recipe ever. If you can whip up a batch of muffins, you can make a delicious chocolate cake. I used Perugina Premium Chocolate to really bring out the lovely rich chocolate flavor in this cake. With the decadent sweet chocolate shining through, there is no need for any kind of icing and just a dusting of powdered sugar gives this cake enough elegance for the special holiday occasion.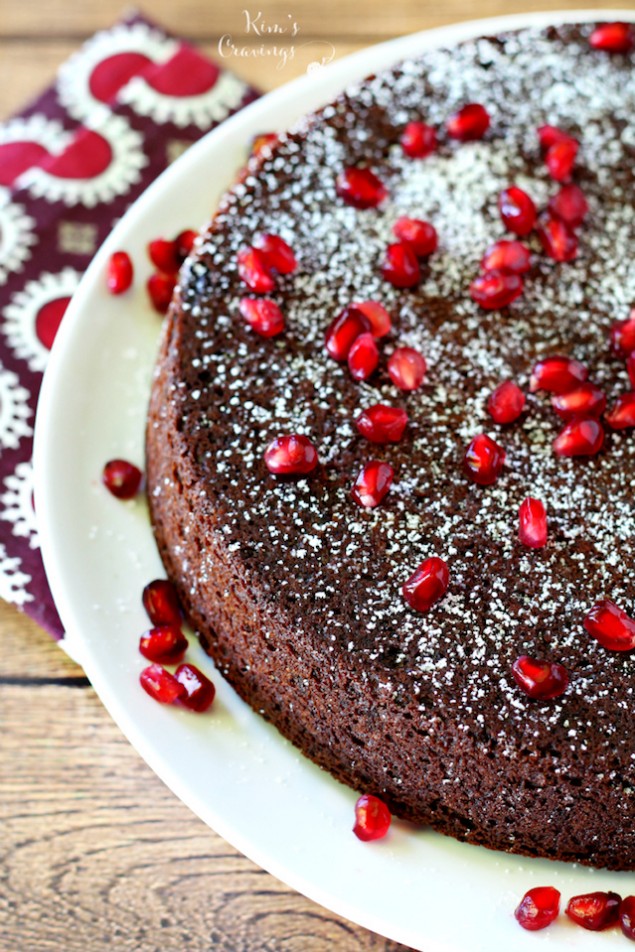 Italian Holiday Table: Whole Wheat Chocolate Olive Oil Cake
Recipe Type
:
Cake, Baking, Dessert
Cuisine:
Italian Inspired
Prep time:
Cook time:
Total time:
Make an Italian-inspired holiday meal that keeps you out of the kitchen and celebrating with family. Dish out a comforting shrimp pasta, finishing with a whole wheat chocolate olive oil cake.
Ingredients
1 cup whole wheat flour
½ cup unsweetened cocoa powder
2 tablespoons baking powder
1/8 teaspoon salt
½ cup sugar
¾ cup nonfat Greek yogurt, plain
3 large eggs
1 tablespoons pure vanilla extract
½ cup Colavita organic extra virgin olive oil
1 (3.5 oz.) Perugina 51% Cacao Premium Chocolate bar, coarsely chopped
Instructions
Preheat oven to 350 degrees F. Grease a 9-inch round baking pan.
In a medium bowl whisk together the flour, cocoa powder, baking powder and salt. Set aside.
In a large bowl, stir the sugar, yogurt, eggs, vanilla and olive oil together until fully combined.
In batches, mix the flour mixture into the yogurt mixture and gently stir until combined. Fold in the chopped chocolate and then pour the cake batter into the prepared pan.
Bake for 40 to 45 minutes or until a toothpick inserted into the center comes out clean.
Cool the cake in the pan for 15 minutes; then gently run a knife along the side of the cake. Carefully invert the cake onto a plate and then invert again onto a cooling rack to cool completely.
Serve alone, dusted with powdered sugar, or add a scoop of vanilla ice cream.
Kim Lee
Kim is a freelance recipe developer, writer, and the author behind the healthy living blog, Kim's Cravings. Kim has a passion for sharing nutritious delicious recipes and showing others that eating right can be easy and tasty.