These pretzels are soft and chewy. The aromas are of cozy times indoors on chilly days, but the ingredients are not especially tied to a particular season. Try this raisin cinnamon swirl pretzel recipe anytime you want a warm bite of nostalgia.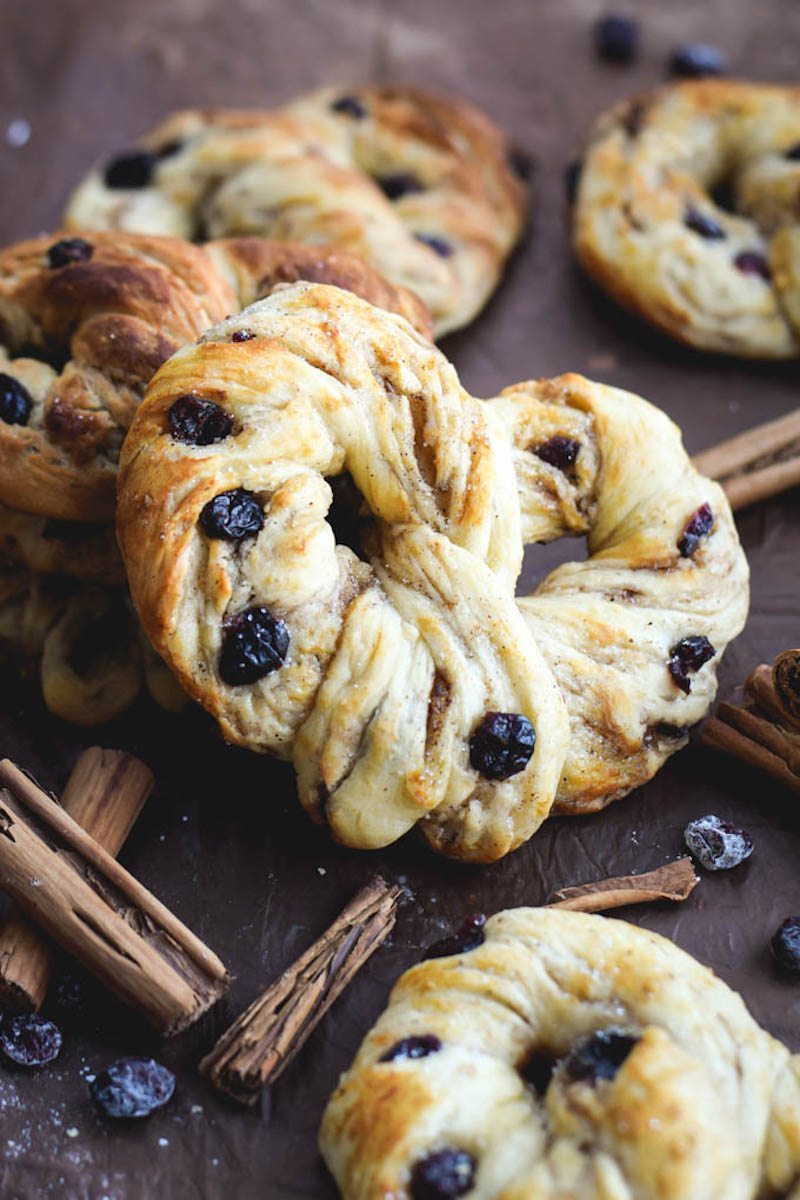 Hey guys, I was wondering if you were up for another major comfort food item, because I have to tell you, they're my favorite things to share!
Okay, so it's possible that you could search really hard and find somewhere to buy a decent loaf around where we live, but up until now we still haven't. As far as I can tell, they don't make raisin swirl bread anywhere near my little town. What a shame, I know.
I've been trying to bridge over into "Autumn Food" territory with my recent recipes and I thought this one was a really great fit for that. It's got all the warm fuzzy flavors of home and nostalgia but I don't feel like it's completely confined to a specific season either. It's still versatile enough to make year round since the ingredients aren't too seasonal.

I don't know about you, but it's almost indescribable how happy the smell of these wafting through the house can make me. MMMMMmmm! All that warm yeasty goodness mixed with cinnamon spice is enough to make me giggle with childish glee! It's an aroma of favorite childhood memories. (Note to self; figure out how to bottle and sell the stuff as a perfume 'cause it would be dynamite!)

Raisin Cinnamon Swirl Pretzels
Ingredients
Pretzel Dough
1 tablespoon active dry yeast
¼ cup sugar
1 cup water
1 teaspoon salt
2 tablespoons (neutral) oil
1 egg yolk
3⅓ cups all-purpose flour, plus more for work surface
Cinnamon Raisin Filling:
¼ cup (4 tablespoons) butter, softened
1½ tablespoons cinnamon
½ cup sugar
1 teaspoon vanilla extract
½ teaspoon salt
⅓ cup raisins (or craisins)
Pretzel Wash:
2 tablespoons baking soda
½ cup hot water
Instructions
Stir water, sugar, and yeast together until yeast is dissolved and allow to sit for about 5 minutes. Pour into a large mixing bowl and whisk in egg yolk and oil until combined. Add flour and mix until dough comes together. Turn out onto lightly floured surface and knead for a few minutes, adding a little more flour until the dough doesn't stick to your hands. It should spring back when you press your thumb into it. Place in oiled bowl and cover bowl with plastic or a damp towel, then place in warm place to rise until doubled in size.
While bread is rising, mix together the ingredients for filling. Stir the butter, sugar, cinnamon, vanilla, and salt together in a medium mixing bowl until smooth, then add raisins and stir until mixed.
Preheat oven to 375 degrees F (190 C) and line a baking tray with parchment. On a lightly floured surface, roll out dough into a rectangle, about ¼ inch tall. Spread out your filling on top in an even layer and then, starting from a longer edge, roll the dough into a "log" shape. Make a cut down the center to divide in half, then start gently twisting one half to stretch it into a thinner rope, about 1 inch in diameter. Divide the rope into 4 equal pieces and repeat this step with the other half of your log until you have 8 ropes.
Twist each rope into a pretzel (you can do spirals if that is simpler) and place on parchment tray.
Stir together the hot water and soda until dissolved, then brush over pretzel (you can also sprinkle with a bit of pretzel salt if desired). Bake for 18 to 20 minutes until golden brown. Serve warm.
P.S. If you feel like living in the edge, these are amazing dipped in vanilla frosting!.....just sayin'