When in trouble over moral food choices, Gilda Claudine Karasik finds herself turning to Quinoa.
Text And Photos By Gilda Claudine Karasik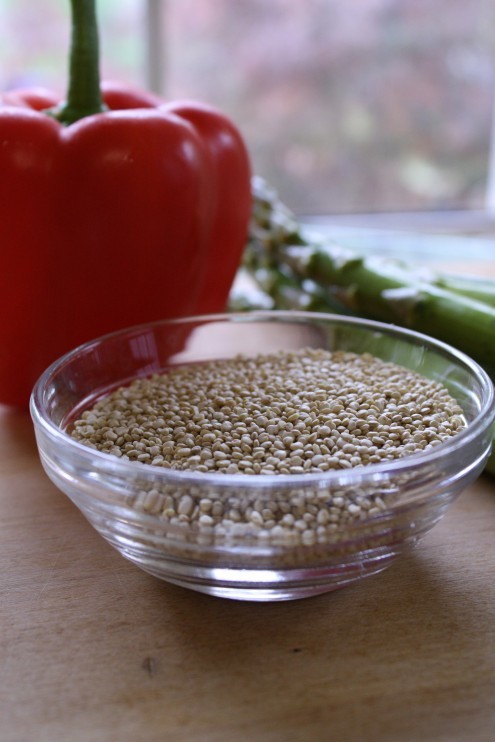 Sometimes, in the most mundane of moments, I experience the most complex decision-making.  This is especially true in the aisles of an American grocery store.  Actually, even before I get to the grocery store.  I leave my house knowing that I need to forage in the urban wilderness for foods my family will eat but I may not know which of the stores I'm going to until I get there.  You see, I have the luxury of choosing between not two—but seven— supermarkets (and two farmers' markets) located within a few miles of my home.  My neighborhood is a food shopper's Mecca (not a food desert) which is either a testimony to the success of capitalism or a symptom of excessive consumerism, depending upon one's point of view.
But it's once inside the store that ambivalence really takes hold of me, clouding my judgment like a third margarita.  I scan the fruits and vegetables and my eyes hone in on the usual suspects:  bananas, berries, carrots and peppers.  Then, my throat gets dry.  My palms dampen.  To the rest of my fellow shoppers, I am cool, calm and collected.  But inside my head, the Church Lady-cum-environmentalist-locavore-health-nut-voice is judging:
—Let's buy the local pears, not the ones that traveled from Argentina to get here, shall we?  And only organic grapes, strawberries and broccoli, don't you agree?
—That's true.  They are the most susceptible to retaining pesticides.
—Uh, not the grapes after all.  The workers who picked and packaged them may have been exploited by unscrupulous employers.  And who shall we blame for that, hmmm?
—On to the meat counter, then.
—Remember not too much meat.  Have we ever heard of heart disease?  Servings the size of your palm or the size of your shoe? You be the judge.
—Maybe I should become a vegetarian?
—Well, isn't that spay-cial?  Maybe you should.  In the meantime, don't buy meat injected with hormones.  Why don't we go for the grass-fed cattle?
—But it's so expensive.  Maybe we'll just have chicken tonight?
—Maybe we will. Free-range and air-chilled.
—Never mind.  I'll buy a pound of shrimp.
—How conveeenient.  They are imported and  farmed but if it doesn't bother you that you're supporting the degradation of mangroves in Southeast Asia, then by all means buy the shrimp.
—Wild-caught Alaskan salmon, then?
— Are we thinking about ourselves or fossil fuels emissions?  Hmmm?
It's a wonder I make it out of the store at all, really.
In his book, The Omnivore's Dilemma, Michael Pollan compels us to ask about the origins of the food we eat, a question which is at the root of the rather fundamental problem of deciding what to buy when faced with a plethora of choices:
To one degree or another, the question of what to have for dinner assails every omnivore, and always has.  When you can eat just about anything nature has to offer, deciding what you should eat will inevitably stir anxiety, especially when some of the potential foods on offer are liable to sicken or kill you.
Even today, at a time when we know which mushrooms to avoid or that some foods are toxic until they are cooked thoroughly, this dilemma persists. And it's complicated not only by food safety but also numerous other concerns about the environment, health and nutrition, and workers' rights, not to mention a lack of knowledge about where our food comes from.  This societal predicament is further exacerbated by an unrelenting media culture in which food recalls give rise to mass hysteria about buying lettuce or the latest "studies" serve, not science, but an American appetite for health and diet fads.
Really, though, this "dilemma" applies to the hundreds of other consumer-based decisions we make everyday, about light bulbs, detergents, toys, car seats, diapers, etc.  There is so much information hurled at us that we are left to either throw caution to the wind or cave under the pressure when calculating a decision.  Thinking about this puts me in a minimalist mood and leaves me wondering about the solution.  Is it to eat organic? Become a vegan? Buy locally?  I really have no idea, which is why I've made this savory quinoa with roasted red peppers and asparagus even though I recently came across this New York Times article.
Print
Quinoa Two Ways
Quinoa (pronounced keen-wa) is the edible seed of an ancient grain from the Andean region of South America. The Inca considered it sacred and today it is hailed for it's protein-rich, nutritive properties.
Author:

Gilda Claudine Karasik

Prep Time:

30 mins

Cook Time:

15 mins

Total Time:

45 minutes

Yield:

4

1

x
1 cup

(2.4dl) of quinoa

2 cups

(

4.8

dl) of chicken stock

3 tablespoons

olive oil

3

cloves of garlic

1

red pepper

1

bunch of asparagus
Salt and pepper to taste
Instructions
Main Course or Side Dish
Preheat the oven to 375.
Coat the bottom of a roasting dish with 2 tablespoons of olive oil.
Rinse and chop vegetables to desired thickness.
Line the dish with the vegetables, including 2 large cloves of garlic.
Drizzle the remaining tablespoon of olive oil over the vegetables.
Salt and pepper to taste.
Place the dish on the lowest rack in the oven.
Leave to roast for about 35 to 40 minutes.
Once the vegetables are roasting, rinse 1 cup of quinoa.
Place 2 cups of chicken stock in a pot and add 1 garlic clove, the quinoa and salt and pepper to taste.
Bring to a boil and then reduce heat to simmer (much like cooking rice).
Quinoa is done once all of the liquid is absorbed (about 15 minutes).
Salad
Omit the chicken stock and cook the quinoa in water.
Once it cools, add chopped grape tomatoes and fresh baby spinach or arugula.
Toss in a light vinaigrette and serve.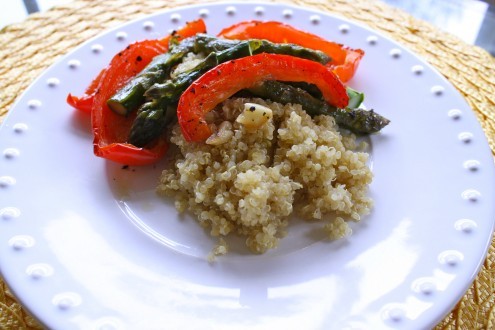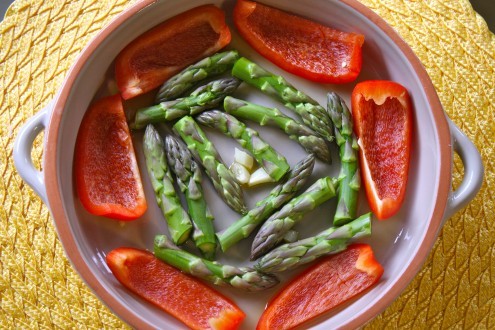 Gilda Claudine Karasik
Gilda Claudine is a lawyer and freelance writer. She blogs about Mexican food and culture at www.dosgildas.com and about writing at www.dkwritings.wordpress.com. She is currently working on a her first novel.