When life hands you left over Risotto, make Arancini Di Riso – Crispy Fried Risotto Balls.
In Italy, when life gives us left-over risotto, we make arancini. I actually make more risotto than I need every time, specifically so I can make arancini. Arancini di Riso (which literally means little "oranges of rice") are little balls of risotto (shaped like oranges, hence the name) often stuffed with anything from ground beef, sausage, salame, prosciutto, cheese, peas, mushroom, and tomato sauce.
Arancini are a perfect antipasto. They can be eaten with your hands and go great with either prosecco or a beer. I like serving mine in brown paper cones – street-food-like. In Sicily, they are shaped a bit more like rounded pyramids, with a cone top and rounded bottom. When they are just stuffed with cheese and shaped like oval croquettes they are called suppli' (they should be "al telefono", meaning "on the phone", with the melted cheese forming long string-like strands like an old fashioned telephone cord!) and they are more typically found in Rome.
You have to make these and eat them right away (in Naples they say "Frijenno Magnanno": frying and eating). That means that the cook usually does not really get to eat! Although he/she gets all the credit and plenty of family and friends' love.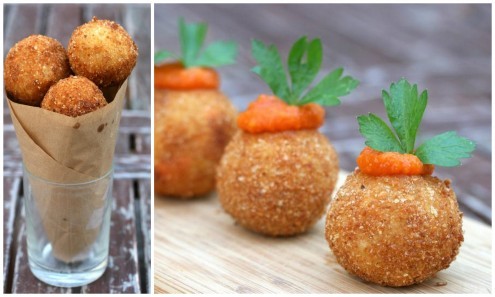 See Also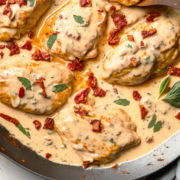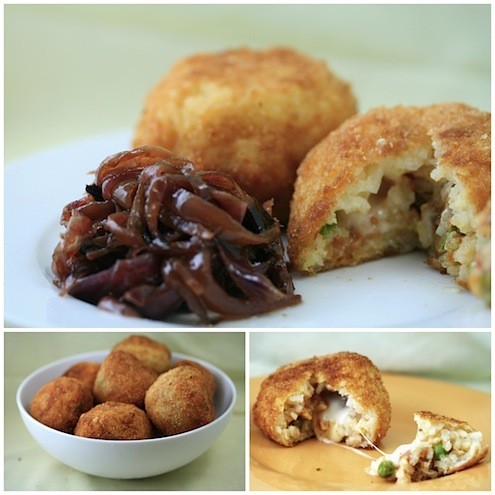 For presentation purposes, you can serve with tomato marinara sauce (although this is not quite customary in Italy!!!) and a leaf of parsley or basil. Another way I serve them is with a simple and quick red onion "marmellata" (marmalade). If I was in Sicily, I would use cipolle rosse di Tropea, DOC small sweet red onions. It is so versatile, and you will love adding it to many other dishes.
EXPLORE OUR ITALIAN SPICES
[products columns="4″ orderby="title" order="ASC" ids="203660, 203658, 203656, 186307″]
To make sure your arancini turn out great every time, here are my tips:
– dampen your hands with water while shaping the balls
– use gloves when breading them (this will avoid a sticky gooey mess on your hands)
– cool the shaped balls for a while in the fridge before frying (they'll keep their shape better)
– have the temperature of the oil as close to 375F as you can
– if you have a large batch keep the ones already fried warm in a 200F oven
– fry and serve immediately if you can!!!
Print
Arancini di riso (crispy fried risotto balls) with red onion marmellata
---
Author:

Amelia Pane Schaffner

Total Time:

45 minutes

Yield:

4

1

x
Description
Arancini di riso are Italian crispy fried risotto balls, served here with a quick red onion marmellata (marmelade)
---
500 grams

(

17 oz

,

3 cups

) leftover risotto (any flavor), cooled

100 grams

(

3 oz

,

1 cup

) of mozzarella (or fontina or provolone) cheese, cut into ½-inch cubes
Optional: steamed peas, chopped deli meats (salame, prosciutto, speck), cooked meat, a few tablespoons of tomato sauce

200 grams

(

7 oz

,

2 cups

) all purpose flour (or more, as needed)

3

large eggs, beaten well

250 grams

(

9 oz

,

2 cups

) breadcrumbs (or more, as needed)
Grated zest of 1 orange
salt & pepper for seasoning
Peanut (or other high-smoking point vegetable, such as canola or sunflower) oil, for frying
Quick red onion marmellata (to serve)
1

red onion, thinly sliced

3

–

4

Tbps olive oil
Salt and pepper TT

1/2 Tbsp

Turbinado sugar

1 Tbsp

red wine vinegar
---
Instructions
Place about 1/3 to 1/2 cup risotto in your palm (have wet hands) and use it to enclose a piece of mozzarella (and feel free to be creative with any other additions: see my optional suggestions), pushing into the center, then roll again to make sure the rice has surrounded it on all sides. Set on a baking sheet lined with parchment paper and repeat until you have used up all the leftover risotto and cheese.
Create your breading station: line three dishes with flour, beaten egg (seasoned with salt and pepper) and bread crumbs.
Once all the balls have been rolled out, working one at a time, dip and roll the balls in the flour first, then in the beaten egg and turn to coat entirely. Lift and allow any excess egg to drip off, then roll in the breadcrumbs until completely combined. Again, shake off any excess and place back on the parchment lined baking sheet. Repeat with the rest of the risotto balls.
Place tray in fridge for 30-60 minutes. Line a large tray with paper towels. Heat 3-4 inches of the oil in a deep heavy-bottom pan or heat deep fryer to 375 degrees F. Remove risotto balls from the fridge. Fry the arancini no more than 3 to 4 at a time until golden brown, turning on each side, about 4 minutes in total. Remove with slotted spoon and place arancini to drain on tray lined with paper towels. Season again with sea salt. Serve hot or room temperature, with very cold beer or prosecco.
Quick red onion marmellata
Sauté the thinly sliced red onion in heated olive oil, add a pinch of salt, pepper, Turbinado sugar, and red wine vinegar. Slowly cook, covered, for 10 minutes, or until they are translucent and caramelized, adding some water if needed.
Prep Time:

30 mins

Cook Time:

15 mins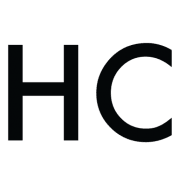 Amelia Pane Schaffner
Amelia Pane Schaffner grew up in Italy but lives in the US. She has travelled the world and blends her diverse experiences in a global cuisine approach, based on few, locally sourced, preferably seasonal, ingredients, artfully presented and convivially shared. Her blog, Z Tasty Life, has been featured in Food News Journal, among others and her photography has been exhibited at local galleries.