Flavorful and quick, this Lebanese-style lemon chicken is made with shallots, fresh herbs, and a touch of turmeric for a comforting fall dinner.
By Becky Winkler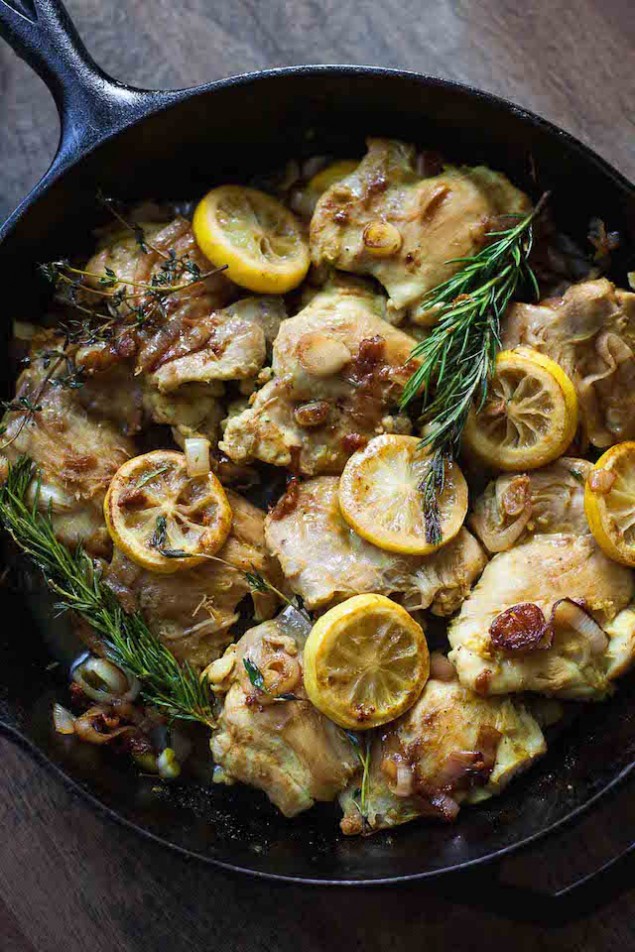 This Lebanese lemon chicken fits the fall comfort food bill exactly. The flavors of lemon, rosemary and thyme hint at cooler weather, but the dish is fast enough not to heat up your entire house if the temperatures outside are still hot.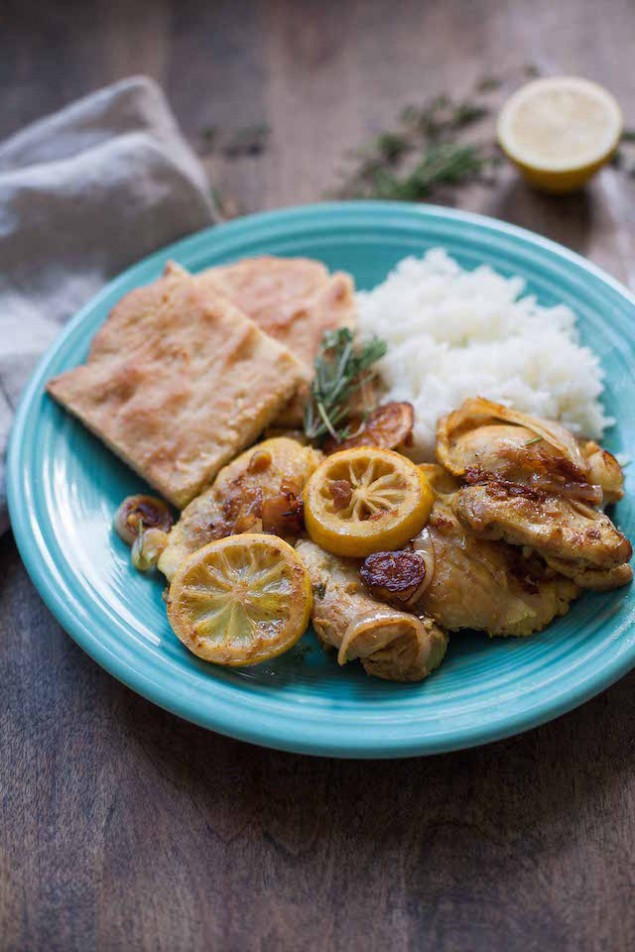 This recipe is inspired by a Lebanese chicken dish I had for lunch from the hot bar at Whole Foods last week. Whole Foods' version of this dish was made with bone-in, skin-on chicken, and also had potatoes, olives, and a few other ingredients. I loved the overall taste of the recipe, but wanted to simplify it a little.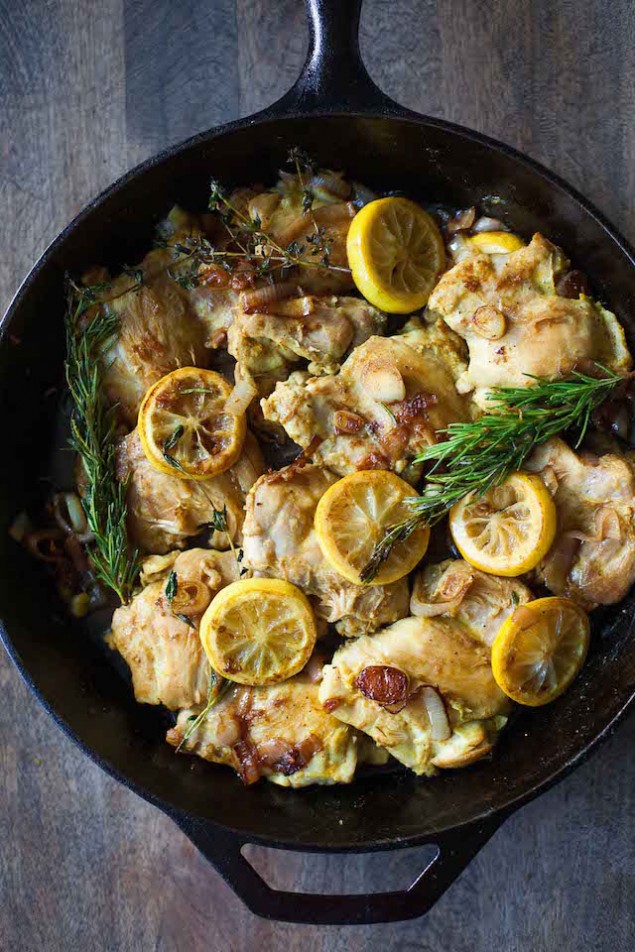 I used boneless, skinless chicken because it's faster, and chose thighs because they're less dry than breasts and less easy to accidentally overcook. The chicken "marinates" very briefly in a little olive oil, lemon juice, turmeric, salt, and pepper.
I served this chicken with white rice and paleo flatbread. I experimented with baking the flatbread in the oven instead of cooking it in a skillet since I was running short on pans. If you'd like to try baking it, follow the recipe for paleo flatbread and preheat your oven to 375. After the dough rises, pat it onto a parchment-lined baking sheet until it's about 1/4-inch thick and then bake for 15-20 minutes, until golden. (If you're torn about which way to make your flatbread, I'll tell you this: the original skillet version is softer and chewier, like naan, whereas the oven baked version is crunchy around the edges like a thick cracker. Both are delicious!)
See Also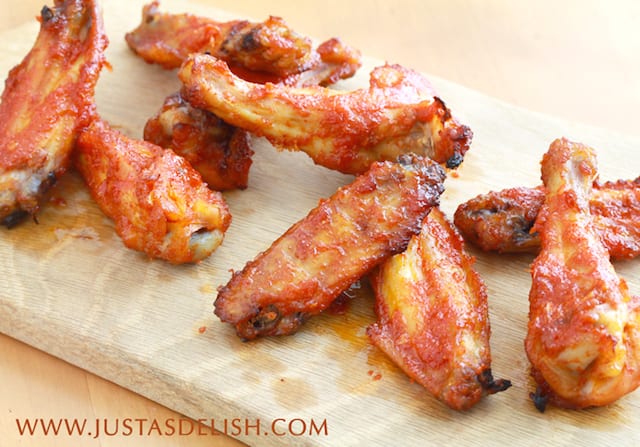 If you're doing a Whole30, this would go really well with cauliflower rice, mashed potatoes, creamy rutabaga, or a bunch of roasted vegetables.
This recipe makes a large amount. This weekend it fed four adults and three hungry children right after a soccer game, and one lonely thigh was left over.
Quick Lemon and Herb Chicken
Flavorful and quick, this Lebanese-style lemon chicken is made with shallots, fresh herbs, and a touch of turmeric for a comforting fall dinner.
Ingredients
3 organic lemons
2 tablespoons extra virgin olive oil, plus more for cooking
1/2 teaspoon ground turmeric
1 1/2 teaspoons flaky sea salt
Freshly ground black pepper
3 pounds boneless, skinless chicken thighs (about 12 thighs)
2 large shallots or 1 large onion
2 sprigs of fresh rosemary
2 sprigs of fresh thyme
Instructions
Juice one of the lemons until you have 2 tablespoons of lemon juice. Put the juice in a large bowl and add the 2 tablespoons of olive oil along with the turmeric, sea salt, and a generous amount of freshly ground black pepper. Add the chicken thighs to the bowl and toss to coat. Let the chicken marinate briefly at room temperature while you prepare the other ingredients.
Trim the ends off the other two lemons and slice them into 1/4-inch thick rounds. Remove any visible seeds. Halve, peel, and slice the shallots.
Heat two large cast iron skillets over medium-high heat (or use one skillet and cook the chicken in two batches). Add enough olive oil to coat the bottom with a thin layer of oil. Divide the chicken pieces between the two pans with the smooth side of the chicken (where the skin was) facing down, making sure to leave a little room between the pieces so they can brown. Cook for about 5 minutes, until nicely browned on the bottom, and then flip and cook for 8-10 minutes on the second side, until just cooked through, lowering the heat slightly if necessary. Use tongs or a slotted spatula to transfer the chicken pieces to a plate.
Add the lemons, shallots, and herb sprigs to the pans. Let cook undisturbed for 3-4 minutes, until the lemons are browned on the bottom. Pour 1/2 cup water into each pan and stir, scraping the browned bits from the bottom. Reduce the heat to medium, add the chicken back to the pans, and cook for 4-5 minutes so the flavors can meld. Serve the chicken, shallots, and pan juices hot over rice or cauliflower rice.
3.2.2885
Becky Winkler
Becky Winkler is an enthusiastic eater who shares paleo and gluten-free recipes on her blog, A Calculated Whisk. She enjoys chopping chocolate, salting dessert, searing short ribs, and taking pictures. In her other life, she's a grad student in Boston.