Italian Holiday Table: Italian Sausage and Walnut Pasta with Chocolate Hazelnut Panna Cotta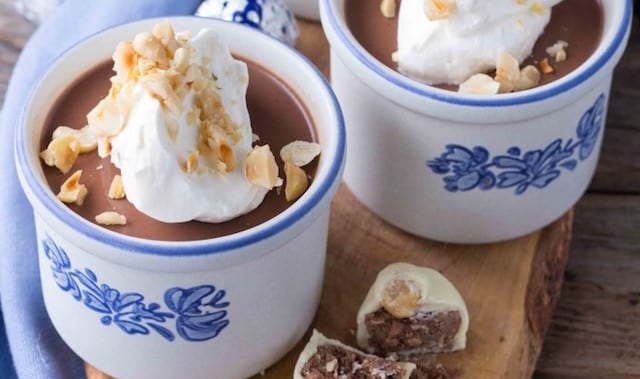 PARTNER POST — The holiday season is here and it is time to add some Italian flair to your menu with authentic ingredients from Colavita and Perugina's rich Italian chocolate.
Create a gorgeous Italian inspired dinner party with a walnut and sausages pasta and a sweet finish of chocolate hazelnut panna cotta.
By Nicole Gaffney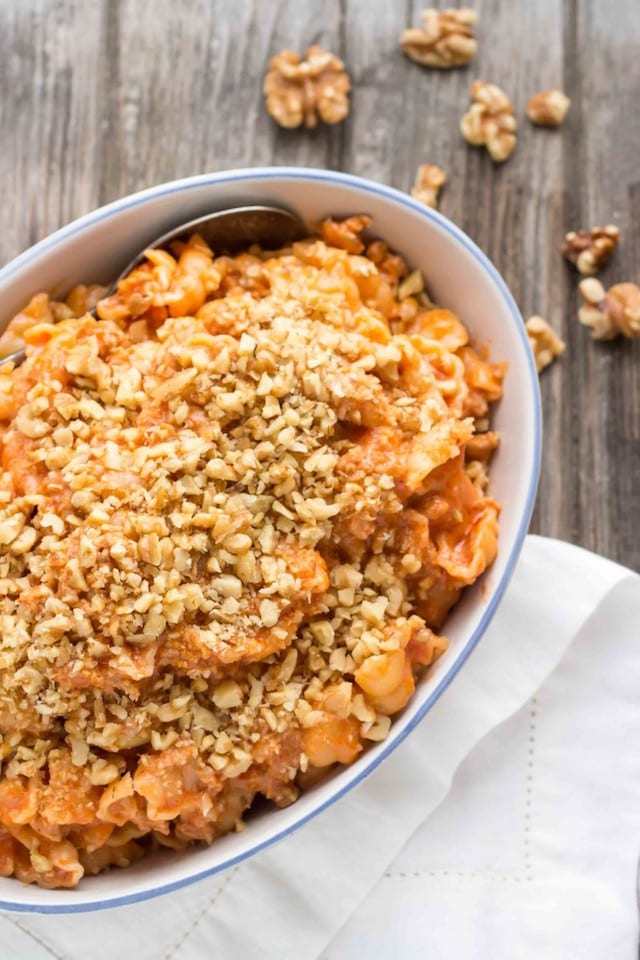 Both of these recipes, perfect for a dinner party, come together super fast and can be easily assembled right before serving, so you'll have more time to spend with those awesome people you invited over. And guess what? At the end of this post, you'll have the opportunity to win a gourmet food basket loaded with lots of incredible Italian ingredients to help you get the spread on the table.
The giveaway is coming courtesy of Colavita and Perugina, two high quality Italian companies with products I've been a big fan of for a long time.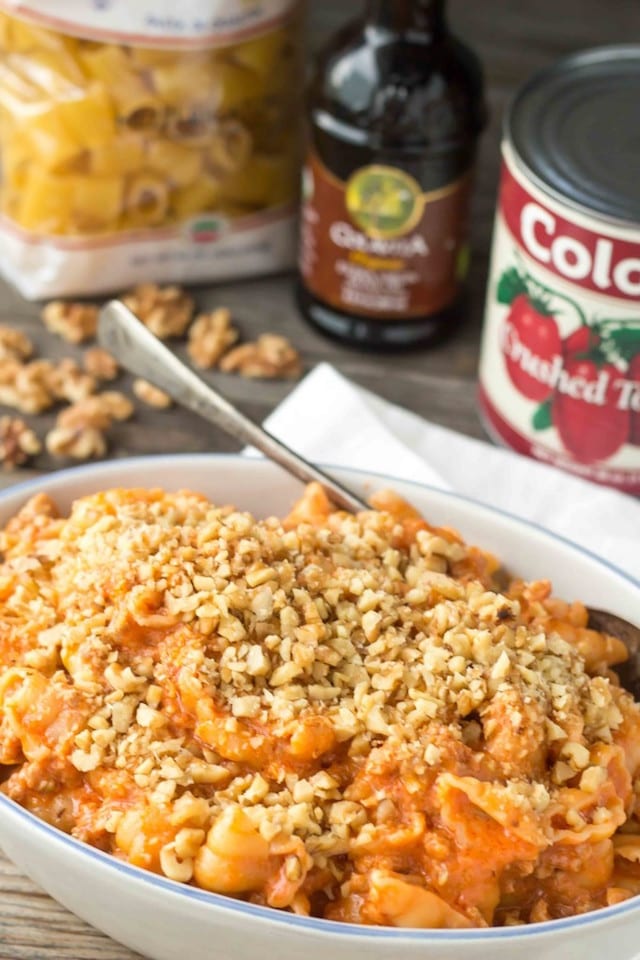 This pasta recipe is a mash-up of a few different dishes I had back in September when we were traveling through Tuscany. I combined sweet Italian sausage, savory Colavita crushed tomatoes and creamy mascarpone cheese to make a velvety sauce that gets tossed with perfectly al dente Colavita pasta. A finishing sprinkle of finely chopped walnuts adds a unique flavor and textural contrast that's a welcome change from the usual grated cheese.
To me, this dish is exactly what Italian food is all about: top quality ingredients, proper technique, and simple, well balanced flavors. Colavita tomatoes have the perfect balance of sweetness and acidity, while the mascarpone adds a certain funk you can't get from using plain old heavy cream. The sausage gives it tons of flavor, with just enough protein to make it a meal. Most of this dish can be made ahead, making it perfect for serving to company. When it's time for dinner, all you have to do is cook the pasta and toss it all together. Boom!
Italian Holiday Table: Italian Sausage and Walnut Pasta with Chocolate Hazelnut Panna Cotta
Cuisine:
Italian Inspired
Ingredients
2 teaspoons Colavita Organic Extra Virgin Olive Oil
1 lb sweet Italian sausage, removed from casing
2 whole cloves garlic, gently crushed with the side of a knife
1½ cups Colavita canned crushed tomatoes
Salt and pepper to taste, plus plenty of salt for the pasta water
½ lb Colavita short shaped pasta (suggested: Mezze Rigatoni)
8 ounces mascarpone cheese
½ cup walnuts, finely chopped
Instructions
Heat Colavita Organic Extra Virgin Olive Oil in a large sauté pan, then add in the sausage. Use a spatula to break up the sausage as it cooks, working it until it's in pieces the size of peas. When the sausage is fully cooked, add the whole garlic cloves and cook for one minute.
Add the Colavita crushed tomatoes and let simmer for 5-10 minutes.
While the sauce is cooking, bring a large pot of water to a rolling boil and add a generous amount of salt (it should taste almost as salty as the ocean). Drop in the Colavita pasta, give it a stir, and cook until al dente.
While the pasta cooks, lower the heat of the sauce and stir in the mascarpone until blended. Remove the garlic and discard.
When the pasta is ready, drain, then add to the sauce and toss for a few minutes until fully coated. Top with chopped walnuts and serve hot.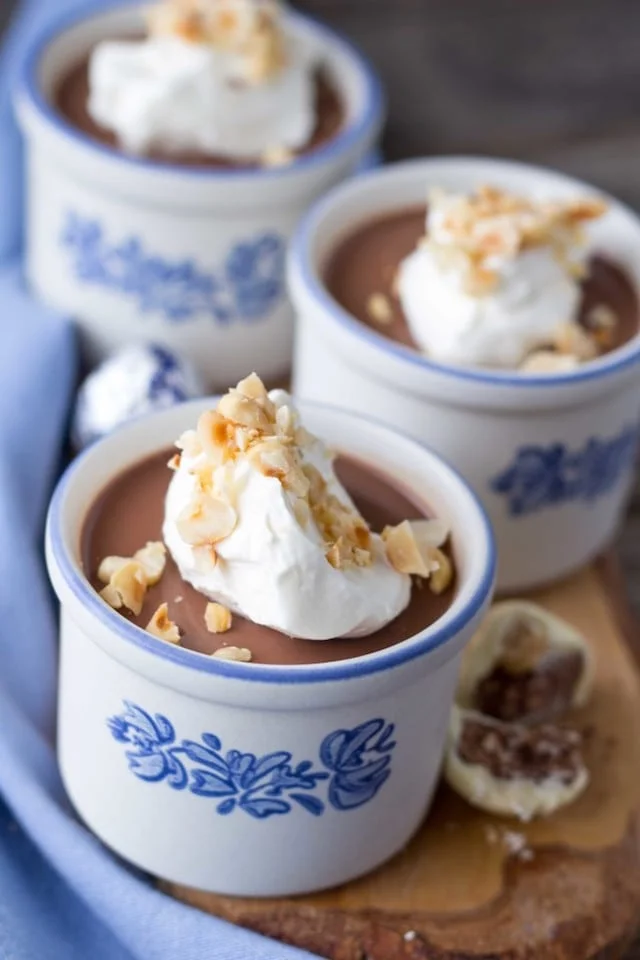 For the dessert portion of the challenge I opted to make panna cotta, an Italian dessert that stole my heart while dining cliffside in the Cinque Terre. Panna cotta sounds so foreign and fancy, but it's actually really simple and quick to make.
This recipe mixes Perugina dark chocolate, hazelnut liqueur and chocolate hazelnut spread to create a luxurious and rich pudding. Inside, there's a surprise: little pieces of chopped up Baci candies. If you've never tried Baci before, they can only be described as a chocolate hazelnut lover's dream. Rich gianduja – a chocolate hazelnut cream – is topped with a single toasted hazelnut and enrobed in either dark, milk or white chocolate.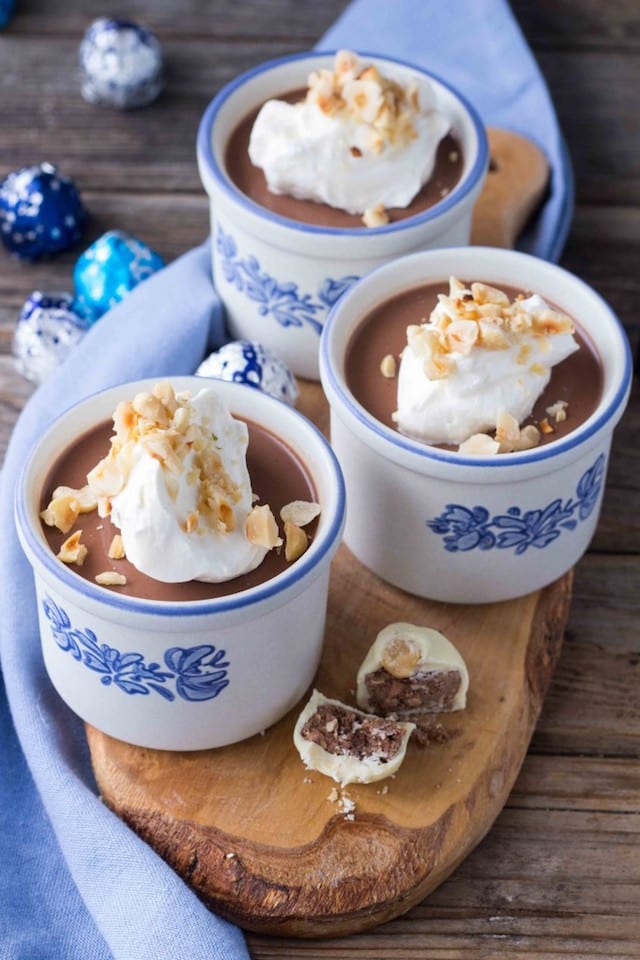 Italian Holiday Table: Chocolate Hazelnut Panna Cotta
Cuisine:
Italian Inspired
Ingredients
3 tablespoons cold water
2 teaspoons unflavored powdered gelatin
1 ½ cups heavy cream
1 bar (3.5 oz) Perugina 51% Cacao Premium Chocolate, finely chopped
½ teaspoon kosher salt
¾ cup chocolate hazelnut spread (such as Nutella)
1 tablespoon hazelnut liqueur (such as Frangelico)
1 cup whole milk
6 assorted Baci candies (milk chocolate, dark chocolate or white chocolate), roughly chopped
Whipped cream and chopped toasted hazelnuts for serving
Instructions
Pour the water in a medium bowl, sprinkle the gelatin over top and stir to combine. In a medium saucepan, bring the heavy cream up to a boil and then remove from the heat. Add the chocolate and salt, then stir until the chocolate has completely melted. Pour the mixture over the gelatin and gently whisk until combined.
Whisk in the hazelnut spread, hazelnut liqueur and milk, then set the mixture aside to cool slightly. Place about 1 heaping tablespoon of chopped baci in the bottom of 6 ramekins or cups, then pour the mixture over to cover.
Cover the ramekins loosely with plastic wrap and place in the refrigerator for at least 6 hours (preferably overnight) to set. To serve, top with a dollop of whipped cream and chopped toasted hazelnuts.