Pumpkin Spice Brown Sugar Squares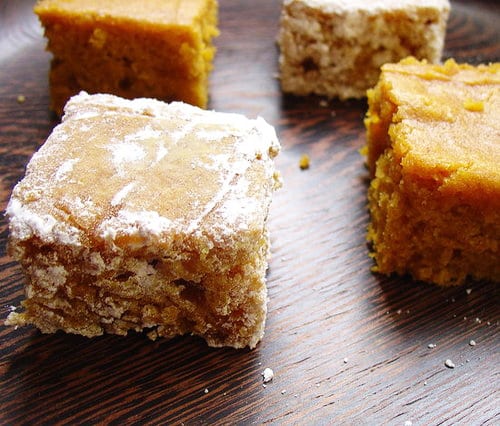 These blondie-like brown sugar squares get an Autumnal update with pumpkin pie flavors.
By Jennifer Abbott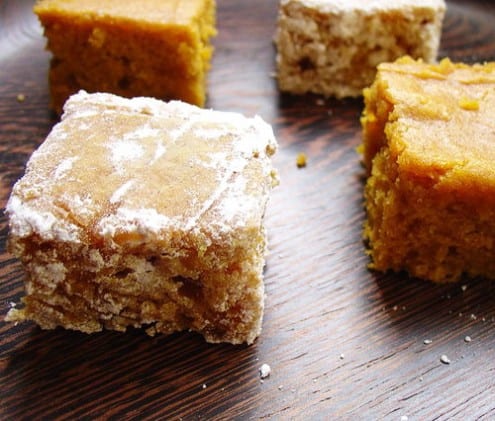 Pumpkin Spice Brown Sugar Squares
These blondie-like brown sugar squares get an Autumnal update with pumpkin pie flavors.
Ingredients
10 Tablespoons unsalted butter
1 cup light brown sugar, firmly packed
⅓ cup white (granulated) sugar
1 egg
1 cup pureed cooked pumpkin (canned is fine)
1½ cups all-purpose flour
1½ teaspoons baking powder
½ teaspoon salt
½ teaspoon ground cinnamon
⅛ teaspoon ground nutmeg
⅛ teaspoon powdered ginger
1 teaspoon vanilla extract
about 1 cup sifted powdered (confectioner's) sugar, for rolling
Instructions
Preheat oven to 350. Grease and flour an 11x7-inch baking dish or brownie pan.
Melt butter. While still warm, place in a medium mixing bowl, stir in sugars until dissolved, and let mixture cool till just slightly warm.
Add egg, stirring well. Add pumpkin and stir until well-mixed.
Add remaining ingredients except powdered sugar. Stir until well combined, then spread batter into prepared pan, smooshing down slightly with a rubber spatula to remove any air bubbles.
Bake at 350 for 35 minutes, or until edges are just starting to crack and a wooden pick inserted in the center comes out with just a few crumbs attached.
Cool on a wire rack for about 10 minutes. Cut into 1½" squares while still warm, and roll some or all of them in powdered sugar* (if the sugar doesn't stick you can smear it on with your fingers). Roll exactly half of your squares in sugar to create a checkerboard.
Jennifer Abbott
Jennifer Abbott is a writer, music teacher, Southern food enthusiast, and soup aficionado. She lives in New Orleans and blogs about cooking and dining at Food Orleans.