A drinkable pumpkin pie made with almond milk and sweetened with just a hint of maple syrup. It's filling, full of protein, fiber and is perfectly spiced.
I just finished making some pumpkin cream cheese muffins for a bake sale at work.  It's the most excitement we've had in the office in months!  For me anyway.  I got the email and knew immediately I was in.  All proceeds are are going to charity.  Can't beat that!
With the leftover pumpkin puree I got thinking about pie but it's a bit too early to start making one of those.  Around Thanksgiving I'm good for making at least three pumpkin pies.  I need to pace myself!  So I went with a shake instead.  A drinkable pumpkin pie sweetened with just a hint of maple syrup.
A pumpkin pie protein smoothie is great on the go.  Especially when you use a single serve blender.  Whether it's breakfast or just a quick pick me up.  It's filling, full of protein and fiber and perfectly spiced!  It's going to get us by until pie time.  I'll be back with that later!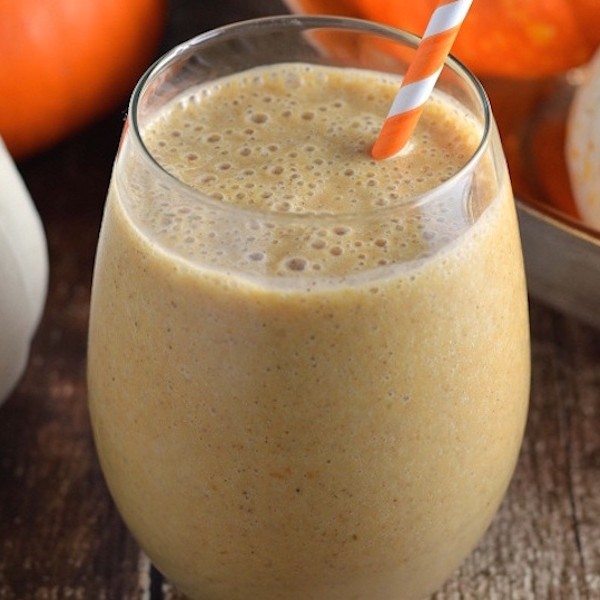 Angie Wright
Ingredients
1 1/2

cups

3.5dl unsweetened almond milk

1

small ripe banana

1/2

cup

1.2dl pumpkin puree

1

tsp

pumpkin pie spice

1

scoop protein powder

Ice and maple syrup to taste. I used a tsp of maple syrup.
Instructions
Blend all the ingredients together in a blender.

Serve immediately.
Angie Wright
It's no surprise to most that Angie loves cake. In fact, she has labeled most Friday's around her home Cake Friday. She have three built in taste testers, my husband and two kids. She resides in Northern BC and loves to travel, trying new recipes, and baking. She may not be an expert on everything cake, but she knows a lot and has the extra ten pounds to prove it.