These Pumpkin Cheesecake Brownies are rich, creamy, and full of the best fall flavors.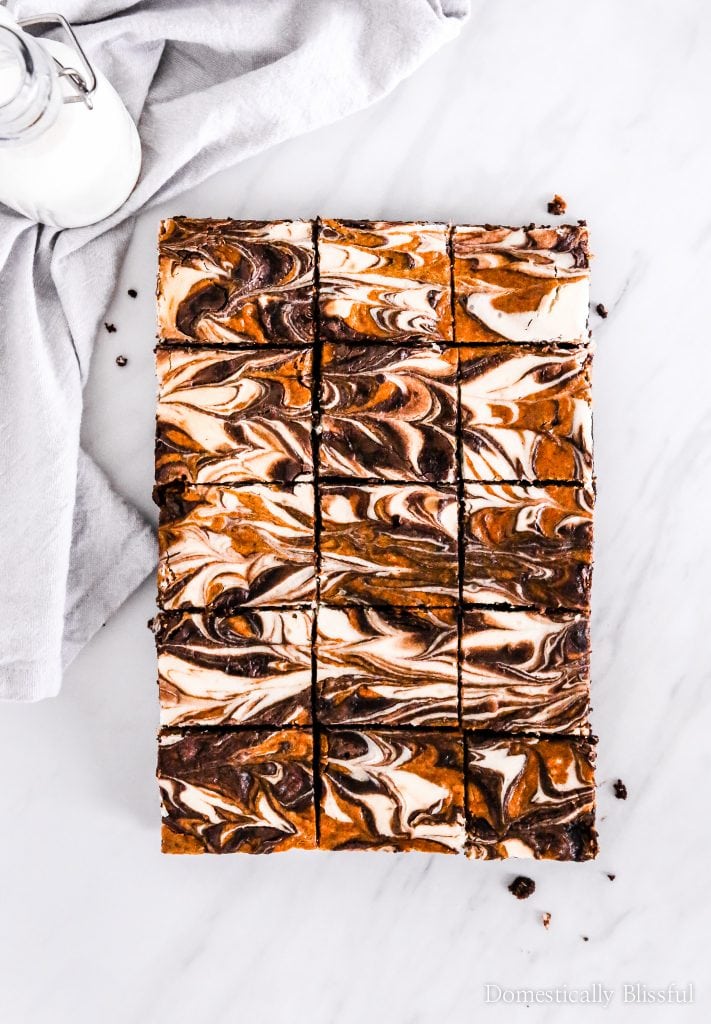 Honestly, it's taking all of the willpower I can muster not to walk downstairs & consume every last bite of these Pumpkin Cheesecake Brownie.
I'm at Roger's office right now and brought these fall brownies with me to share with his staff, so luckily there is some distance between me & them.
Normally I wouldn't resist or even consider it a temptation, but this is the second week in a row that I've made these pumpkin spice brownies & I didn't share the first batch with anyone other than my husband and my sister.
And let's be honest, I ate more than both of them combined!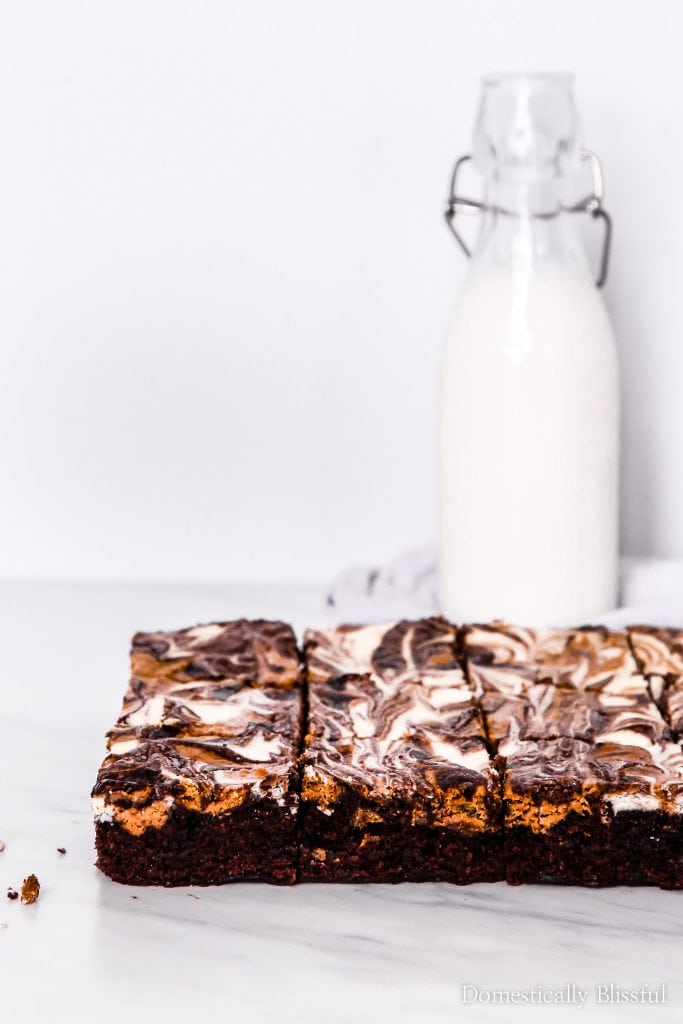 I'm slightly worried I may be losing my mind. I feel like I can almost taste them and smell just by looking at these pictures.
I know some people don't like the word moist, but oh my! The moist rich flavors of this brownie cheesecake are divine!
And look at that swirl pattern? Isn't it pretty!
I love desserts that are this easy, and look that pretty, with basically no effort!
Especially when they involve pumpkin spice!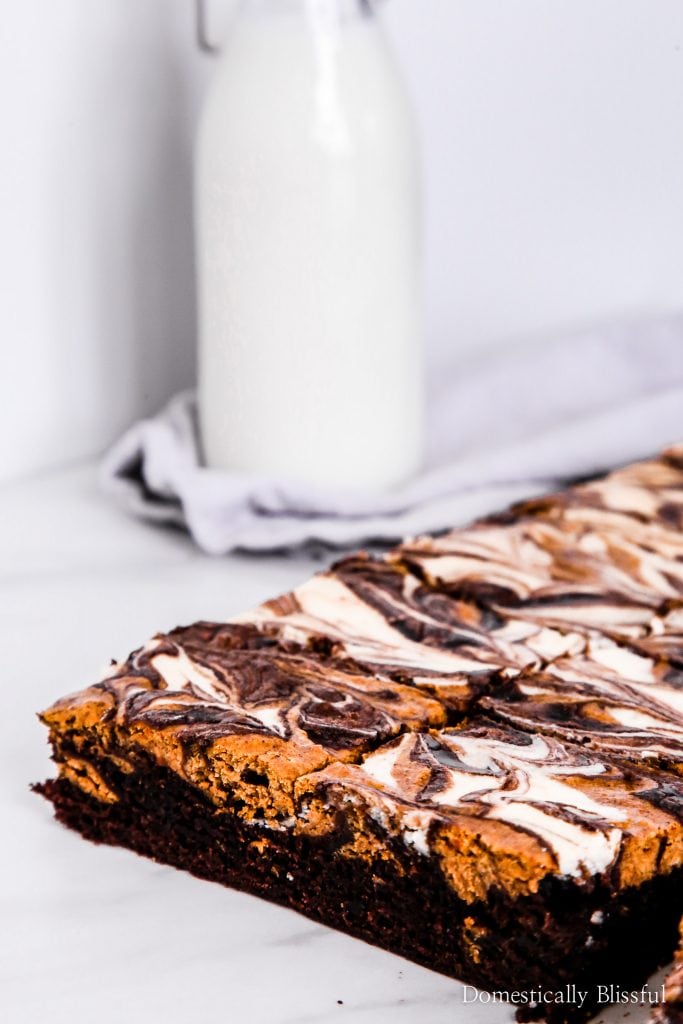 A few years back I shared a similar recipe for Pumpkin Cream Cheese Brownies.
While similar, I think these Pumpkin Spice Cheesecake Brownies look and taste WAY yummier with the extra cheesecake swirl and the added pumpkin spice seasonings.
And before I get to the recipe, if you love all things fall, pumpkin spice, and pretty swirls you will love this recipe for Nutella Cream Cheese Swirl Pumpkin Muffins.
You can use a favorite brownie recipe for these beauties or a box mix!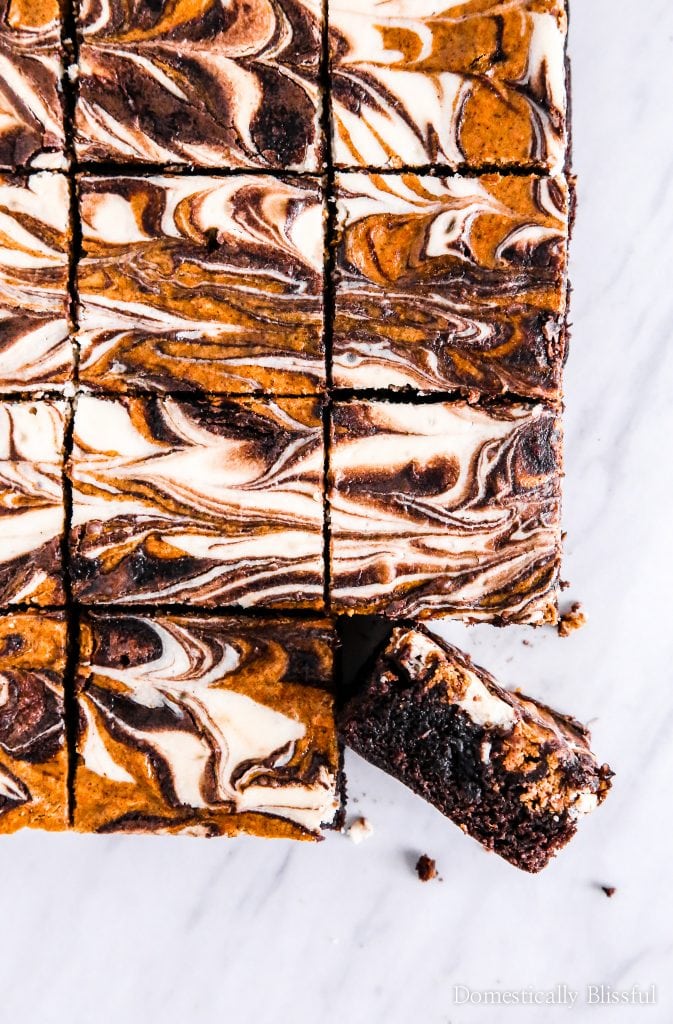 Pumpkin Cheesecake Brownies
Author:
Giustina Blissful
Ingredients
Brownie Mix (13? X 9? family size) or your favorite recipe
8 Ounce Cream Cheese, room temperature
⅓ Cup Sugar
1 Teaspoon Pure Vanilla Extract
1 Large Egg
1 Tablespoon Flour
½ Cup Pure Pumpkin (not pumpkin filling)
2 Teaspoons Ground Cinnamon
½ Teaspoon Ground Nutmeg
¼ Teaspoon Ground Cloves
¼ Teaspoon Ground Allspice
Instructions
First, preheat your oven to 350 degrees Fahrenheit & prepare the brownie batter according to their packaging instructions. Set to the side.
In a second bowl blend your 8 ounces cream cheese until light & creamy.
Add ⅓ cup sugar, 1 teaspoon vanilla extract, 1 large egg, & 1 tablespoon flour.
Divide the cheesecake mixture between two bowls & in the second bowl blend in ½ cup pumpkin, 2 teaspoons cinnamon, ½ teaspoon nutmeg, ¼ teaspoon cloves, & ¼ teaspoon allspice.
In a 13? X 9? pan lined with parchment paper, or sprayed with oil, pour a little over ¾ths of the brownie batter & spread evenly.
Add dollops of the cheesecake, pumpkin cheesecake, & brownie batter on top & swirl with a toothpick to create the marbled design.
Bake your Pumpkin Spice Cheesecake Brownies for 30 minutes uncovered. Lightly cover with foil & bake for an additional 5 minutes or until a toothpick comes out clean.
Let cool & enjoy!
Keep leftovers in a loosely sealed container for 5-6 days in your fridge.