Sponsored Post: Prosciutto di Parma is the King of Hams and we're celebrating the best prosciutto around with delicious recipe and cooking inspiration.
Bring some beautiful purple hues to the table with this side dish of prosciutto-wrapped radicchio served with a balsamic fig reductions. It's sweet, salty and just a touch bitter from the radicchio. The perfect flavor combo.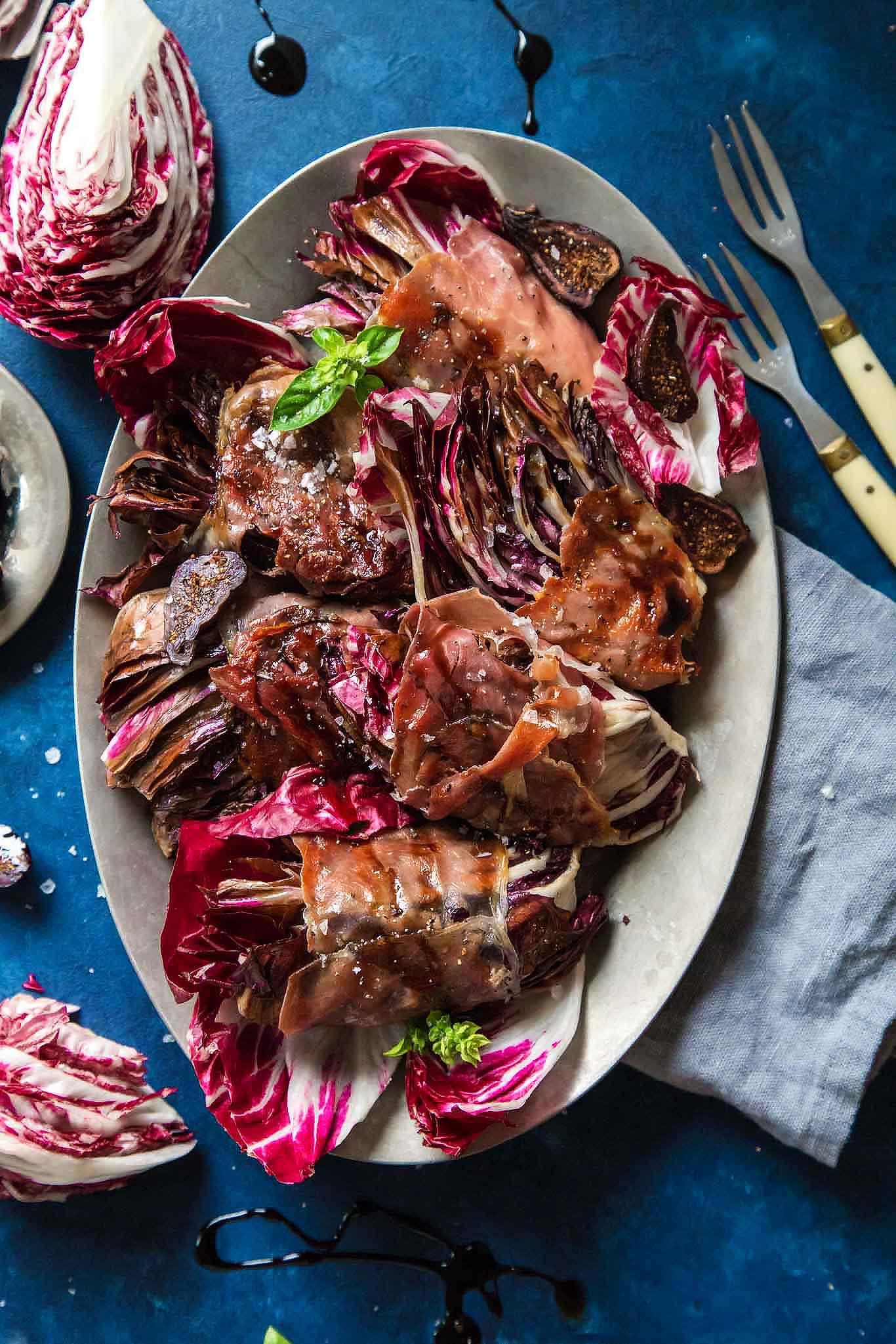 Now that fall is upon us, I've been amping up my arsenal of dishes for the holiday dinner table. In our house, both Thanksgiving and Christmas focus on the food (and wine). We've found ourselves with quite the stash of Pinot Noir, so we'll definitely be popping open at least a few of those bottles and doing a blind taste test to see if we're anything like the cast of Somm on Netflix… But, as for food, I'm still kind of undecided. I'm thinking that for Thanksgiving dinner, we're going to go totally off the grid and make homemade pasta and my Nana's Sunday Gravy instead of a big Thanksgiving turkey. It's going to be a quiet year – I think just the two of us at our beach house, which actually sounds quite relaxing right about now. Sitting in front of the fireplace, listing to the wind and the waves, and watching the rain come down sideways outside.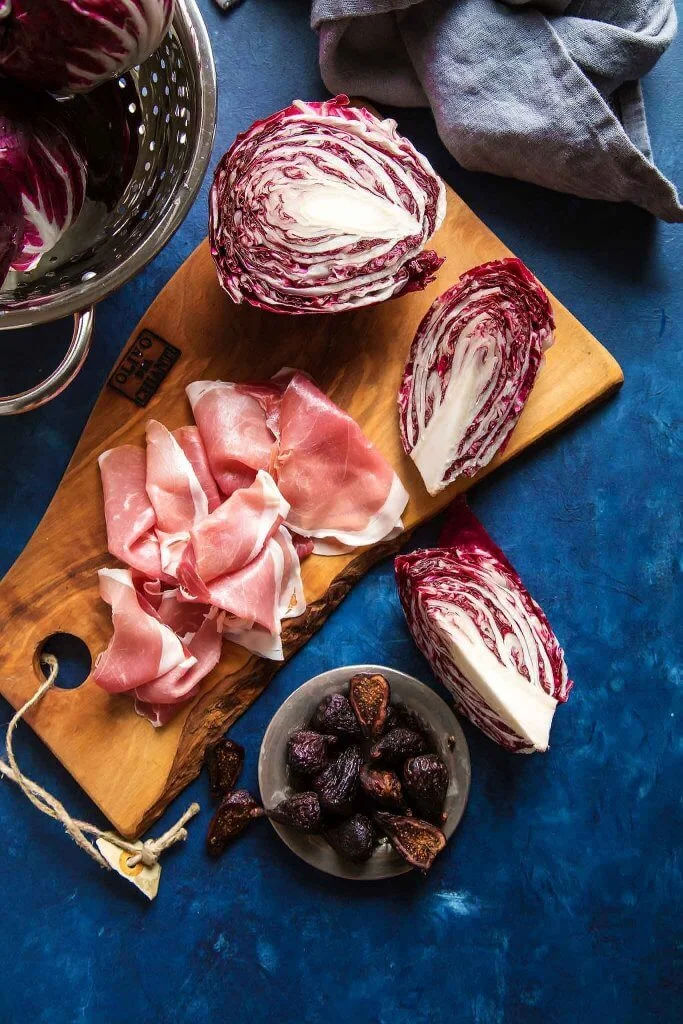 I have, however, come up with a side dish that I think will work equally well alongside a holiday meal of turkey or prime rib as it will alongside some big bowls of pasta.
This year, I set out to create a side dish that's not only stunning to look at (it'll steal the scene at the holiday table) but also packed with flavor – Prosciutto Wrapped Radicchio with Balsamic Fig Reduction.
For years now, my Roasted Brussels Sprouts with Cranberries and Balsamic Reduction have been my most requested recipe for holiday dinners. Both kids and adults love them so much. This year, I wanted to switch things up a bit. I'm using a similar technique for the balsamic fig reduction – swapping the cranberries for dried figs still gives that sweet-tart combination. And, instead of the Brussels sprouts, I'm using radicchio. Radicchio has a bit of a bitter taste to it that mellows out when it's roasted, it also takes on a nice smoky flavor which, combined with the prosciutto di parma, is a perfect combination.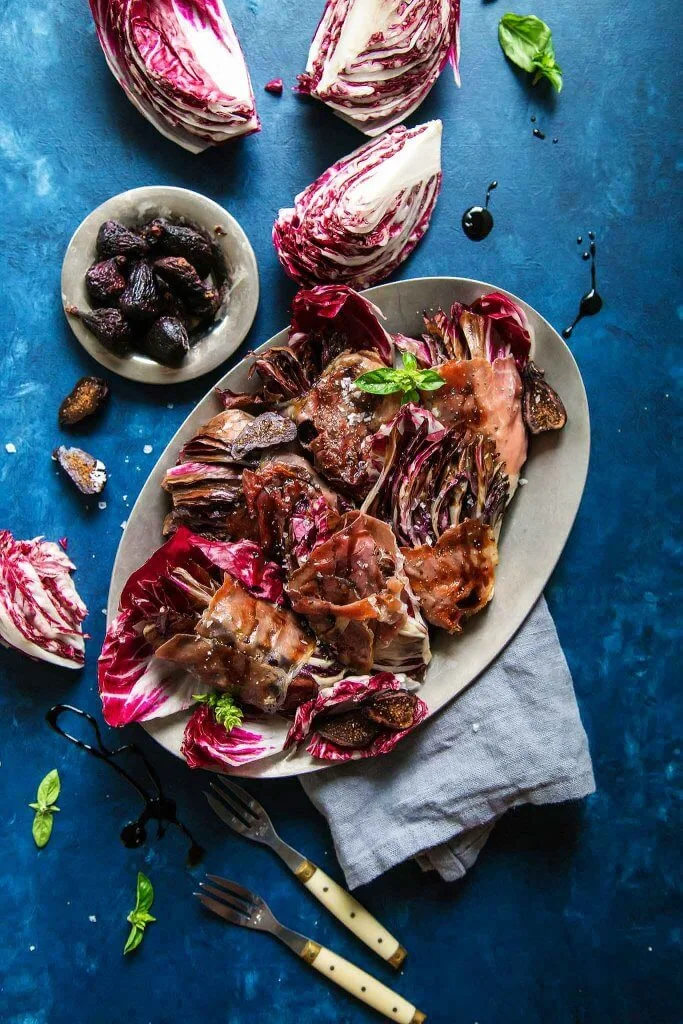 To assemble the prosciutto wrapped radicchio, I cut each head of radicchio into quarters and wrapped them with a slice of prosciutto. Brush the bundles with a bit of olive oil and sprinkle them with salt and pepper before popping them onto a hot grill (or grill pan). Give them a turn once and a while until they get nice and crispy on all sides. Meanwhile, you can make the yummy fig balsamic reduction. Just add your balsamic and figs to a small pot, bring it to a boil, and let it reduce for about 6-8 minutes. You'll know it's ready when it coats a spoon nicely – That's when it's perfect for drizzling over these beauties.

WINE PAIRINGS FOR PROSCIUTTO WRAPPED RADICCHIO WITH BALSAMIC FIG REDUCTION:
Sauvignon Blanc makes a great white wine pairing for this side dish. It's bright acidity pairs nicely with the rich prosciutto.
For a red wine option, try a Pinot Noir. Its earthy flavors will echo those in the radicchio and notes of cherry are amazing with the balsamic reduction.
CLICK HERE FOR THIS SIDE DISH RECIPE.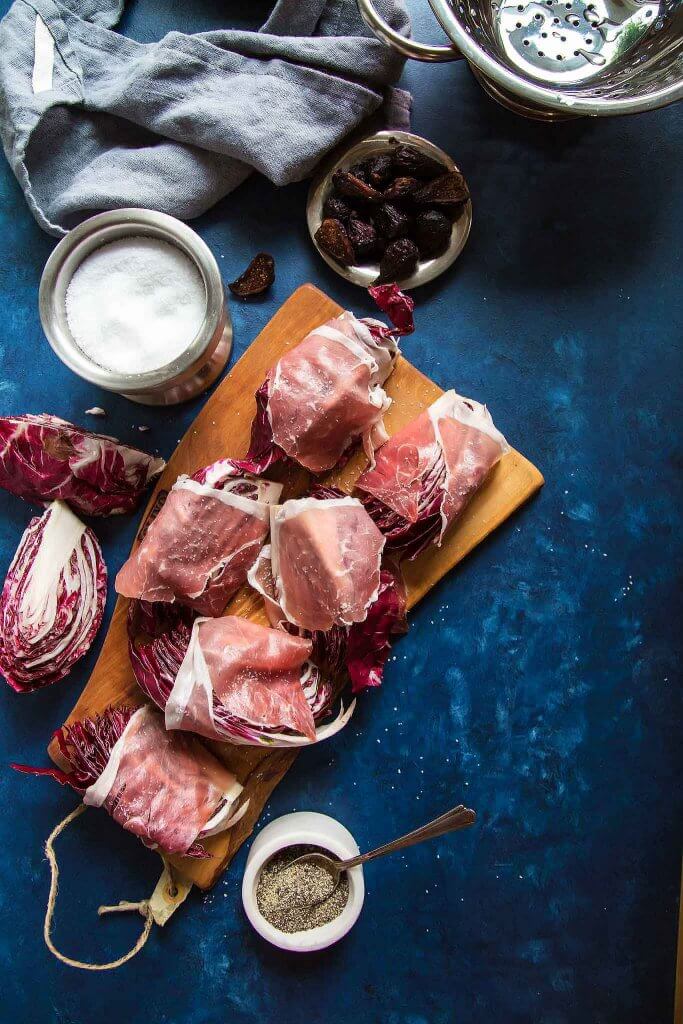 Check out an appetizer idea featuring more Prosciutto di Parma
Erin Rebecca
I'm Erin - a self-taught weeknight cook. I occasionally like to delve into the more complicated recipes, like homemade pasta, Cioppino, and boeuf bourguignon. But for the most part, I work full-time, come home, pour a glass of vino and start cooking away.