Take some time on a weekend morning to cook up this hearty breakfast to fuel your family for the rest of the day.
By Jovina Coughlin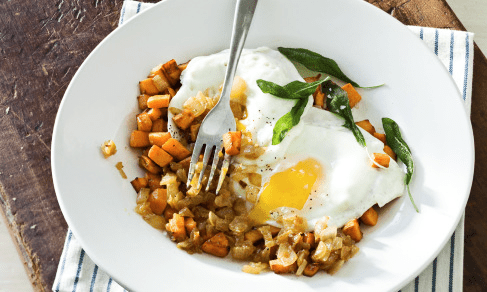 Potato Hash with Fried Eggs
Take some time on a weekend morning to cook up this hearty breakfast to fuel your family for the rest of the day.
Ingredients
4 tablespoons unsalted butter, divided
2 medium sweet potatoes, peeled, cut into ½-inch cubes
¼ salt
1 cup water
8 fresh sage leaves, divided plus extra for garnish
2 Vidalia or sweet onions, chopped
8 large eggs
Instructions
Melt 2 tablespoons butter in a large skillet over medium-high heat. Add sweet potatoes and toss until coated in the butter, then add water and sage leaves. Bring water to a simmer and cook potatoes, uncovered, until the water has almost evaporated and the potatoes are fork tender, about 10 minutes. If there is any excess water in the pan, remove it with a large spoon and reserve.
Continue cooking potatoes, scraping pan frequently with a spoon, until crusty brown, about 10 more minutes. Add a tablespoon of the leftover cooking liquid or fresh water, if the potatoes stick or begin to scorch.
Meanwhile, melt 1 tablespoon butter in a medium skillet over medium heat. Add chopped onion and cook, adding water as necessary when the pan gets dry, until deep golden brown, about 20 minutes. Transfer onions to the pan with the potatoes.
Add remaining 1 tablespoon butter to the empty skillet and cook the eggs, 4 at a time, to your preference.
Place potato and onion mixture in the center of 4 plates and top each plate with 2 fried eggs. Garnish plates with sage leaves.
Jovina Coughlin
I was born in New Jersey to first generation Italian parents. Both sets of my grandparents were born in Italy and emigrated to the United States in the early 1900s. They brought with them a love of the Italian culture and cooking. I have 2 brothers and 1 sister. I learned many of my cooking skills from my parents and grandparents, but I also studied Italian cooking and made many of the recipes for my children as they were growing up. I am married with three children and six grandchildren. Besides New Jersey, I have lived in Pennsylvania, Michigan and now on the Gulf Coast of Alabama. I have a Bachelor of Arts Degree and a Masters of Science Degree and I have taught high school English and special education. I have also been an administrator in the public schools at the district and county levels. Now that I am retired from the teaching profession, I have the time to write a blog and share my information about Italian American cooking and culture. Because I am a teacher by trade, I feel that I have the skills to share with readers the techniques for preparing authentic and healthy meals.