PARTNER POST: The versatile potato is perfect in a multitude of recipes showcasing flavors from around the globe. Get creative with your spuds.
Spice things up with an elegant appetizer of potatoes served in a flakey crust with turmeric, cumin, ginger and more. Serve with a cream cilantro sauce for the ultimate bite.
By Vicky Cohen and Ruth Fox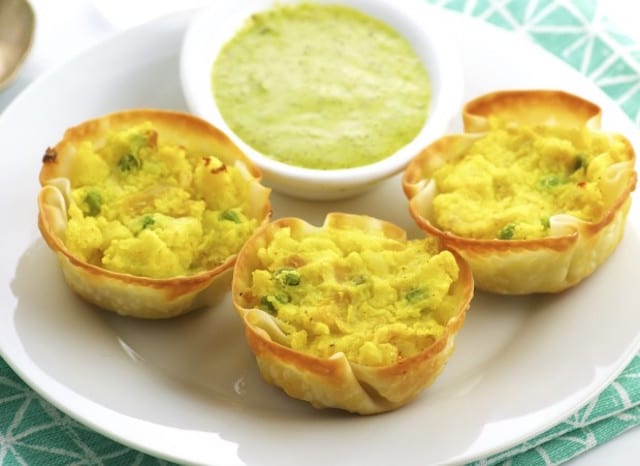 Reinvigorate your love for that special someone, and your love of cooking, with this potato dish that will be sure to inspire and impress.
I have a confession to make: for the longest time, I did not go near potatoes. Seriously, I avoided them like a plague. As an overweight child / teenager, I was always told they were "fattening" and there was absolutely no room for them in a weight loss plan. A common misconception that unfortunately continues to be around.
Potatoes are high in carbohydrates (which means they are a great source or energy) but they are also a good source vitamin B6, a nutrient that plays an important role in carbohydrate and protein metabolism (it helps turn the energy from food into energy your body can use). They are high in antioxidants (including Vitamin C), fiber (which makes you feel full longer), potassium and magnesium and are fat, cholesterol, sodium and gluten free. And best of all, they are a super versatile vegetable that can be prepared in endless ways, with only 110 calories for a medium size spud. Now if all that information doesn't reignite your love for potatoes, nothing will!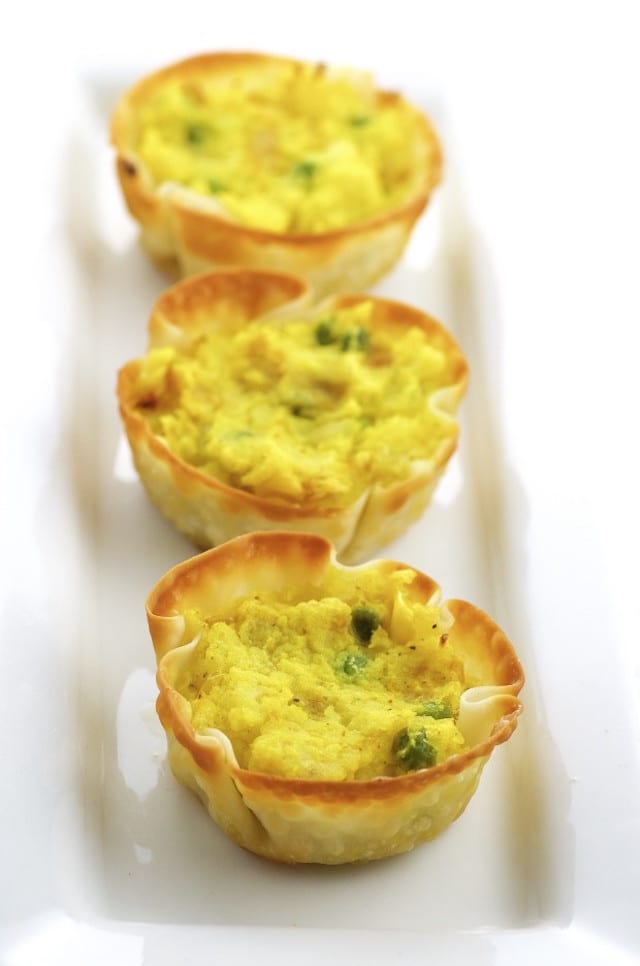 And speaking of love, the recipe we're sharing today makes a great appetizer for a romantic Valentine's Day dinner. Because in our opinion, nothing says "I love you" like well thought out, home cooked, delicious (and nutritious!) meal.
These spiced potato cups are easy to prepare, elegant, filled with flavor and as you saw above, nutrients too. Spices like turmeric, cumin, ginger and black pepper give this dish an exotic and non traditional twist. Peas and corn complement the natural sweetness of the Yukon gold potatoes beautifully. And the crispy wonton wrappers make terrific "vehicle of transportation" for the tasty potato mixture.
For another recipe loaded with spices, try these Bombay Spiced Potatoes: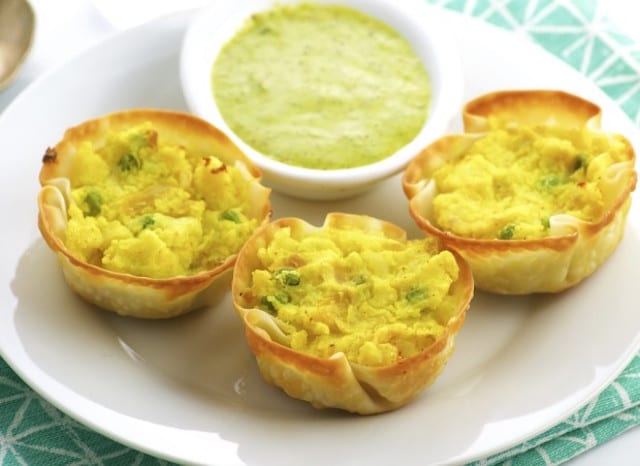 Potato Bites and Cilantro Sauce
Vicky Cohen & Ruth Fox
Spice things up with an elegant appetizer of potatoes served in a flakey crust with turmeric, cumin, ginger and more. Serve with a cream cilantro sauce for the ultimate bite.
Ingredients
5

medium Yukon potatoes

peeled and quartered

1

tbsp

salt

2

tbsp

extra virgin olive oil

divided

1

medium onion

diced

½

cup

frozen peas

½

cup

organic frozen corn kernels

2

tsp

fresh grated ginger

¼

tsp

ground turmeric

¼

tsp

cumin

1/8

tsp

salt

1/8

tsp

pepper

24

wonton wrappers

2-3

tbsp

extra virgin olive oil for brushing
Cilantro Sauce
2

tablespoons

brown mustard

¼

cup

chopped fresh cilantro

½

water

¼

cup

freshly squeezed lemon juice

1

tsp

maple syrup
Instructions
Fill a medium size pot 2/3 of the way with water and bring to a boil. Add 1 tablespoon of salt and potatoes and cook for about 20 minutes or until tender

In the meantime heat 1 tablespoon of olive oil in a large non stick skillet. Add diced onions and cook for 3-4 minutes over medium heat. Add 2 tablespoons of water and keep cooking until all the water has evaporated. Continue cooking for about 20 minutes, adding more water, 2 tablespoons at a time,if necessary to keep them from burning.

Add peas, corn, ginger, turmeric, cumin, salt and pepper. Cook for another minute and set aside

Drain the potatoes, reserving cooking water. Transfer them to a medium bowl, add ? cup of cooking water and mash them using a fork or potato masher. Add onions, peas and corn and 1 tablespoon of olive oil and mix well. Taste the mixture and add ? to a ¼ teaspoon of salt if necessary

Preheat oven to 375F. Coat a muffin tin with cooking spray

Brush both sides of each wonton wrapper with extra virgin olive oil. Carefully press each wonton wrapper into the muffin tin, so they fit snugly and form a little cup. Bake for 8-10 minutes or until golden brown

Fill each wonton cup with 2 tablespoons of warm potato filling and serve immediately with cilantro sauce
Cilantro Sauce
Combine all the ingredients in a blender and blend until smooth
Notes
Potatoes can be made ahead of time and warmed up before filling the wonton cups. Wonton cups can be made 1 day ahead and kept in an airtight container or a ziplock bag.
Vicky Cohen and Ruth Fox
We are two sisters born and raised in Barcelona, Spain, with Sephardic and Middle Eastern roots. We grew up eating the best, most flavorful, comforting home-cooked meals prepared by our mom, who taught us everything we know about cooking. When we moved here to the U.S. we felt it was really important to keep our traditions and background alive, and we've done so by sharing it with everyone we've met throughout the years. After all, what better way to make new friends and share our love and culture than through food, right? Our friends have come to enjoy our food and gatherings so much that are always asking us for our recipes. That inspired us to start a cooking blog called "May I have that recipe" where we share recipes we've created inspired by our multicultural background.