Two types of potatoes create a latke-like base to replace the bread in this gluten-free and vegan stuffing that everyone will love.
By Vicky Cohen and Ruth Fox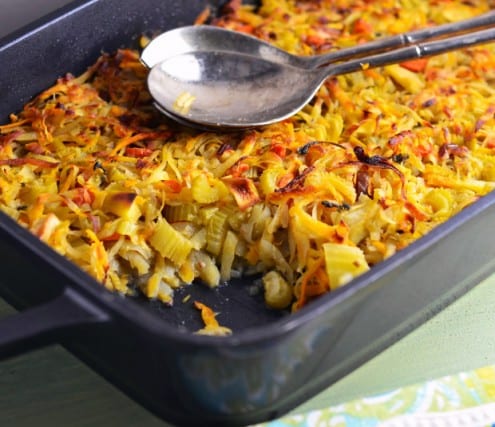 Gluten-Free Potato Apple and Chestnut Stuffing
Two types of potatoes create a latke-like base to replace the bread in this gluten-free and vegan stuffing that everyone will love.
Author:
Vicky Cohen and Ruth Fox
Ingredients
3 large yukon gold potatoes, grated
1 large sweet potato, grated
1 tsp salt
2 tbsp extra virgin olive oil
4 large celery stalks, chopped
1 medium onion, chopped
3 small carrots, sliced
8-10 cooked chestnuts, chopped
1 medium size granny smith apple, diced
1 garlic clove, minced
4 large sage leaves, chopped
¼ tsp salt (or to taste)
2 cups vegetable broth
Instructions
Place grated potatoes on a colander over a bowl. Add one teaspoon of salt and toss well. Set aside for 20 to 30 minutes to drain some of the water out (you can also let them sit in the fridge overnight)
Preheat oven to 350F. Coat a 3x9x13 inch baking dish with cooking spray
In a large non stick skillet or a soup pot, heat olive oil. Add potatoes, celery, onions, chestnuts, apples, garlic, sage and salt. Toss well and cook at medium heat for 10-12 minutes, until the vegetables are tender
Transfer to a prepared baking dish, pour vegetable broth over and bake, uncovered, for an hour and a half. Broil for 2-3 minutes until golden brown.