There's something undeniably delightful when sharing a new experience with a friend. The other day, my friend and I met for dinner at the contemporary Italian restaurant Portale. Both enthusiasts of Italian cuisine, like most New Yorkers; it's arguably one of the city's best achievements, we were itching to have something familiar yet wanted to share a new experience. Luckily, Portale answered our call.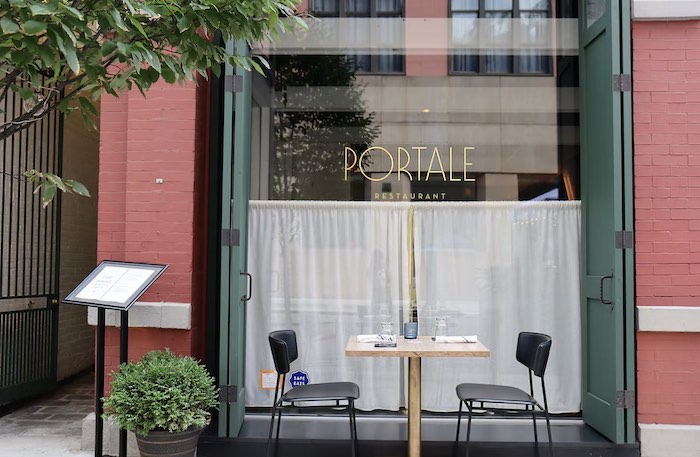 Portale is a contemporary Italian restaurant in Chelsea, standing out among New York City's hundreds of Italian restaurants. Apart from Chef Alfred Portale's most well-known and appraised work at Gotham, he creates an entirely fresh set of contemporary Italian dishes at his namesake.
We started our contemporary Italian experience with several appetizers at Portale. First on the table, the Panna Di Casa ($8), a house-milled warm whole grain loaf of whipped butter. Prepared by Portale's pastry chef Kaity Mitchell, the whole grain loaf is lovely and should not be overlooked. It's an excellent complement to the Frutti Di Mare ($29), which happened to be a riff on the classic seafood pasta dish. Portale's play omits the spaghetti  but has all the bright and fresh seafood flavors, from the chilled lobster, scallop, octopus, shrimp, avocado, and lemon. Following, we had the Burrata ($29) and easily discovered Portale's is slightly different from the classic. The creamy cheese was enhanced by unique flavors of prosciutto di parma, golden raisins, and spring vegetable giardiniera.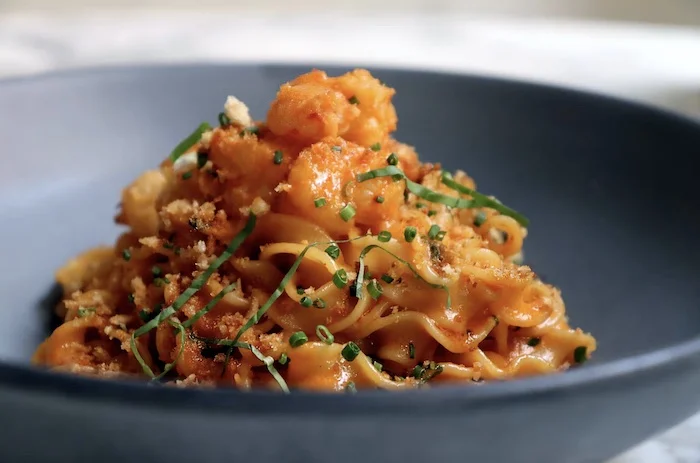 As for beverages, Portale has many, in fact it's a book filled with options. While wines would be the traditional choice, we ordered specialty cocktails. I had the Ciao Bella ($18) made with Aperol, Beet Shrub, and Prosecco. I'm not too fond of beets; surprisingly, I enjoyed this cocktail. Whereas, my friend had double doses of the Brutus ($18), made with Ojo de Tigre Mezcal, Limoncello Lucano, grapefruit, and Calabrian chili.
Following our appetizers, was the entree, a plating of pasta each, and we shared one dish from the menu's meats and fish section. My pasta choice was the Malfadine ($38), which featured Maine lobster, Calabrian chili, and lemon-basil butter. Influenced by Italy's coastal regions, this pasta was nothing short of indulgent and had a bit of heat from the chili. It brought back fond memories of my unbelievable adventure to Ischia. My friend had the Lumache ($32), made with Bolognese Bianco, black truffle, parmigiana. Yet another indulgently good dish. If there's extra pasta sauce and house bread left, I highly recommend combining the two, a match made in heaven. Post devouring the pastas, we shared the Ippoglosso ($42), a halibut served with a potato purée, maitake mushrooms, and white wine emulsion. Other entree options include Pollo ($36), a roast chicken with asparagus, spring onion, Thumbelina carrots, lemon, and capers.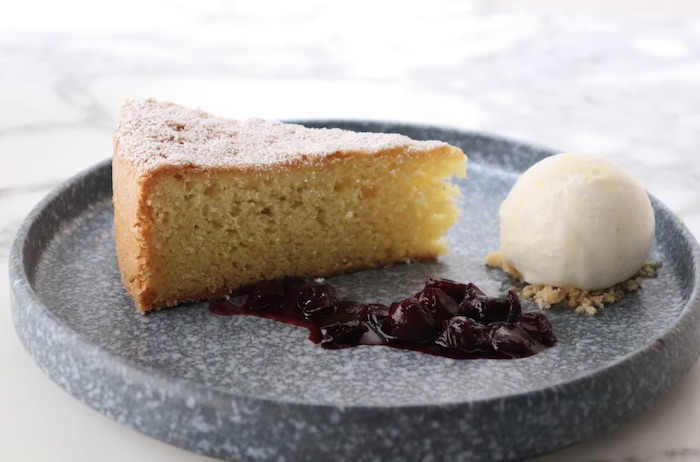 An Italian meal, classic or contemporary, isn't complete without dessert. Consequently, we had large bites of the Torta Di Olio ($14), an olive oil cake layered with cherry compote, biscotti crumble, vanilla gelato. Portale's rendition of one of Italy's great inventions was incredibly tender and moist with a slightly sweet citrus flavor. In addition to the olive oil cake, we had the Ricotta Cheesecake ($15.) For people who aren't fans of New York-style cheesecakes, Portale's take differs. The ricotta's texture makes it light and fluffy. And as a result it is simple and does not overpower the other ingredients. It also has an undetectable dusting of graham cracker crumbs that melt into the cheesecake instead of a thick layer at the bottom. Both desserts, as with our entire experience at Portale, baffled both of our tastebuds in the best way possible.
Portale
Website
126 West 18th Street, Manhattan,
NY 10011(917) 781-0255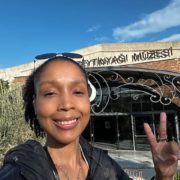 Alyssa Holder
Alyssa Holder is a writer specializing in food and travel topics since 2015.