Pork belly is simmered in a fragrant broth and then seared until crispy. Serve these pork belly tacos with delicious smokey salsa, pickled red onions and an avocado cream.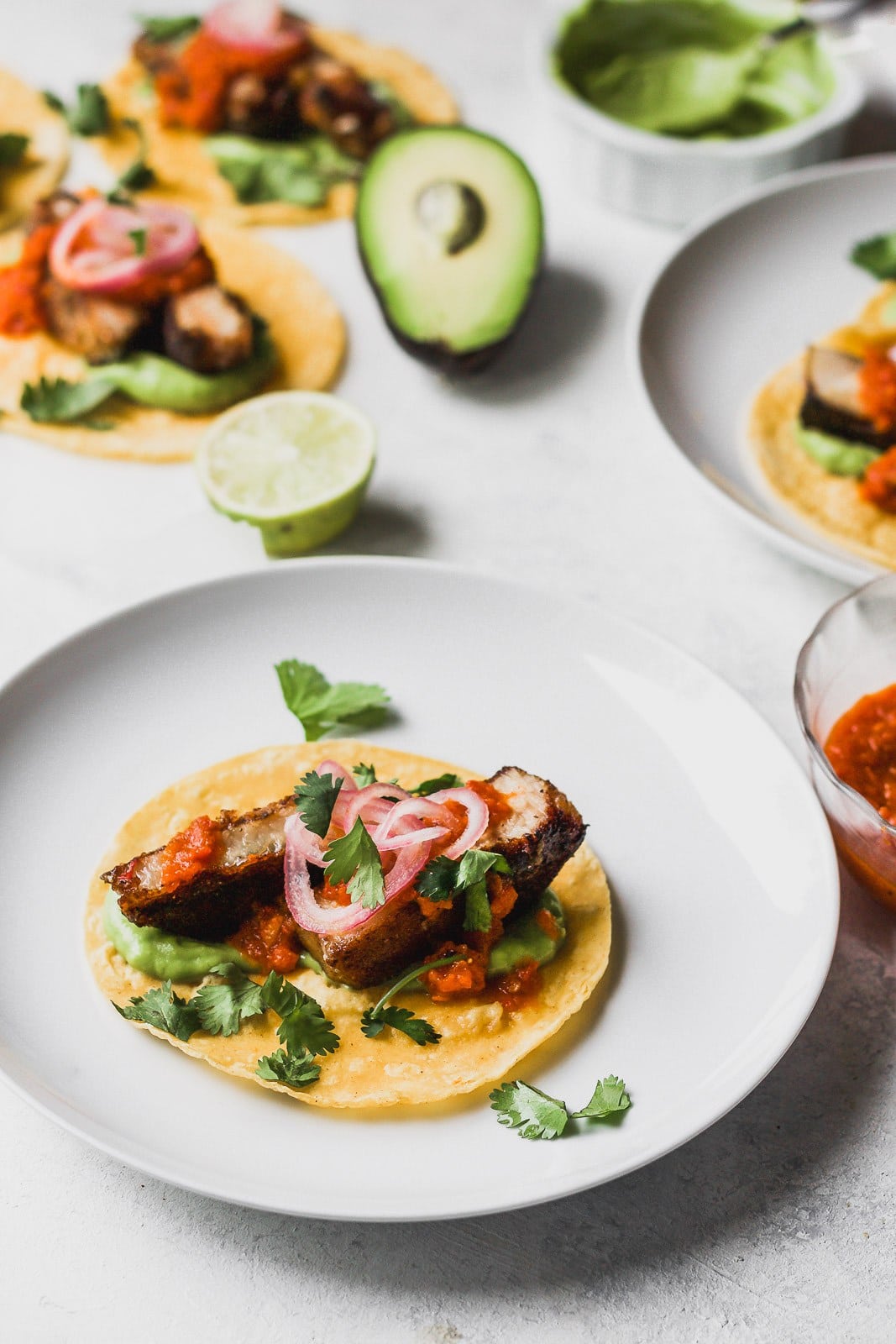 I was at my local farm store rummaging through their frozen butchered meat. They were having a sale so obvs. I love a good farm store because you can find all the things that you'll never see at the grocery store. Smoked pork chops, cow's heart, goose, and pigs feet just to name a few. During my carnivorous exploration of said freezer unit, I stumbled upon 2 glorious pounds of pork belly. "My gawd! I love me some pork belly!" But never have I bought some and then cooked it.
Challenge accepted.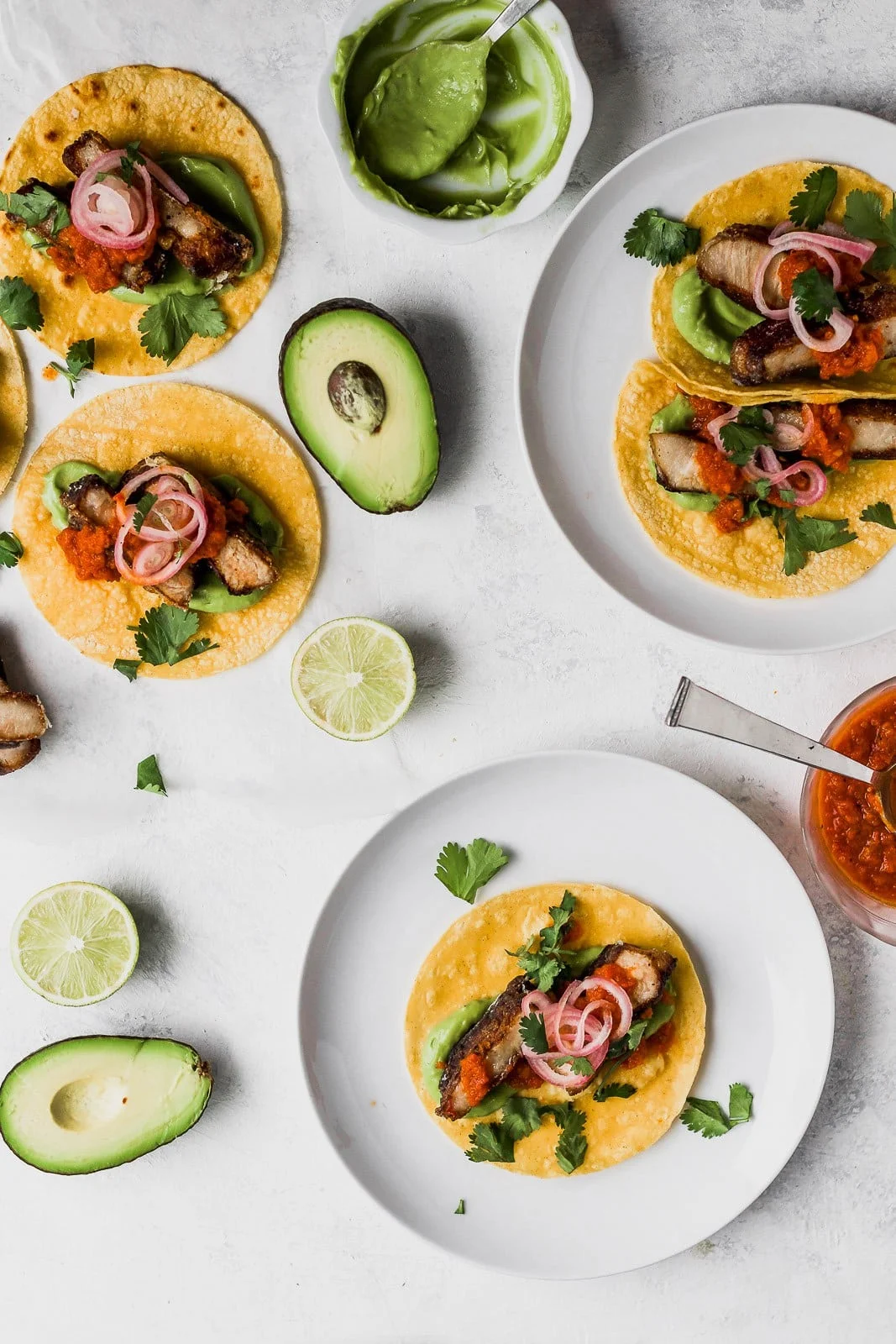 Now research time. How do people cook pork belly? Do they just sear it? Do they roast it? Obviously, there's bacon but I didn't feel quite ready for that culinary challenge. What I found to be a common cooking method was simmering in a seasoned stock for at least an hour. This makes the pork belly super tender and flavorful.
Ok. Cool! Simmer.
I knew off that bat that I wanted to eat pork belly tacos. Like now! So I gathered some chipotles, garlic, onion, oregano and cinnamon sticks and got to work in my dutch oven. After searing the pork in some pork fat, I added all my ingredients along with some stock and let it simmer away for an hour.
The result? Super tender, very flavorful pork belly. Except it needed a crunch.
Into the tapioca starch you go! I knew searing the tender pork belly would crisp it up, but dusting it with a little tapioca starch would add crunch. And I need crunch! Always.
These babies were ready to be pork belly tacos.
Next, I strained out all the leftover onions, garlic, and chipotle from the simmering broth, tossed them in a blender with fresh tomatoes and a little salt. Omg, the best salsa I have ever made. Smokey, rich, and savory while also being very fresh from the uncooked tomatoes. The absolute best with chilaquiles the next morning btw.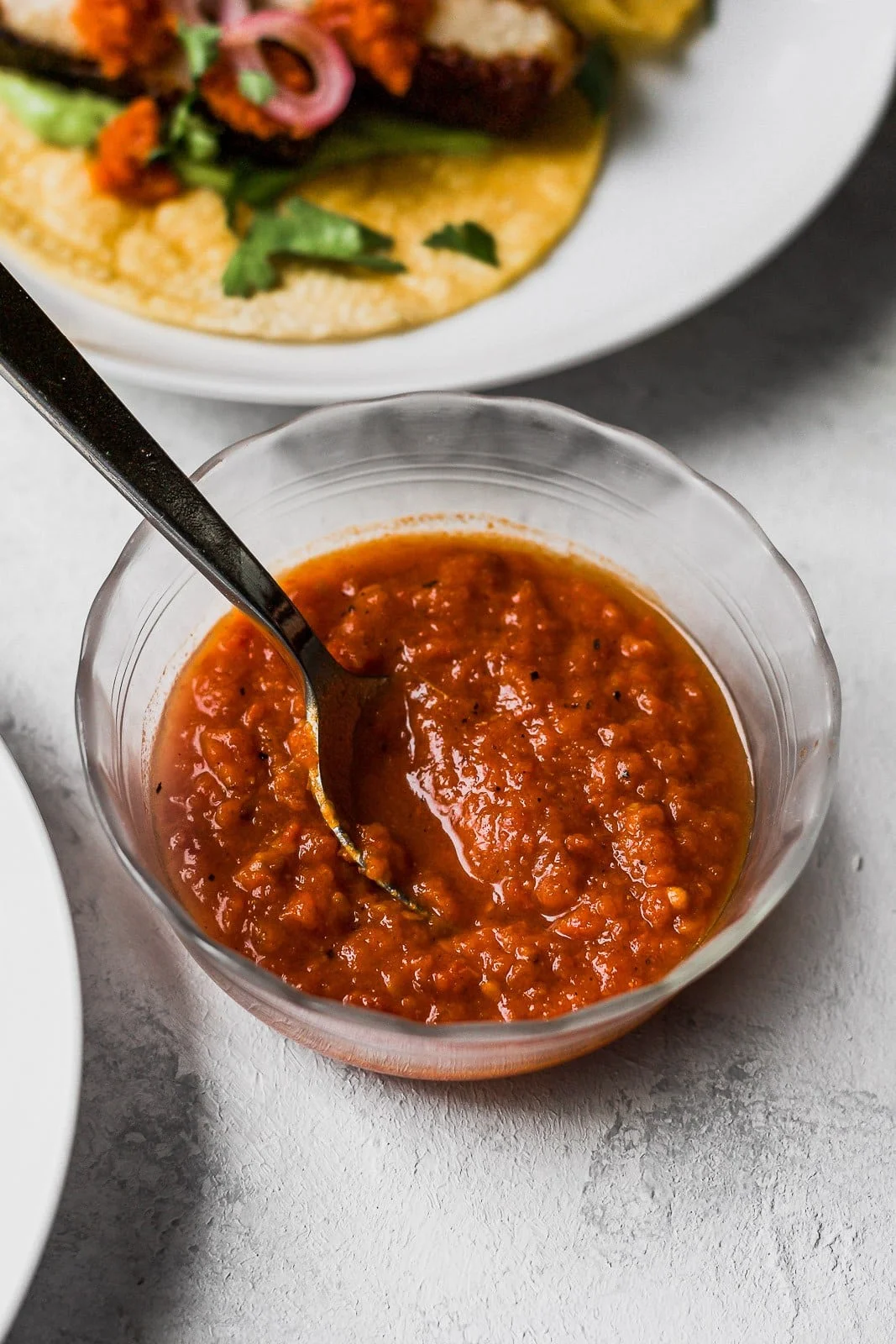 In conclusion, the combo of this miracle sauce along with a simple avocado cream, some pickled onions, and cilantro made one killer pork belly taco. The only down side is they didn't go as far as I had hoped. Need. More. Pork belly tacos!!!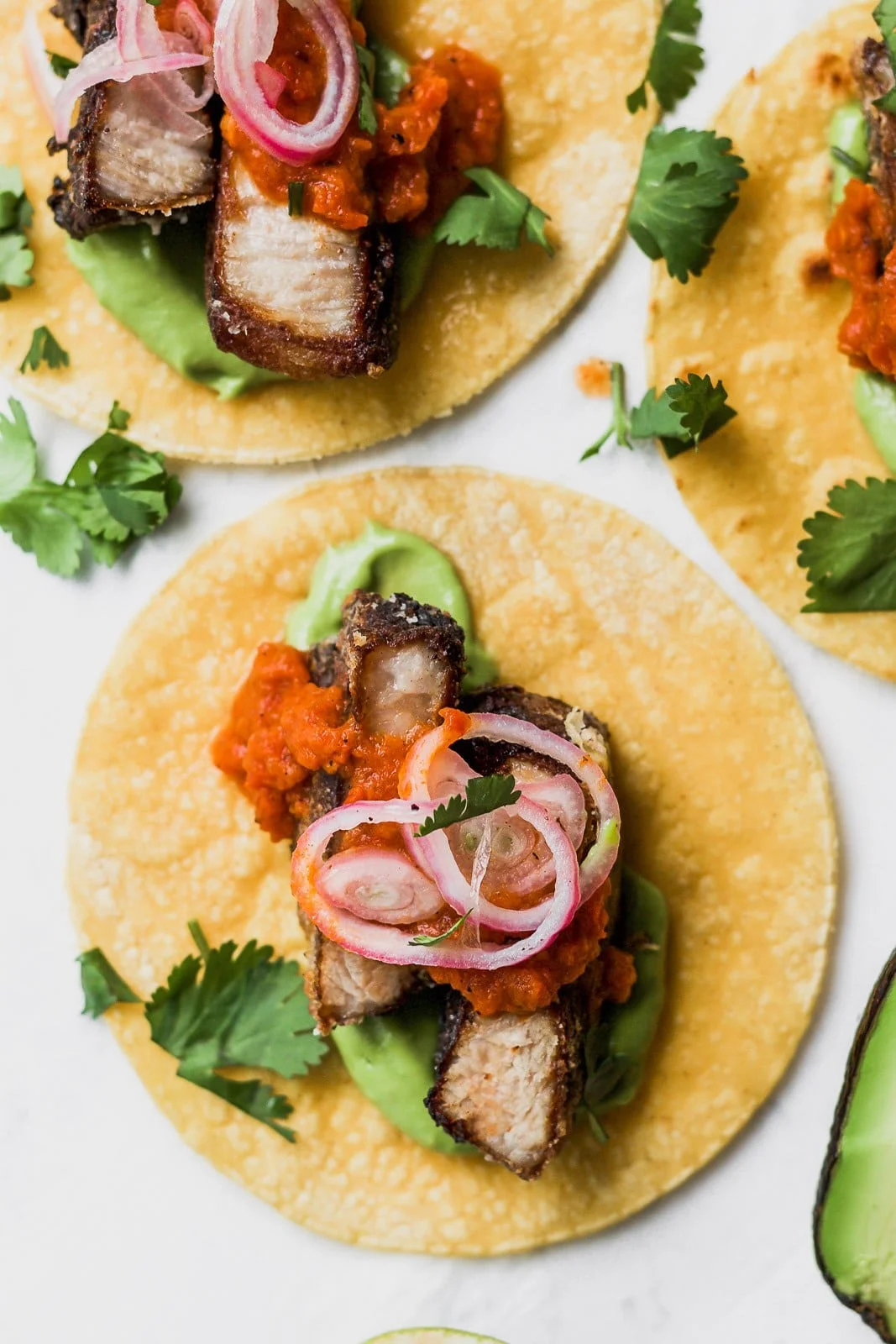 Now, are you up to the challenge to make these babies? Check out your local farm store or give your butcher a call to find some nice pork belly. That crispy crackle and savory salsa is so worth it!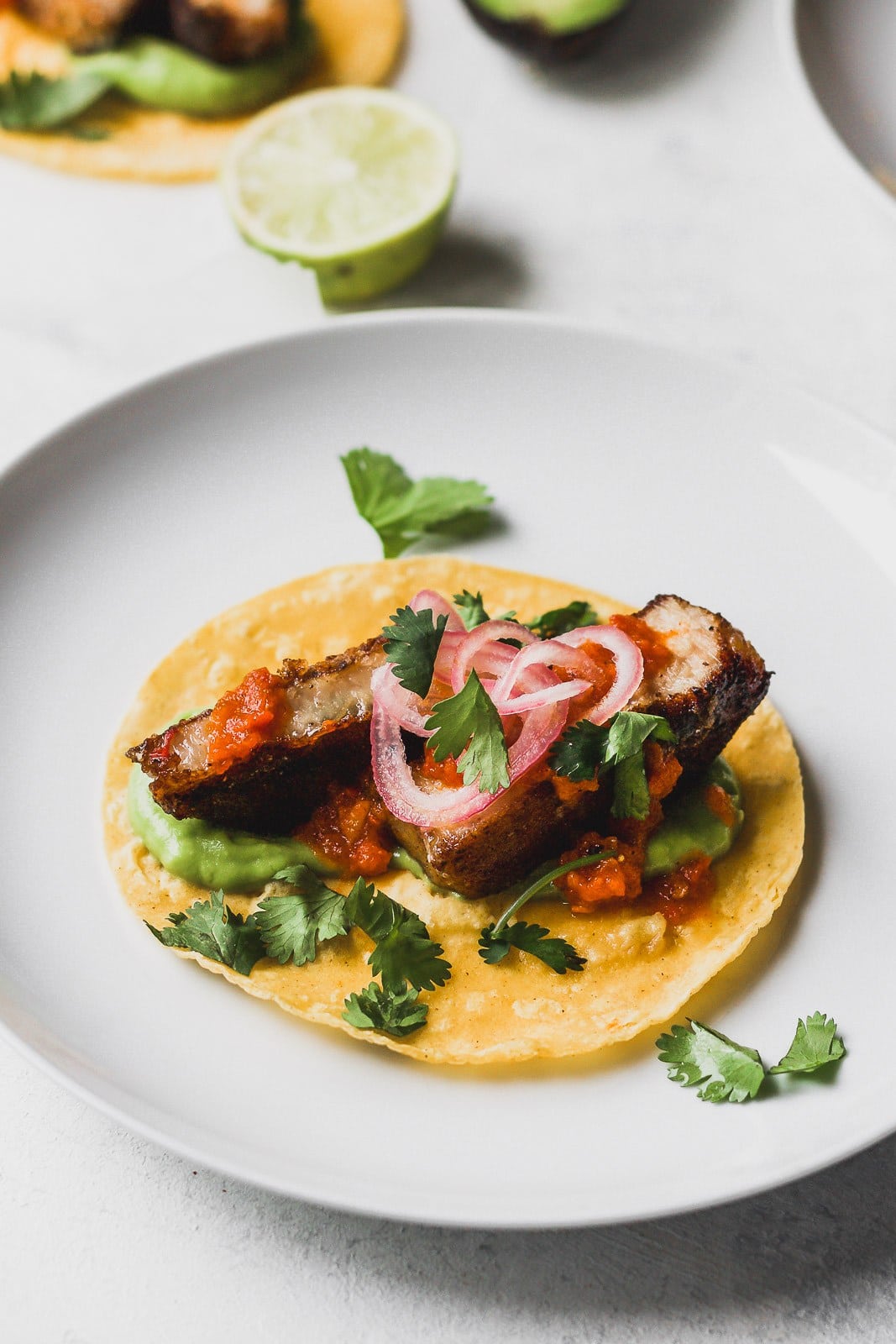 Click here for the recipes for the salsa, pickled onions an avocado cream.
Print

Pork Belly Tacos and Avocado Cream
---
Total Time:

1 hour 50 minutes

Yield:

5

to

6

servings

1

x
Pork Belly
2

–

2.5

lbs pork belly cut into

3

"x1½" slices

1 tsp

sea salt

1 Tbsp

coconut sugar (optional)

1 tsp

cumin

1/4 tsp

black pepper

1

large white onion (sliced)

3

cloves garlic (whole)

1/4 cup

apple cider vinegar

2½ cups

chicken stock

1

cinnamon stick

2

bay leaves

1 tsp

dried oregano

1

chipotle (canned in adobo sauce (or

2

–

3

depending how much spice you like))

½ cup

tapioca starch
Oil for searing (avocado, coconut, grapeseed or pure olive oil)
Salsa
Click the link above for the recipe.
Avocado Cream
Click the link above for the recipe.
Pickled Red Onions
Click the link above for the recipe.
Other
---
Instructions
Pork Belly
There is a lot of excess fat on pork belly. It's supposed to be there! But there will also be enough to cut off about ¼ cup worth. Dice the excess fat into cubes and render or melt the fat in a dutch oven over medium high heat. Meanwhile, toss the strips of pork belly with the sea salt, coconut sugar, cumin and black pepper in a bowl.
Using 2 Tbsp of the rendered fat, sear all sides of the pork belly over medium high heat until golden brown and set aside.
Add the onions and garlic to the pan and cook until the onions start to get soft. Pour in the apple cider vinegar and using a wooden spoon scrape the bottom of the pan (this is called deglazing) to get all the little bits unstuck from the bottom. Put the pork back in the pot along with the stock and bring to a boil. Add the bay leaves, cinnamon, oregano, and chipotle, cover, and reduce heat down to a simmer for 1 hour. Remove the pork belly to cool and strain out the onions, garlic, and chipotle pepper and set aside.
Heat a large frying pan or cast iron skillet with your oil of choice over medium high heat. Toss the pork belly in the tapioca starch and sear all sides until lightly brown and crispy. Serve pork belly in warmed tortillas with salsa, avocado cream, and pickled onions.
Salsa
Click the link above for the recipe.
Avocado Cream
Click the link above for the recipe.
Pickled Red Onions
Click the link above for the recipe.
Prep Time:

20 minutes

Cook Time:

1 hour 30 minutes

Category:

Main
Stacy Feyer-Salo
Stacy is the creative director and photographer for the food blog POP KITCHEN. Creating accessible, vibrant, healthy and simple recipes while have fun doing it is her jam! As a trained chef, Stacy has worked as a meal planner and private chef for almost a decade and wants to share all her skills. She lives in Toronto with her family and enjoys listening to hip-hop and eating all the tacos.