Nom Wah Tea Parlor is a great and not overly crowded dim sum place in New York City.
By Elspeth Velten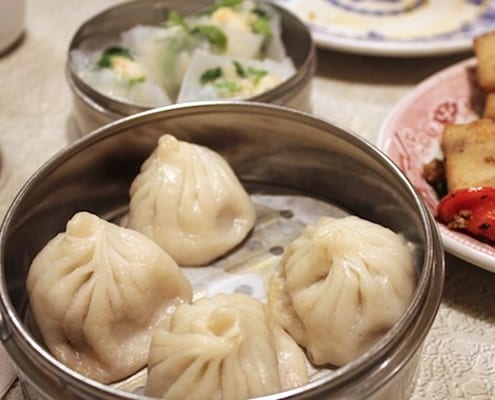 Dim Sum in New York can be a daunting proposition. If you're new to this delicious serving of small dishes, many of New York's huge, crowded restaurants can be overwhelming and unpleasant. Nom Wah Tea Parlor tucked in on Doyers St. is regarded a less intense experience than cart-laden powerhouse Golden Unicorn and the like and is the perfect place to test out foreign dishes at your leisure.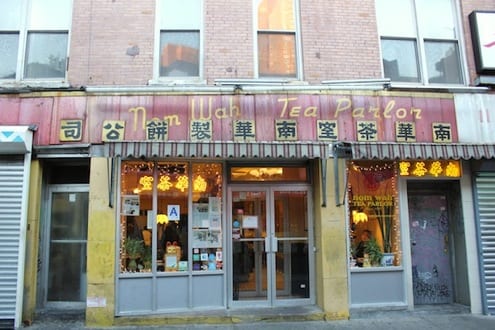 At Nom Wah you get two menus: a normal one with photos and numbers, and a paper slip to mark off what you want and hand in. Two of us chose six dishes: five small ones and one from the chef's specials. This is a sharing situation! In the past I've dabbled in xiao long bao, or little steamed buns from Shanghai usually filled with pork and hot, flavorful broth, and cha siu bao, a larger, steamed fluffy bun with more of a bready texture with bbq flavor pork. We went with both of these and a few others.
My favorite on the table was steamed rice roll with fried dough, or zhaliang. Think cruller dough turned savory without the sugar, wrapped in a huge, thin noodle and smothered in a sweet soy sauce. This can be hard to get your head around, but is delicious. The skin was tender and dough fresh here. Eat it fast before it gets cold. Other variations are available with shrimp or pork.
The rice roll arrived at the same time as "The Original" egg roll. Two came in the order. These were not the take-out type. They were fluffy and deep fried in a batter instead of a skin. The inside was lined with a paper thin omelet and packed with mushrooms and cabbage. They were big.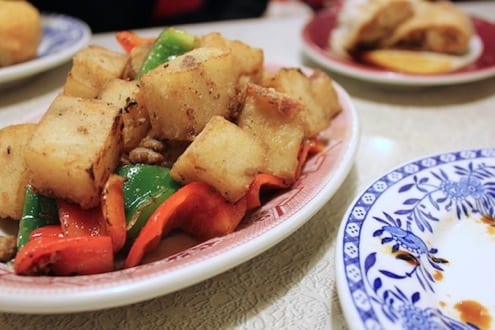 I loved the turnip cake with XO sauce. This was off the Chef's Specials section of the menu and was a larger portion than the rest. The Internet tells me that turnip cake is in fact made out of daikon and rice flour. No turnip here. In this dish the cake is fried to a crisp on the outside and cut into bite size pieces. Addictive XO is a salty sauce flavored with dried seafood and ham, chili, garlic and stuff. It's served with fresh bell peppers. If you're even mildly texture-adventurous, don't skip this.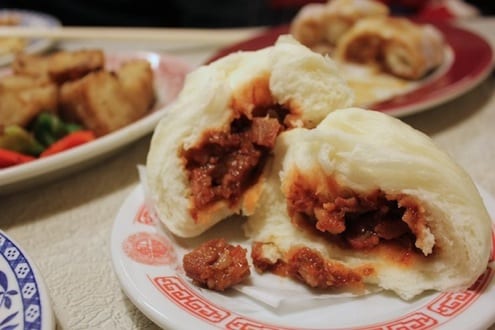 Steamed pork bun, one to the order, was light and fluffy, and soup dumplings were a solid rendition. Maybe not the best I've had, but good. The broth that streamed out of them was concentrated and robust. These are hot on the inside! Put one in the spoon provided and pop a hole in the skin near the bottom of the bun to let the broth out into the spoon. Then enjoy AND look cool for not burning your mouth off in the process.
Our last dish was shrimp and snow pea leaf dumplings. These were in a translucent skin and open on top. They looked pretty, but ultimately were not memorable. After these six dishes we were stuffed. That's the perfect amount for two people. BUMMER ALERT: Nom Wah doesn't have free tea. We ordered a pot of chrysanthemum, and then I checked in on FourSquare and found their free pot of tea offer. Surprise: chrysanthemum doesn't qualify. Oh well. The tea was $1.50 per person for a pot. Not a huge loss.
Nom Wah Tea Parlor
13 Doyers Street, New York
NY 10013
Phone: (212) 962-6047
http://nomwah.com/
Elspeth Velten
Elspeth is a contributing writer at Honest Cooking. She is based in New York, but her love for food and travel continues to lead to adventures all around the globe. Elspeth regularly shares her experiences on her food blog, To Stay or to Go? Her happy place is among green curries and fruit smoothies in Thailand.