A Thai street food re-imagined as an American snack: sweet, sour, salty, spicy flavors intact.
By Amanda Marsteller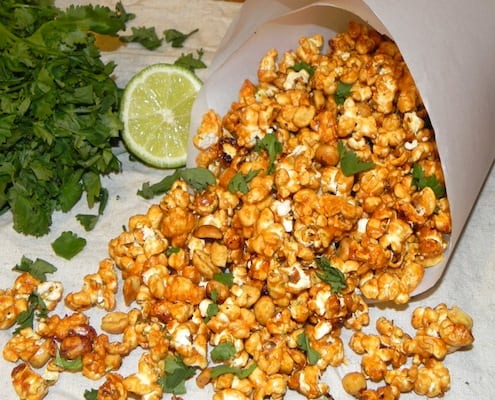 This snack embodies all the best flavors of the familiar noodle dish: sweet, salty, sour, and spicy. Since pad thai is considered a common street food in Thailand and is eaten outside on the go, it seems appropriate to reinvent it in its American street food snack form. The popcorn, standing in for rice noodles, is dressed with similar flavors like fish sauce, chile pepper (in this case Sriracha), lime, and peanuts but adds a new textural dimension of crunch. It's easy enough to pop some corn kernels, old-fashioned style (without the wizardry of a microwave), on the stovetop and then conjure up a quick caramel, deepened further by the salty fish sauce and transformed from the oven into a sticky, complex cluster of flavor. So welcome caramel corn's clever Thai cousin into your snacking rotation, it's sure to stay a while.

A Thai street food re-imagined as an American snack: sweet, sour, salty, spicy flavors intact.
Author:
Amanda Marsteller
Ingredients
1 teaspoon vegetable oil
½ cup unpopped corn kernels
½ cup chopped peanuts
½ cup brown sugar
¼ cup vegetable oil
¼ cup light corn syrup
1½ tablespoons fish sauce or oyster sauce
3 tablespoons lime juice
1 tablespoon Sriracha
¼ teaspoon baking soda
2 tablespoons lime zest
Chopped cilantro to garnish
Instructions
Preheat oven to 250 degrees F.
Add a teaspoon of oil and the corn kernels to a pot over medium heat and cover.
Once the first kernel pops, shake the pot frequently until all the kernels have popped.
Transfer the popcorn to a large bowl and add in the peanuts.
In the same pot, add in the brown sugar, vegetable oil, and corn syrup over medium heat, followed by the fish sauce and lime juice.
Stir this and allow it to cook until thickened.
Once thick, turn off the heat and add in the Sriracha, baking soda, and lime zest.
Pour this over the popcorn and peanuts and mix well.
Spread the popcorn on a baking sheet or two and place in the oven for 30 minutes, tossing it once or twice during that time.
Allow the sticky popcorn to cool and then garnish with cilantro.
Amanda Marsteller
Amanda is an associate producer in food television and editor of mobile culinary apps. While new recipes and restaurants enrich her everyday eating, she finds a certain thrill in exploring the public library's historic menu collection and reveling in the dishes of days gone by. With the Brooklyn Bridge in view, she believes that her borough is one of the most exciting locales to experience food, in both the present and the past. She also pens a blog called The Choy Luck Club, in which she shares the bounty of community-supported agriculture.