Take the classic biscotti to the next level with these pistachios-filled, orange-flavored, chocolate-dipped cookies.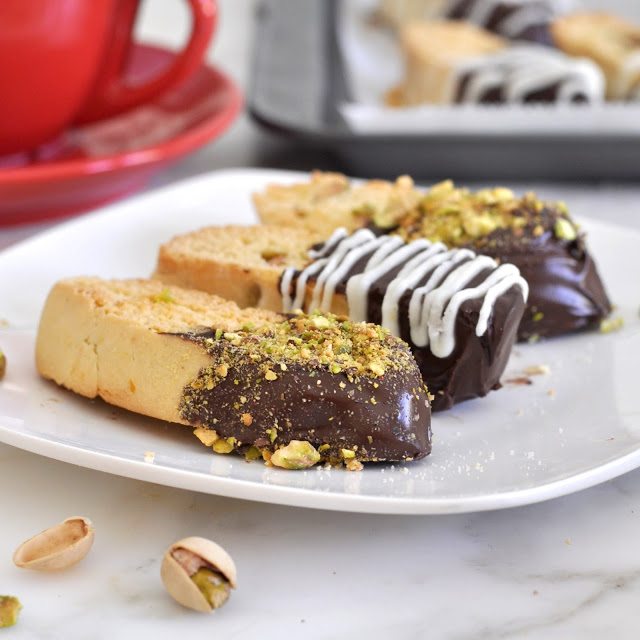 What I love most about these biscotti is not just the flavor combination (chocolate, orange and pistachio is a must-try!). But the crunchiness and crumbi-ness (if there is such a word) of these cookies.
Most biscotti you find around are a little dry and sometimes jaw-breaking crunchy. With today's recipe you'll get a crunchy enough cookie that is great for dunking (think: cappuccino, latte, steamed milk, tea …), but not too hard nor too dry, which is perfectly enjoyable all by itself. I promise, you won't break anything with my biscotti. Well… except maybe for your diet! These are so good you won't be able to stop at just one.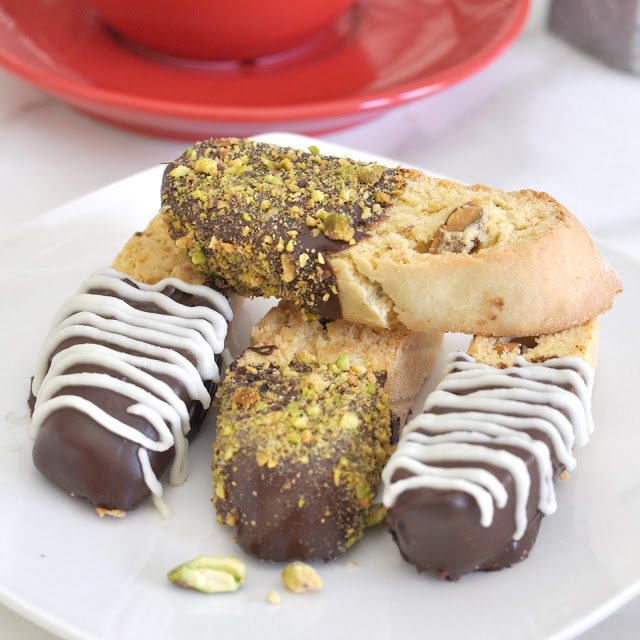 See Also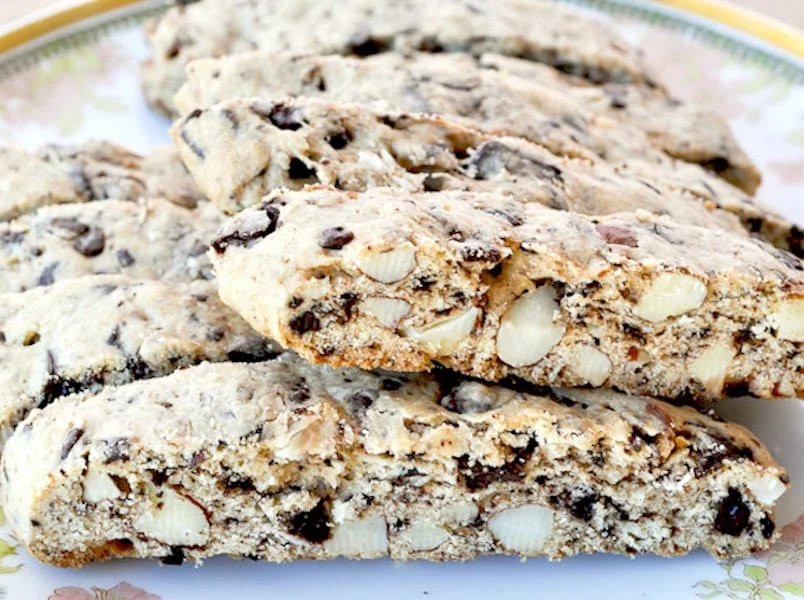 Click here for more delicious Italian recipes.
Pistachio Orange Biscotti
Manuela Mazzocco
Ingredients
4

eggs

3/4

cup

150 gr of sugar

4

oz

115 gr of unsalted butter

1

teaspoon

of vanilla extract

zest of 1 orange

1/2

teaspoon

of salt

2 2/3

cups

400 gr of all-purpose flour

2

teaspoons

of baking powder

1 1/4

cups

about 125 gr of whole pistachios, divided

1

cup

150 gr of semi-sweet chocolate

1

teaspoon

of butter

optional

1/4

cup

of white chocolate

optional
Instructions
Melt the butter by cutting it in pieces in a heat safe container, placing it in a small pan with an inch of boiling water, until it melts. Or melt in the microwave for about 20-30 seconds. Let it cool down.

Preheat the oven to 350° F (175°C).

In a large bowl, whisk the eggs with the sugar until light and fluffy.

Add the melted butter to the egg/sugar, together with a pinch of salt, the vanilla extract and the orange zest. Stir some more.

Blend in the flour and the baking power.

Fold in 1 cup of pistachios.

Divide the dough in half. Place on a cookie sheet covered with parchment paper. Sprinkle with a bit of flour and shape into two logs, flattened on top, and about 2 inch wide.

Bake until golden around the edges, for about 25 minutes.

Remove from the oven, and let it cool off for 10 minutes. On a cutting board, with a sharp knife, cut out the cookies diagonally into 1/2 inch thick biscotti. (about 30).

Place them back on the cookie sheet. Bake the cookies for 10 to 12 more minutes, flip them around and bake for another 10 minutes, until each side is a little golden.

Melt the chocolate. in microwave for 45 seconds (or double boiler). Mix and add 15 more seconds if needed. And add 1 teaspoon of butter if the chocolate is too dense for dipping.

Dip each cookie halfway into the chocolate.

And sprinkle with the remaining pistachios (crushed).

You can also melt some white chocolate and drizzle on top.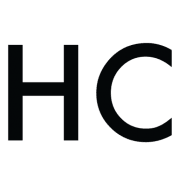 Manuela Mazzocco
Born and raised in Venice, Italy, Manuela now lives with her husband and two children in Los Angeles, California. In her blog, Cooking with Manuela, she strives to share her passion for Italian food. As a mom of two young boys, most of her dinner preparations are done while checking homework, quizzing for science tests, and looking for Lego pieces. Her step-by-step recipes help readers create delicious food while on a busy schedule. There is nothing as special as ending your day with your family or friends sharing a good conversation and a tasty homemade meal.