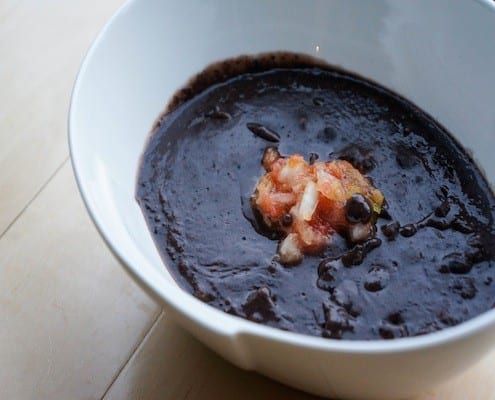 This simple and nutritious soup gets a kick from stewed piri piri chillies and a fresh, raw salsa that takes your traditional black bean soup to a whole other level.
By Carolyng Gomes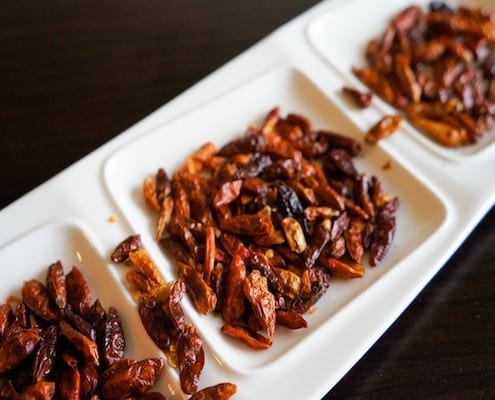 When you think of latin cuisine, chances are you think of beans and rice. It is a combination that you find all over Latin America, featuring fluffy rice and tender black beans. Beans are the star of this dish with their deep color, flavor, nutrition profile and versatility. It is easy to flavor beans and this time around I am using simply piri piri chills, also known as birds eye chilies. Stewed in a crockpot it couldn't get easier, and on the stove it is just as fast, easy and delicious.
If you have a crockpot, cooking the beans on high for 2 hours and then low for 2 hours will produce tender turtle beans every time. On the stove it is just as simple to get these results. Besides their simplicity what makes black beans so essential in the Latin American diet? For one, it is delicious which, as we all know, is the number one reason of consumption. Cost also plays an important factor. Dry beans and rice is a combination of hearty, filling food that has a very low cost. For a mere 1/4 cup of beans, which is naturally fat, cholesterol and sodium free, also packs a whopping 9 grams of protein, 10 grams of fiber and contains 20% of your daily iron intake. Coming in at around $1.40 a pound (not including sale pricing) it is a powerhouse for the price!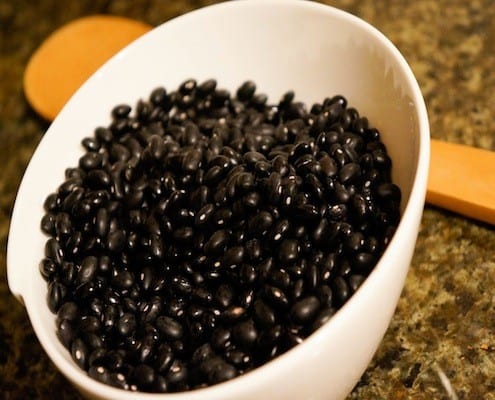 Now we know why beans are so popular, but I must admit that it is easy to get stuck eating them the same way. Beans and rice, beans in a burrito, bean salsa, beans sprinkled in a salad, black bean burgers, beans beans beans! What about puréeing the beans and making a smooth black bean soup? Enter Piri Piri Turtle Soup! A hearty soup made by simply puréeing cooked black beans, stewed piri piri chilies and adding a spoonful of homemade salsa on top. This recipe required a big pot and a food processor. For the salsa just throw in a medium tomato, half of a medium onion and a small handful (about 3 tablespoons worth) of fresh cilantro. Salt and pepper to taste. And making the beans is much easier than that!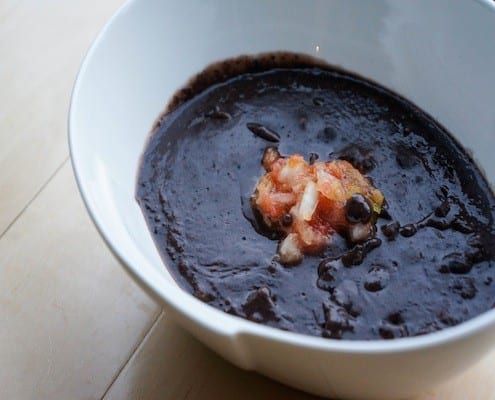 With a steaming Crumbly Chili Cotija Topped Roasted Corn it would be love at first bite!
¡Buen Provecho!

This simple and nutritious soup gets a kick from stewed piri piri chillies and a fresh, raw salsa that takes your traditional black bean soup to a whole other level.
Recipe Type:
Appetizer, Entree
Ingredients
8 oz dry Turtle/Black Beans
10-15 dried Piri Piri Chillies (hot hot hot!)
1 Vegetable Bullion Cube, such as Knorr
Sea salt and Fresh Cracked Pepper to Taste
1 tablespoon of Olive Oil
5 cups of water.
Instructions
Heat a large pot on medium high and add oil, chillies and black beans. Stir to evenly coat beans. Toast for 1 minute.
Add 2.5 cups of water plus remaining ingredients to the pot and bring to a boil. Boil for 5 minutes then turn the burner off. Let beans stand for one hour.
Strain beans and return to pot. Add 2 cups of water. Cook beans until tender, about 25 minutes. Season to taste with salt and pepper.
Set aside one cup of cooked beans without liquid.
Blend remaining mixture until smooth. (Tip: For a thicker soup do not add as much liquid)
Transfer blended soup to pot on stove and heat through. Once hot, add remaining cup of cooked beans and serve.
Garnish soup with a few spoonfuls of raw salsa, and if you are adventurous, a crushed or whole piri piri.
Notes
For the raw salsa combine one medium tomato, half of a small onion and ¼ medium green pepper in a food processor. Pulse until desired consistency (I like it chunky). Add salt, fresh ground black pepper and some all-purpose seasoning to taste. Mix and allow to rest for a few minutes. Cook time does not include 1 hour of beans standing in pot before being drained and cooked more thoroughly.
Carolyng Gomes
Carolyng loves to eat, loves to cook and loves to eat more. To her a recipe is more a list of suggestions, saving time doesn't mean sacrificing on flavor and when in doubt, a splash or two (well, a nice pour) of wine never hurts. Welcome to her Cocina Latina, where South American and Latin fusion dishes are always on the menu.