A rich pimento grilled cheese sandwich is melted and balanced by tart green tomatoes and fresh basil. The spread is also a perfect addition to a BLT.
By Carlynn Woolsey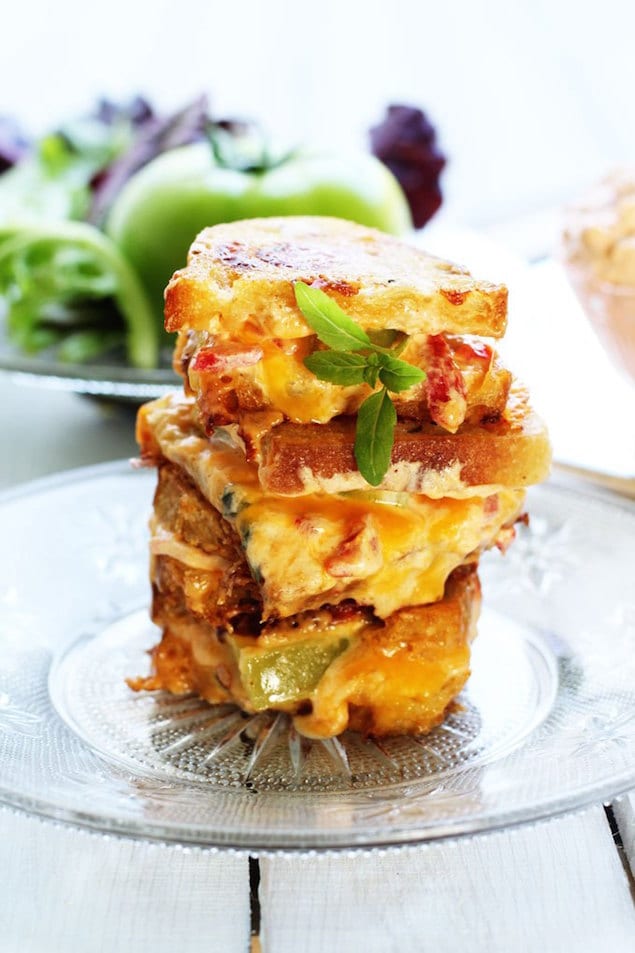 In addition to all of the fried chicken I sampled in Charleston during my trip, I also had several different preparations of pimento cheese, AKA "The caviar of the South". On crostini with cloves and mini sliced onions at Husk, in fritter form at Poogan's Porch, and schmeared into a BLT at Caviar & Bananas. My original plan was to recreate the latter, but when I started toasting the bread with the cheese on it, and saw how deliciously that was melting together, all bets were off.
I love this sandwich for many reasons, not the least of which is that green tomatoes are *perfection* this time of year. They provide an excellent tart – almost pickled tasting – counterpoint to the savory spread. I added some basil to round out the flavors, and for the teeny tiniest bit of freshness. Per usual, I went overboard and turned this into a literal hot mess for the photos, but when making this at home, I would be a bit more modest about the preparation. ; ) Pimento cheese is rich, so a little goes a long way. And if you prefer to go the BLT route, I recommend adding some of this spread to that too!
Check out my dining guide to favorite Charleston spots.

Pimento Grilled Cheese with Green Tomatoes
A rich pimento grilled cheese sandwich is melted and balanced by tart green tomatoes and fresh basil. The spread is also a perfect addition to a BLT.
Cuisine:
Southern-Inspired
Ingredients
For the Pimento Cheese:
4-ounces (1/2 block) cream cheese at room temperature
½ cup mayonnaise
2 cups grated sharp cheddar cheese
½ cup grated monterey jack cheese
1 tablespoon grated yellow onion
½ teaspoon red wine vinegar
1, 4-ounce jar chopped pimento peppers
Dash of hot sauce
For the Grilled Cheese
Butter
Bread (I like a sourdough, or something that has a few holes in it, if you will, because the cheese seeps through and crisps up nicely while cooking. : ))
Pimento cheese + extra grated sharp cheddar cheese, if desired
Sliced green tomato
Fresh basil
Instructions
For the Pimento Cheese: Combine all of the ingredients with the exception of the peppers and the hot sauce, in a large mixing bowl. Using an electric, or handheld mixer, beat everything together for approximately 2 minutes, until thoroughly combined. Add the pimento peppers, and continue to beat for another minute. The peppers should be somewhat shredded, and the mixture smooth enough to spread (If you prefer it smoother, just keep beating!).
For the Grilled Cheese: Melt just enough butter to coat a non-stick skillet, set over medium heat. The pimento cheese has a lot of oil in it with the mayonnaise and cheddar, some of which will drip onto your pan while cooking, so with the butter, a little goes a long way! Meanwhile, layer your sandwich. Spread a small amount of pimento cheese on the inside of each piece of bread. Add sliced green tomato and fresh basil to one piece of bread. If you like, sprinkle on extra cheddar cheese for some more of that melted factor! Top with your other slice of bread. Cook in the pan for approximately 2-3 minutes per side. Serve immediately!
Notes
Depending on what region you are in, many traditional pimento cheese recipes do not include cream cheese, however, I added it here because I like the way it melts in the sandwich. If you prefer to leave it out, sub with additional mayonnaise, until you reach a consistency and flavor you like.
Carlynn Woolsey
JJBegonia is a silly nickname that my equally silly Dad gave me when I was a little girl. Needless to say, it stuck. My real name is Carlynn and I started my blog in September of 2012 to chronicle all of the things I love, and the things that inspire me, in one place. Over the course of the past ten years, I have lived in Boston, New York City, and L.A., and am currently in Upstate New York [where I grew up]. I graduated from Boston College with a double major in English and Psychology, and later returned to BC to obtain an MBA in Brand Management. My professional background is in Magazine Publishing/Advertising Sales, however I have always had a creative streak which is the driving force behind my blog. I am heavily influenced by food primarily because I love to eat (!), but also because I grew up in the restaurant industry. While I write and showcase many recipes, I adore sharing my favorite products, best style finds, and my life in general.