Bourbon buttercream fills light chocolate macarons topped with a crunch of cocoa nibs for bold flavor that is hard to find outside of Paris.
By Seana Couronne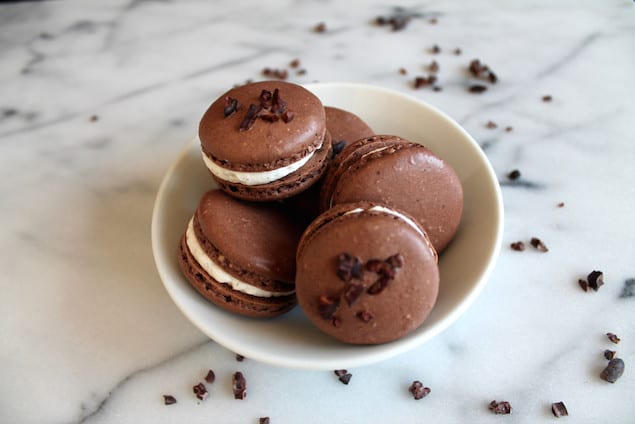 It's been a while since I've had macarons and I am especially missing the fabulous Pierre Herme kind from this trip. I haven't found anything remotely close in my part of town so I decided to make my own cocoa nib macarons.
The cocoa nibs really intensify the chocolate flavor of the macarons and pair especially well with… bourbon! Yes, indeed chocolate+ vanilla+ bourbon = pure satisfaction.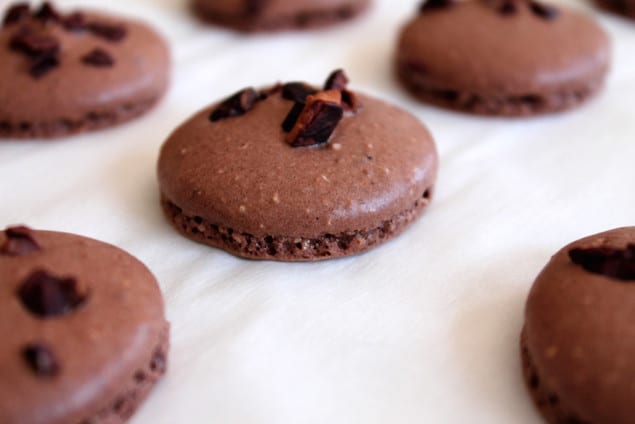 Bourbon Buttercream and Cocoa Nib Macarons
Bourbon buttercream fills airy cocoa nib macarons topped with a crunch and bold flavor that is hard to find outside of Paris. Recipe adapted from I Love Macarons by Hisako Ogita, buttercream Recipe adapted from Cook's Country
Recipe Type:
Dessert, Chocolate, Baking
Serves:
2 dozen macarons, 3 cups of buttercream
Ingredients
Macarons
⅔ cup ground almonds
1 ½ cups powdered sugar
2 tablespoons cocoa powder
3 large egg whites at room temperature (aged for at least 24 hrs)
5 tablespoons granulated sugar
2 tablespoons cocoa nibs
Vanilla Bourbon Buttercream
1 vanilla bean, scraped
2 tablespoons milk or heavy cream
Pinch of table salt
2 ½ cup powdered sugar
2 ½ sticks (9 oz) unsalted butter, softened
2 tablespoons bourbon
Instructions
Macarons
Line a baking sheet with parchment paper.
In a food processor, grind almonds, powdered sugar, and cocoa powder to a fine powder. Sift through a fine mesh sieve. Set aside.
In a stainless steel mixing bowl, beat the egg whites on high speed until frothy. Add the granulated sugar and continue beating until the whites turn glossy and stiff peaks form.
Add the almond flour mixture all at once and fold to combine with a rubber spatula. Scoop batter from the bottom and fold over the top. Continue until the batter is smooth, but do not over mix. Test a small amount, the size of a quarter by dropping onto a plate. If the batter spreads nicely and does not have a peak, it is ready. If there is a stiff peak, continue folding the batter for a few more turns.
Fill a pastry fitted with a medium size tip with batter. Squeeze the batter onto the prepared parchment lined sheet pan forming 1" circles and spacing at least ½" apart. When the pan is full (you will have 2 separate batches and repeat this process twice), rap gently on the countertop to release any air pockets. Sprinkle cocoa nibs on top of the piped batter. *The second batch will be plain and not have cocoa nibs.
Let sit for 1 hour at room temperature.
Preheat oven to 350 degrees. Bake macarons for 12- 18 minutes until slightly crisp on top. The tops should not wiggle when pressed slightly. If they wiggle, reduce oven temperature to 300 degrees and continue baking for 2 more minutes or until they are slightly firmer.
Place the sheet pan on a cooling rack for 10 minutes.
Vanilla Bourbon Buttercream
In a standing mixer fitted with the whip attachment, beat butter at medium-high speed until smooth, about 20 seconds. Add powdered sugar and salt; beat at medium-low speed until most of the sugar is moistened, about 45 seconds. Scrape down bowl and beat at medium speed until mixture is fully combined, scrape bowl and add the vanilla seeds, milk, and bourbon and beat until incorporated. Increase speed to medium-high and beat until light and fluffy, about 4 minutes.
Assembly
Sandwich the buttercream between one plain macaron shell and a cocoa nib topped shell. Continue until all shells are filled. Place in an air tight container and let rest in the refrigerator for at least 2 hours or overnight to let the flavors meld. Bring to room temperature before enjoying.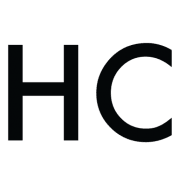 Seana Couronne
Baker, eater, and cookbook hoarder. Lover of travel. Seana is a culinary school graduate and professionally trained cook with experience in the restaurant industry. She writes and runs www.lacouronneonline.com, a blog dedicated to unique travel destinations and all things delicious.