Savor autumn apples by quick pickling them in a sweet balsamic with shallots. Serve on salads with cheeseboards or even on top of a burger.
By Mallory Leicht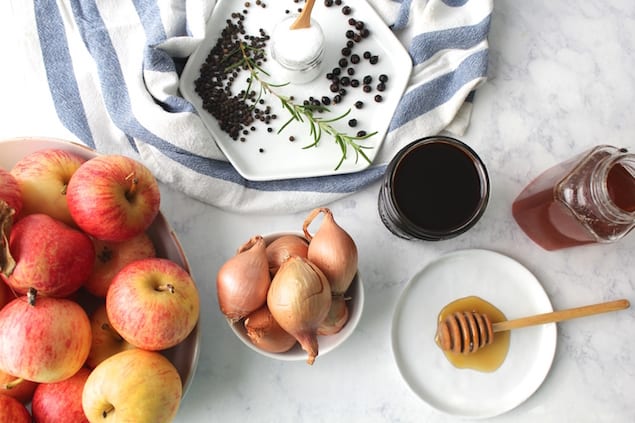 Lately I've been dreaming about relishes, condiments, toppers, cheese tray accruements and the like. Quick pickles–or refrigerator pickles–are a great way to bring some zing to seasonal flavors and then, of course, they can be used in any number of ways.
So I decided to quick pickle a batch of gala apples that just came into season. I chose balsamic vinegar because of its sweet syrupy flavor from pressed grapes. I had heard that real balsamic vinegar had such a nice sweetness to it that you'd want to pour it over ice cream. The juniper berries in these pickles bring in soft citrus and floral flavors, with a piney-woodsy flavor from the rosemary and spice from the black peppercorns. If you have a hard time tracking down juniper berries, check in the bulk section at your local natural foods store.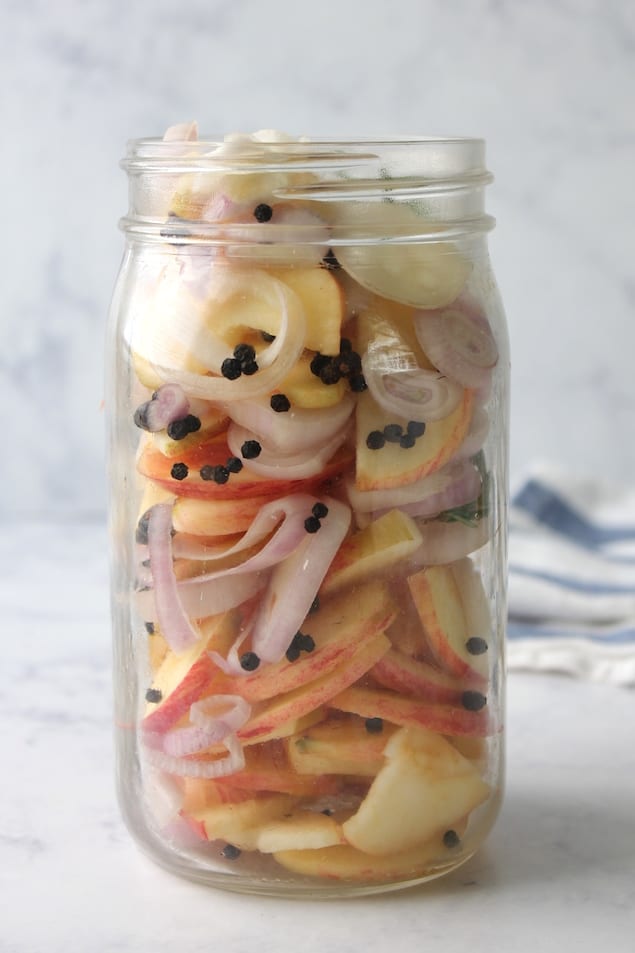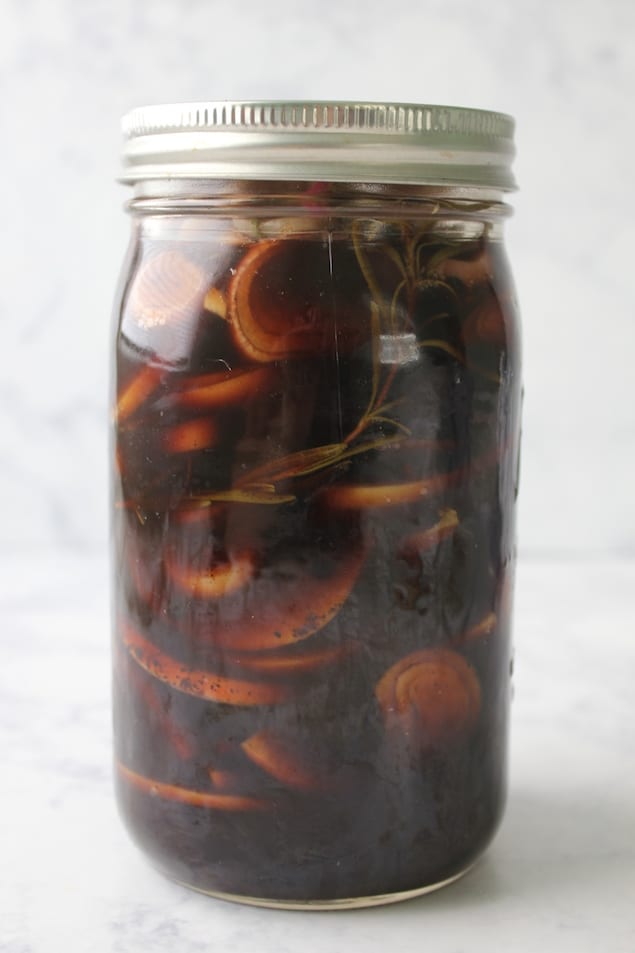 Print
Pickled Apples in Balsamic
Savor autumn apples by quick pickling them in a sweet balsamic with shallots. Serve on salads with cheeseboards or even on top of a burger.
Author:

Mallory Leicht

Yield:

1 quart

1

x
Category:

Side, Condiment
3 cups

sliced gala apples

1 cup

sliced shallots

1 teaspoon

juniper berries

1 teaspoon

black peppercorn

1

small sprig of rosemary

1 cup

balsamic vinegar

1/2 cup

honey

1/2 cup

water

1 teaspoon

pickling salt
Instructions
Cut apples into quarters and slice away their seeds and core. Cut into 1/4 to 1/3 inch slices (depending on your preference; I prefer thicker slices . Cut shallot into 1/4 inch slices. Toss apples and shallots together in a medium-sized bowl. I used a 1-quart mason jar for the pickling, but you can use any similarly sized jar or sealable non-reactive container. Add the slices to the jar, interspersing juniper berries and black peppercorn along the way. Place the rosemary sprig down the side of the jar once the apples, shallots, juniper berries, and black peppercorns are in place.
Heat honey, balsamic vinegar, water and salt in a medium saucepan over medium high heat. Bring to a boil and stir until the honey is completely dissolved, about one minute. Pour over apples and shallots in the quart jar, seal with the lid and let cool to room temperature. Once cool, place in the refrigerator and enjoy within a week.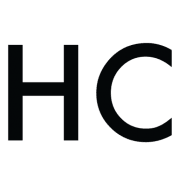 Mallory Leicht
Mallory is a food and beverage blogger and organizer of flavor-focused workshops with Chase the Flavors, a do-it-yourself resource with a Midwest perspective that celebrates savoring the special in every occasion with recipes and everyday inspiration in the kitchen, home, and beyond. Mallory is a librarian with a special interest in information access across new technologies, seed libraries, audiobooks, and non-dowdy cardigans. She loves to see the ways people use libraries to bring their dreams to life and believes that information access and education empower joyful, creative living. Beyond blogging and books, is coffee. Mallory keeps connected with the specialty coffee industry as a competitions committee member for the Specialty Coffee Association of America, helping judge deliciously inspiring coffee competitions.