Made with wild sourdough, these bagels are chewy and full of flavor. With malty flavor and a good crust, there is no reason to buy bagels once you get in the rhythm.

New York style bagels were completely novel idea to me after jumping over the pond. Growing up, we had bagels that were slightly sweet, dense and dry, not chewy, and not crunchy, more pretzel-like. They also were thinner and had larger holes. I loved our bagels (called boublick, BTW), fully convinced that they were the best and the greatest thing, that is, until I tried the New York style bagels in America. Mmm… I was instantly hooked. You can't confuse NY style bagels with anything else, and those chilled bagels from the dairy aisle of your trusted supermarket don't count as bagels, so please don't even start, I am talking the REAL ones — the crunchy on the outside and distinctively chewy on the inside, plump and beautiful numbers, sprinkled with… well… anything in the world, from kosher salt to crunchy onion bits.
For a long while, my Sunday lunch of choice was a toasted sesame bagel with plain cream cheese, topped with smoked white fish (chunk, not salad) from Goldberg's Bagel & Deli. It had a slice of tomato on it, a few green olives and a half sour pickle on the side… I am drooling just thinking about it. Second favorite, of course, was a classic lox-n-bagel combo, with red onions, tomatoes and capers.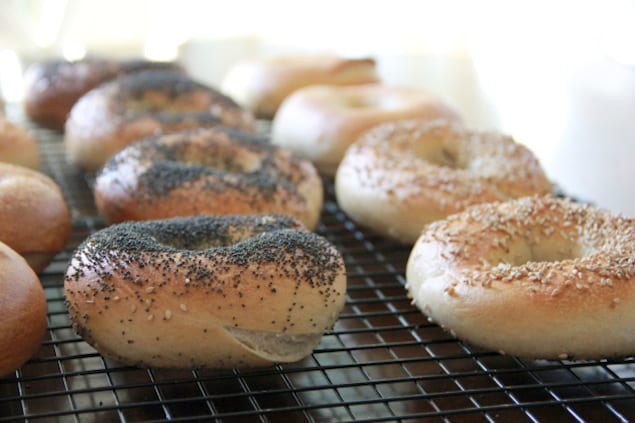 Then I read a bit more and found that yeast sponge could be substituted happily with wild sourdough for added flavor, and I decided that this may be the way to go, since I keep sourdough starter in my kitchen at all times. I did purchase a batch of white barley malt and a bag of bread flour, because I wanted to stay as true to the recipe as possible. The rest was history. It all came together very well and paid off tenfold. The bagels turned out perfect! They had it all — the satisfying crunch, the just right amount of chewiness without pulling your dentures out, the distinctive malty flavor, and oh the looks, the gorgeous glossy looks! They also keep quite well, can be frozen raw or baked, and the recipe is so simple that it will scale like a charm, if necessary.
The recipe may seem lengthy, the process spawning two days. However, if you look closely, it's quite plain to see that it will flow very well with your busy schedule. Say, if you scale the bread starter on a Friday morning, you can go to work and forget all about it, then make the dough batch in the evening, refrigerate overnight, which is the proper way to deal with it, and boil and bake bagels on Saturday morning, which won't take long at all. The actual hands-on time is very minimal. By the time your oven is fully heated, the boiling part will be done. And after that, it only takes 20-25 minutes to bagel bliss… It will all be worth it in the end, when you and yours will sit down in front of still warm heap of bagels, inhale the aroma, slice those bagels open, toast (or not, if you are a purist), slather with cream cheese and sink your teeth into the crunchy and chewy flesh. Ahhhhh….
Print
Peter Reinhart's New York Style Bagels with Wild Sourdough
With wild sourdough, these bagels are chewy and flavorful. With malty flavor and a good crust, there is no reason to buy bagels once you get in the rhythm.
Author:

Peter Reinhart

Yield:

1

2

1

x
Category:

Baking
Wild Sourdough Sponge:
500 g

(

4 cups

) bread flour

500

ml (2 cups) non-chlorinated water
your ripe 100% hydration wheat sourdough starter
Final Dough:
1000 g

(

5 cups

) of sourdough sponge (above)

4 cups

bread flour, divided

2 tsp

barley malt or

1 tbsp

malt barley syrup

3 tsp

salt

1 tsp

dry yeast
Instructions
Make the sponge: This is a great way to refresh your starter and make a sponge for bagels at the same time. Mix whatever quantity of wheat starter you have with the water. Whisk until foamy. Add flour. Mix thoroughly until all lumps are gone. Scrape the sides of the bowl with a spatula. Cover loosely with plastic or lid and leave for at least 6-8 hours. Sponge is ready when very foamy and stretchy, and when 1 tsp of starter dunked in a glass of cold water doesn't sink. If you are working office hours, this portion of the process is best done in the morning, one day before you want bagels. Go to work, by the time you are back the starter should be ready.
Make the dough: Measure out 5 cups (or weight 35 oz) of the starter sponge. Reserve the remainder of the sponge for other projects.
Combine starter, salt, malt, yeast and 3 cups of flour in a bowl and mix together until they form a ball.
Adding the remaining flour in batches, 1/4 cup at a time, continue kneading the dough until all added flour is fully absorbed. Keep adding flour until the dough is tough and non-sticky, but still smooth and elastic. Sometimes it takes a bit less flour, sometimes more. If you notice tears or "stretch marks" in the dough, add a few drops of water to remedy that and stop the addition of the flour.
Continue kneading the dough by hook or by hand until it's fully smooth and elastic. It will still be quite tough. It will take about 10 minutes by hook or 15 minutes by hand to get to that stage.
Immediately divide the dough into 12 (or 24) equal parts. Standard size bagel will be about 4-1/2 oz (130 g) when raw.
Shape each portion of the dough into a ball, and then shape it into a roll, much like a bratwurst sausage.
Cover all rolls with a damp towel and let them rest and relax for 20 minutes.
Line a baking sheet or a board with parchment.
Shape the bagels: Wrap each roll around your fingers, overlapping the ends right under your index finger.
Press the ends together with your thumb and index finger, place your open palm with dough on it onto the table and roll back and forth a few times, allowing the ends to fuse together.
Place the bagels as you shape them on the lined baking sheet or board. Cover with plastic and let rise 20 minutes.
After 20 minutes, perform the float test. Fill a medium bowl with cold water. Put one of the bagels in the bowl. If the bagel floats within a few seconds, it's ready. If not, dry the sacrificial bagel off with a towel and return it under the plastic for another 15-20 minutes. Repeat the test.
Once bagels are ready, place them, still covered with plastic, in the refrigerator and leave overnight or up to 36 hours. Do not skip the refrigeration step: it is necessary for flavor and texture development.
Boiling and baking: once you are ready to bake your bagels, preheat the oven to 500F. Prepare a board or a tray lined with a clean and dry dish towel for wet bagels to rest on. Line up your bagel toppings at this time. Get your slotted spoon or skimmer ready.
Place a wide pot filled with water on a stove and bring to a boil. A regular soup pot will fit 4 bagels at a time, which is great. Once the water is boiling rapidly, add 1 tbsp of baking soda to the pot, to increase the boiling. Leave the heat on high to ensure rapid boil at all times.
Remove bagels from the fridge and carefully lower them 3-4 at a time into the boiling pot. Boil bagels for 1 minute on each side, turning them once with the slotted spoon.
Remove bagels from the pot and line them up on the towel. Sprinkle bagels with toppings now, as they are the stickiest at this point. Proceed with the remaining bagels, until all of them are done and sprinkled.
Transfer bagels onto the parchment lined baking sheet.
Bake for 20-25 minutes, or until they are evenly browned on all sides. Some ovens are not baking evenly, so you will have to watch for that, and rotate the baking sheet mid-baking.
Cool bagels on rack until manageable and enjoy. Allow bagels to cool fully before storing them in plastic.
Bagels can be frozen after step 14 (overnight ripening in the fridge) or after they are fully baked and cooled. If you are baking bagels after freezing them, thaw bagels for 1 hour prior to boiling them.
Yuliya Childers
Yuliya Childers is a self-proclaimed cooking and writing addict born and raised in a cosmopolitan city of Odessa on the Black Sea coast. She started cooking at quite an early age and learned most of her skills by watching others and reading cook books. Made-from-scratch naturally grown food is her passion. Yuliya believes that truly good food either creates or invokes memories. Her blog Eat Already! is focused on everyday creative yet un-pretentious cooking that anyone with basic skill can replicate. Yuliya's recipes are usually accompanied by childhood memories or family stories related to the dish in some way. Her recipes are honest, eclectic, multi-cultural, imaginative, and often outside the box. Currently she's into artisan breads, traditional cooking, and everything fermented… Yuliya is cooking and writing about it from Alabama.