Health-up your pizza with whole-wheat, tomatoes, olives and bell peppers.
By Suchitra Vaidyaram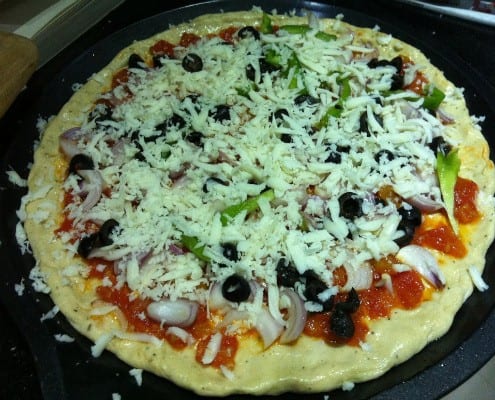 There were days, in my good old past when I was absolutely hooked to pizza. Honestly, if Dominoes were thinking of bringing in some promotion/discount/offers, probably, I would have been the first person to receive that by mail. Now, I try to stay away (sorry, you don't win a prize for guessing why). With so many alternate healthy options in the market, I realized, pizzas can be done in a healthier way! This is my first ever attempt at making a whole wheat pizza and I have to admit, it doesn't taste different. It tasted sumptuous and if you don't overdo the cheese, it can be a much healthier option. For my first attempt, I tried to play safe by mixing whole wheat flour and all purpose flour together. Next time, I might get more innovative and try just the whole wheat. Easy to make and sumptuous to taste, what else can you ask for?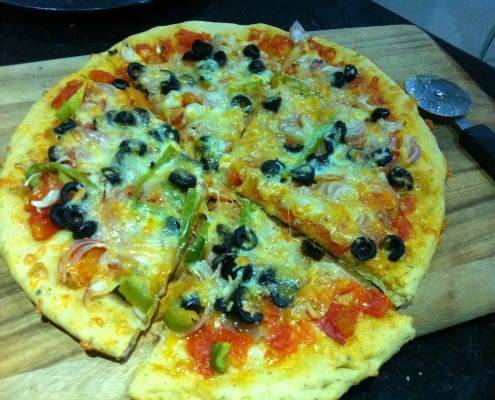 Pizza doesn't have to be unhealthy always.
Author:
Suchitra Vaidyaram
Ingredients
½ cup whole wheat flour
½ cup all purpose flour
1 tsp quick-rising yeast
warm water
olive oil- 1 tbsp
salt-1/2 tsp
sugar-1/4 tsp
Good Pizza sauce-
Toppings- 2 small onions (sliced), ½ cup sliced black olives, 1 tomato chopped, 1 green bell pepper sliced
Instructions
Dissolve yeast in a small cup of warm water and sugar. Allow it to rest for 5 minutes in a corner.
The yeast would start frothing up.
Combine whole wheat flour and all purpose flour with salt in a big bowl and make a small well in the middle.
Pour the yeast mixture and slowly start mixing the flour.
With the help of warm water knead the flour into a smooth dough.
Add around a tbsp of olive oil to make the dough smooth and elastic.
Store the dough in a fresh bowl and cover it with damp cloth. Allow it to raise for an hour.
After an hour or so, when the dough has doubled in size simply punch out the air from it and gently knead it on a floured surface.
Roll out the pizza and drizzle some olive oil on top.
Spread pizza sauce and desired toppings- I used sliced onions, sliced black olives, sliced green bell peppers and chopped tomatoes.
Top it with shredded mozzarella cheese and season it with salt and pepper.
If need be, drizzle in some olive oil.
Bake the pizza in a preheated oven till the base is crisp and golden (15-20 min, @200 deg celsius)
Notes
Get a good pizza base sauce from the store or you can make it at home by sautéing tomato puree with garlic in olive oil. Add salt and black pepper to season and bring it to a sauce consistency. You can caramelize your onions with bell peppers and olives for topping (optional).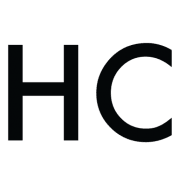 Suchitra Vaidyaram
Suchitra is passionate about cooking flavorful food and loves fusion cooking. She records her recipes on the blog Flavors, which focuses on simple and easy to cook recipes.