A perfectly crisp meringue, with a marshmallow centre, topped with gently whipped vanilla-scented cream, and sweet and tangy nectarines.
By Candice Le Noury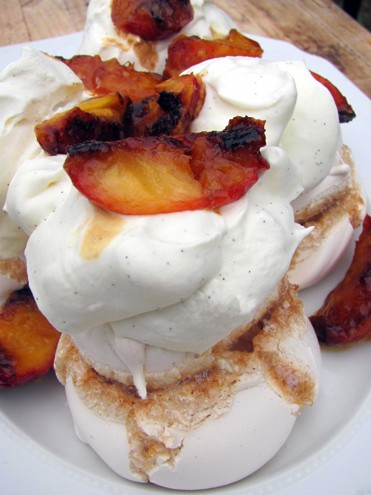 Sometimes you find a recipe, and you just know that you won't need to try another ever again. For me, this is the last meringue recipe I'll ever try. I know that sounds really awful, especially for someone who loves being in the kitchen so much, but this gives me perfect results every time – and I thought I'd share it with you too. The secret of its success lies in a few, small changes made to an otherwise standard recipe – and the results are amazing.
See Also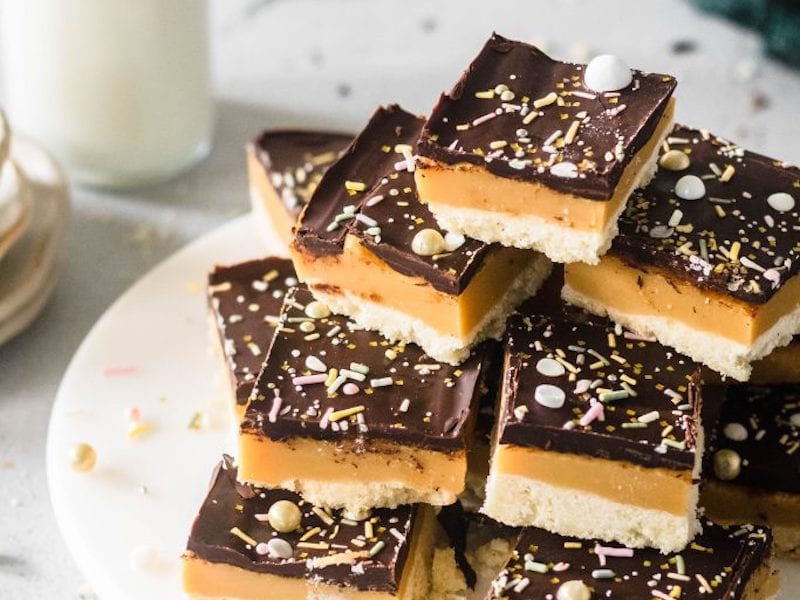 This is a fantastically versatile recipe, and almost any fruit can be used instead of nectarines – stone fruit will work best, but you could even use orange or citrus fruit segments, and I still think it would taste spectacular. Make this for your next lazy Saturday lunch, and prepare to have everyone swooning at your feet.

Perfect Meringue Recipe with Vanilla Bean Cream and Caramelised Nectarines
A perfectly crisp meringue, with a marshmallow centre, topped with gently whipped vanilla-scented cream, and sweet and tangy nectarines
Ingredients
Meringues
225g (8 oz) caster or granulated sugar
4 egg whites
1 tsp cornflour
Caramelised Nectarines
6 nectarines (or plums, peaches - any other stone fruit)
1 tbsp butter
1 tbsp brown sugar
1 tbsp water
Vanilla Cream
250ml (9 oz) cream
1 vanilla pod, seeds scraped out
Instructions
Meringues
Heat your oven to 150 degrees Celcius (300 degrees Fahrenheit). Place the egg whites and all of the sugar in a heat proof bowl. Heat a saucepan full of water on the stove, and when simmering, place your bowl of egg whites and sugar on top of the saucepan of water - making sure the water doesn't reach the heat proof bowl.
Stirring the egg whites constantly, allow them to become just warm, and the sugar to mostly dissolve.
Using an electric beater, beat the egg white and sugar mixture until thick, glossy peaks have formed - this will take about 5 - 7 minutes.
Sprinkle in your teaspoon of cornflour, and beat again for a minute until combined.
Line a baking tray with greaseproof paper, and spoon your meringue mixture into 6 equal mounds. Place in the oven and bake for 90 minutes. Then turn the oven off, and leave the meringues to cool inside the oven.
Caramelised Nectarines
Cut your choice of fruit in half, and remove the stone in the centre. Place your butter and sugar in a saucepan, and allow to melt and simmer - about 1 minute.
Place your fruit in the saucepan with the tablespoon of water, and allow to caramelise for about 5 minutes - the edges of the fruit should become a dark golden colour, and quite sticky.
Vanilla Cream
Place the cream and vanilla seeds in a bowl, and whisk until soft peaks form - the cream should gently hold its shape, but eventually be able to gently tumble down the side of your meringue mounds
To assemble, place your meringues on a platter, and dollop with the vanilla bean cream, making sure each meringue has a generous dollop on top. Scatter with the caramelised nectarines and the leftover syrup from the pan.
Candice Le Noury
Candice Le Noury is a vanilla-obsessed South African food blogger. A farm girl at heart, she writes about her cooking and eating adventures in her Cape Town kitchen, while dreaming of long wooden tables, wet-nosed cows, and wellington boots by the front door.