PARTNER POST: Discover new ways to incorporate seasonal teas into your holiday cooking and desserts with Celestial Seasonings.
Savor the holiday season with peppermint tea cookies loaded with warm vanilla and tea infused peppermint flavors. They're buttery and ideal with a matching cup of tea.
A few years back I made a simple new years resolution to start drinking more tea. Astonishingly, unlike any other resolution I've ever made, it stuck. Ever since, drinking tea has become a daily ritual that I look forward to as soon as it starts getting chilly outside. Come mid-afternoon, a hot cup of tea is the perfect way to relax, recharge, hydrate and warm up from the inside out.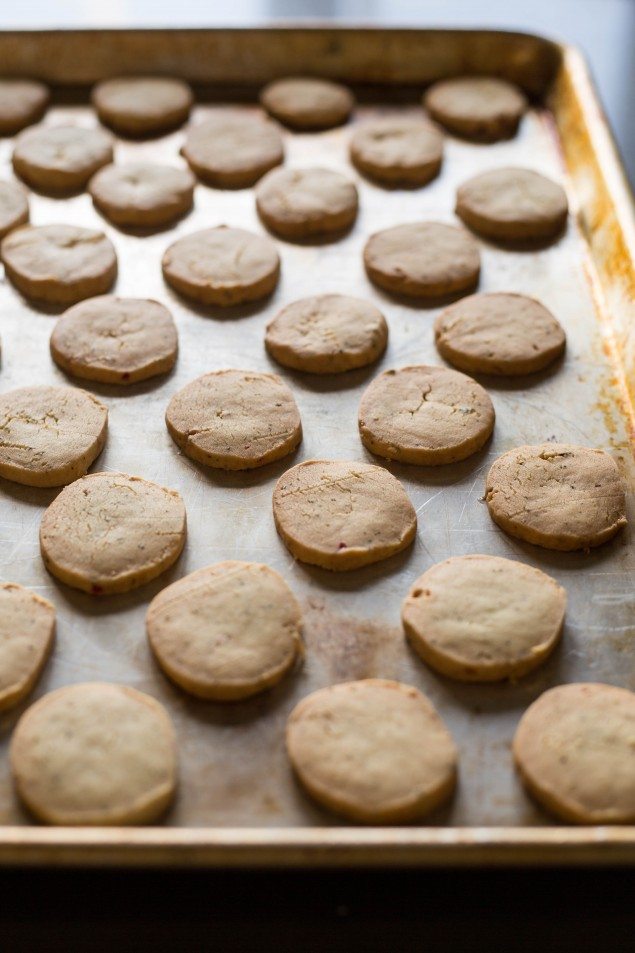 Over the years, my tea collection has grown so much that it now takes up an entire drawer in my pantry. I tend to stick to the basics – green, black, chamomile, jasmine, mint and a few different blends, including some made from my own home grown herbs, like lavender and lemon verbena. I rarely dabble in fruity, heavily spiced or fussy blends, which is why I wasn't entirely sure I would enjoy Celestial Seasoning's new line of holiday teas.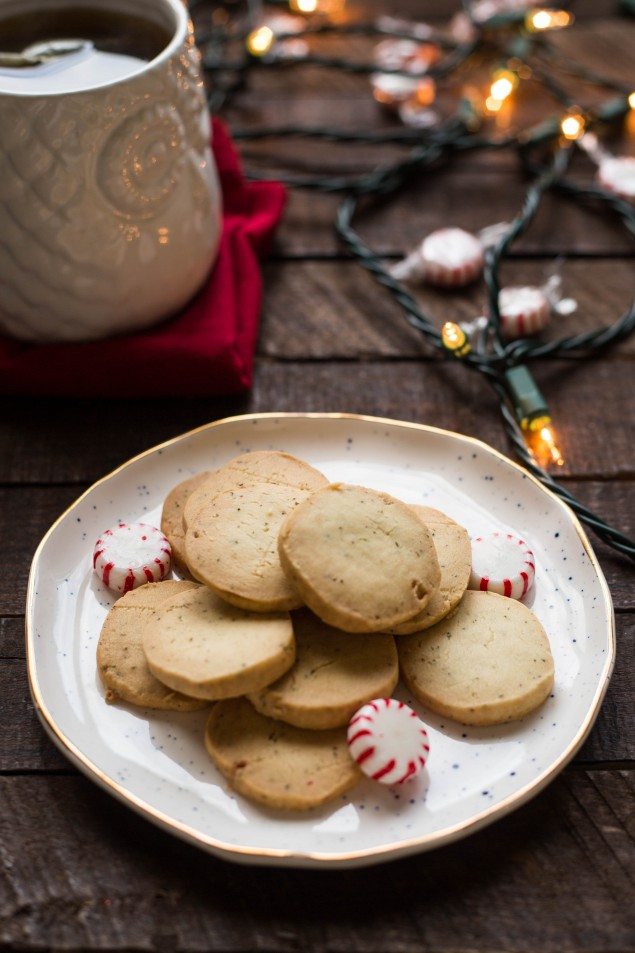 Still, I was eager to try the flavor called Candy Cane Lane. Peppermint tea has always been my favorite flavor. It's soothing to breathe in the warm vapor and it leaves a mild tingling sensation in the throat. This version is a blend of peppermint and decaf green tea with other flavors like orange peel, cinnamon and vanilla.
I went to brew my first cup, and as I waited for the water to boil I read over the ingredients. Lots of interesting stuff in here – milk thistle, roasted chicory, blackberry leaves and roasted carob – but nothing that threw me off. I like how the tea bags don't have any unnecessary packaging, not even a string to help fish them out (which I never do anyway). It's just the bag, and the environmentalist in me appreciates that.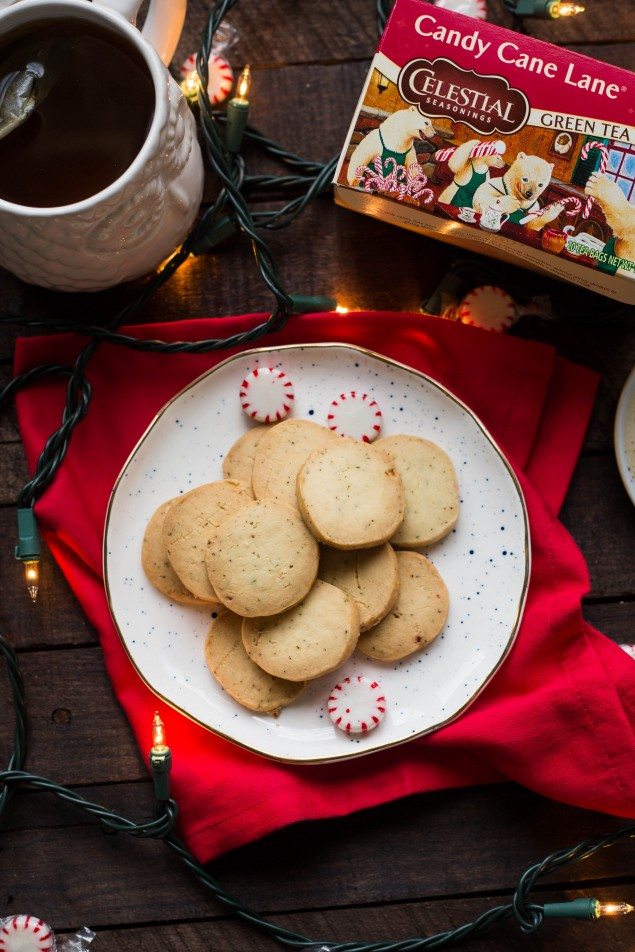 When my tea kettle sounded, I poured the boiling water into my mug and was immediately hit with a sweet peppermint and vanilla aroma. It smelled wonderful, but I still wasn't sure I'd like the taste. I don't like my tea sweetened, and I especially hate when tea bags have stevia in them. It gives such an off-putting fake sweet taste which ruins the whole experience. I never add sugar, honey or milk to my tea. I like it as-is, unlike my coffee which I load up with an obnoxious amount of honey and cream. I scanned the ingredients again – no stevia.
Once the tea was cool enough to not burn my tongue, I went in for a sip. Mmmm. I went in for another sip. And then another. This tea is amazing. Now I can say with conviction that it's my absolute favorite tea of the moment. It's minty, full flavored and well balanced with lovely hints of vanilla. It has a sweet flavor profile without actually tasting sweet, and it definitely doesn't taste like stevia, if that makes any sense. It has the kind of flavor that makes you want to keep on sipping, and it manages to curb a sweet craving without having to actually consume any calories, which is something I consider to be quite magical.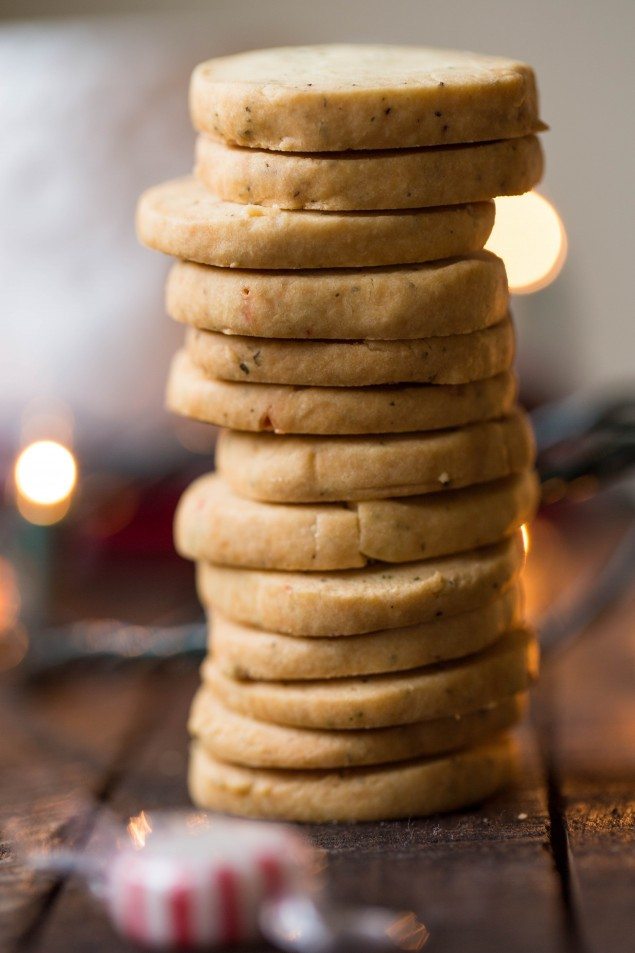 But! Tis the season for calorie consumption, and especially in the form of cookies. I created a recipe that not only goes really well with a steaming cup of this tea, but I actually used the tea to flavor it, too. These peppermint tea cookies have the same warm vanilla and peppermint flavor as the tea. If you've ever had green tea or Earl Grey flavored sweets, this is in the same ballpark. These shortbread cookies are incredibly buttery, simple and understated, which is perfect for easing into the holiday season nice and slow (just the way I like it).
Print

Peppermint Tea Shortbread Cookies
---
Author:

Nicole Gaffney

Total Time:

44 minute
Description
Savor the season with peppermint tea cookies loaded with warm vanilla and peppermint flavor thanks to tea. They're buttery and ideal with a matching cup of tea.
---
1

cup

unsalted butter

3/4

cup

powdered sugar

1/2 teaspoon

salt

1 teaspoon

vanilla extract

1

Celestial Seasonings Candy Cane Lane teabag

2

cups

all purpose flour

1

cup

cornstarch
---
Instructions
In the bowl of a stand mixer, cream the butter and powdered sugar with a paddle attachment on medium speed until light and fluffy. Add the salt, vanilla extract and the contents of the Celestial Seasonings Candy Cane Lane teabag (discard the bag). Mix on low speed until incorporated.
Add the flour and corn starch, one cup at a time, and mix on low speed until the dough just comes together. Turn the dough out on to a work surface and gently knead a few times, then roll out into a log about 1 1/2 inches in diameter. Wrap the roll in parchment or wax paper and refrigerate for at least one hour or overnight. Dough can be frozen at this point and stored for a later date.
Preheat the oven to 350 degrees. Remove the parchment paper from the dough slice into 1/8-1/4 inch rounds and place on a baking sheet about 1/2 inch apart. Bake for 15-18 minutes, or until golden around the edges. Allow to cool completely on the baking sheet before transferring to a serving platter or storage container. Cookies will keep covered at room temperature for 1 week.
Prep Time:

1.5 hours

Cook Time:

15 mins

Category:

Baking, Cookies, Dessert

Method:

Baking

Cuisine:

American
Keywords: christmas, cookies, shortbread, tea, peppermint