These gorgeous pear gingerbread muffins are perfect for cold and lazy winter days.
By Sara Clevering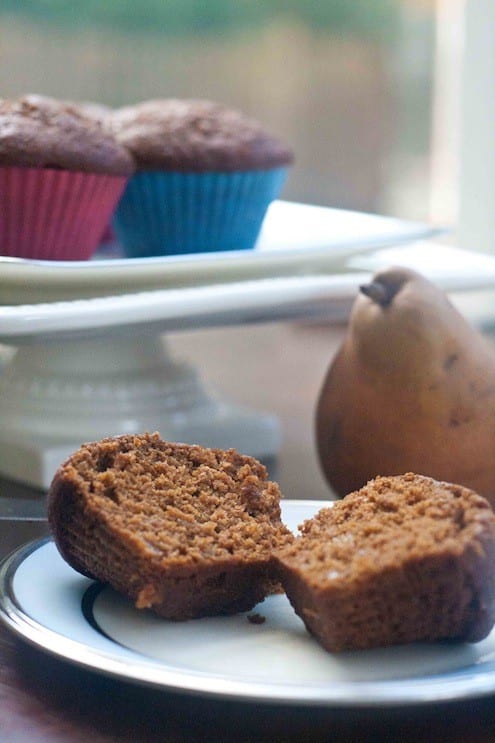 I always think there's something sumptuous about the idea of spices.  Hundreds of years ago, when spices were rare enough to be plied as currency, preparing food laced with a cinnamon, nutmeg, and cloves must have been more than merely welcoming–it was a statement. Today, of course, spices are no longer such a precious specie–cinnamon is an everyday flavor, nutmeg almost as much, and cloves we even use for decoration.  Still, somehow that history of luxury seems to linger, and I think that must be why I always feel a bit profligate when I add spoonfuls of these potent powders to a batter or dough.
Funnily enough, though, the end product is more about comfort than extravagance.  Take gingerbread–laden with spices, but what is more homey? To these gingerbread muffins, I've added chunks of juicy pear, a fruit that begs to be combined with these warm flavors. It's cozy feet in slippers in the middle of winter, but I could eat it any time of year.
Print
Pear Gingerbread Muffins
---
Author:

Sara Clevering

Total Time:

35 minutes
2

c (9.2 ounces or

260 g

) all purpose flour

1 1/2 teaspoons

baking soda

1 tablespoon

ground ginger

1 teaspoon

ground cinnamon

1/4 teaspoon

nutmeg

1/8 teaspoon

ground cloves

1/8 teaspoon

ground allspice
pinch of mace (optional)

1/2 teaspoon

kosher salt

6 tablespoons

(

3 ounces

/

85g

) unsalted butter, melted and cooled

1/4

c dark brown sugar (

1.4 ounces

/

40g

)

1

large egg

1/2

c (120mL) flavored light molasses

1

c (240mL) cold water
One Bosc (or other baking) pear, diced.
---
Instructions
Preheat oven to 375F (190C).
Line, or lightly butter 12 standard (1/3-cup/80mL) muffin cups.
Whisk flour, baking soda, ginger, cinnamon, nutmeg, allspice, cloves, mace if using and salt in medium bowl to blend.
In a second larger bowl, mix together the melted butter, sugar, molasses, and eggs. Stir in
the cold water. Add half of the dry ingredients and stir until blended. Stir in the remaining
dry ingredients. Fold in the diced pears.
Bake gingerbread until a tester inserted into center comes out clean, about 22-25 minutes
(check after 20 minutes).
Set on a rack to cool for 10 minutes. Remove the muffins from the muffin tin and allow to cool completely on the rack.
Notes
Feel free to substitute whole wheat or whole wheat pastry flour for up to half the all-purpose flour called for in the recipe. In fact, this is another advantage of the spices: they add enough flavor that picky eaters probably won't even notice the whole wheat.
Prep Time:

10 mins

Cook Time:

25 mins
Sara Clevering
Sara sees cooking and baking as a delicious way to connect with the past and travel the world from her kitchen. She is commited to preparing homemade, unprocessed meals for her family and is always looking for tricks to fit this into a busy schedule. Sara is currently in the Boston area after several years living in London, Spain, and the Czech Republic, and travelling extensively in Eastern and Western Europe, always making sure to experience local culture through food. She also blogs with her sisters at www.threecleversisters.com