Similar to peanut noodles, this recipe is sweet and salty, but with a new twist. The addition of red cabbage adds a nice crunch to perfectly coincide with the more delicate sauce.
By Vicki Brett Gach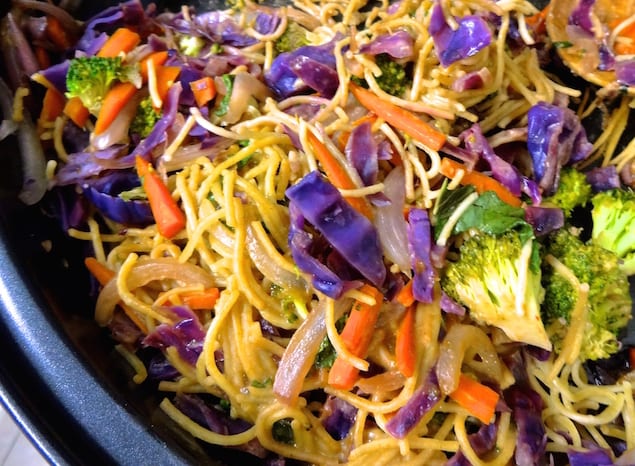 This peanut sauce includes fresh basil and more lime juice, and interestingly, only one half of the peanut butter of a traditional peanut noodle recipe. This version is more delicate, not quite as salty, and maybe a little bit thinner. Along with the addition of crunchy red cabbage and onions…well, it's a winning combination.
This new sauce was inspired by a recipe from The China Study Cookbook, by LeAnne Campbell for Nutty Noodles with Vegetables.
Although her recipe called for vegetables that included red bell pepper, green bell pepper, and jalapenos, the first time I made it, I had none of those. I improvised with what I did have – red (purple) cabbage, along with the requisite garlic, onions, carrots, and broccoli.

Peanut Sauté: Indonesian-Style Pasta
This recipe is sweet and salty, but with a new twist of cabbage to add great crunch.
Author:
Adapted from The China Study Cookbook, by LeAnne Campbell
Ingredients
½ lb. whole wheat angel hair pasta, cooked
¼ cup vegetable broth
¼ cup water (or more if needed)
1 onion, sliced
1 large carrot, cut into thin strips
1 clove garlic, minced
2 cups red cabbage, thinly sliced
2 cups chopped broccoli flowerets
¼ cup fresh basil, chopped
¼ cup natural peanut butter
¼ cup natural soy sauce or tamari
2 tablespoons rice vinegar, unseasoned
1 tablespoon fresh minced ginger
2 tablespoons agave
1 teaspoon of a "mild" hot sauce (I like Cholula)
Sea salt to taste
Juice of one fresh lime
Instructions
Prepare ½ pound of pasta. Drain and set aside.
In a large skillet, add broth, water, onions and carrot. Sauté for 5 minutes, or until vegetables are slightly cooked. Add the garlic, cabbage, and broccoli, and continue to cook for a couple of minutes until the broccoli turns bright green, but is still tender-crisp. Stir in pasta and fresh basil. Set aside.
In a separate saucepan, mix peanut butter, soy sauce, rice vinegar, ginger, agave, and hot sauce. Cook over medium heat, stirring until mixture is smooth. Pour over noodles.
Season with salt. Squeeze the juice one lime over the pasta, and serve.
Vicki Brett-Gach
Vicki Brett-Gach is a food writer, recipe developer, cooking instructor, Certified Vegan Lifestyle Coach and Educator, and Certified Personal Chef. She specializes in simple, low-fat, heart-healthy plant-based nutrition, and writes, coaches, teaches, and blogs about delicious vegan food. Find more of Vicki's recipes on her blog, Ann Arbor Vegan Kitchen at AnnArborVeganKitchen.com.