If you're craving an outrageous peanut butter treat, this recipe has you covered with these sensational Peanut Butter Cheesecake Bars.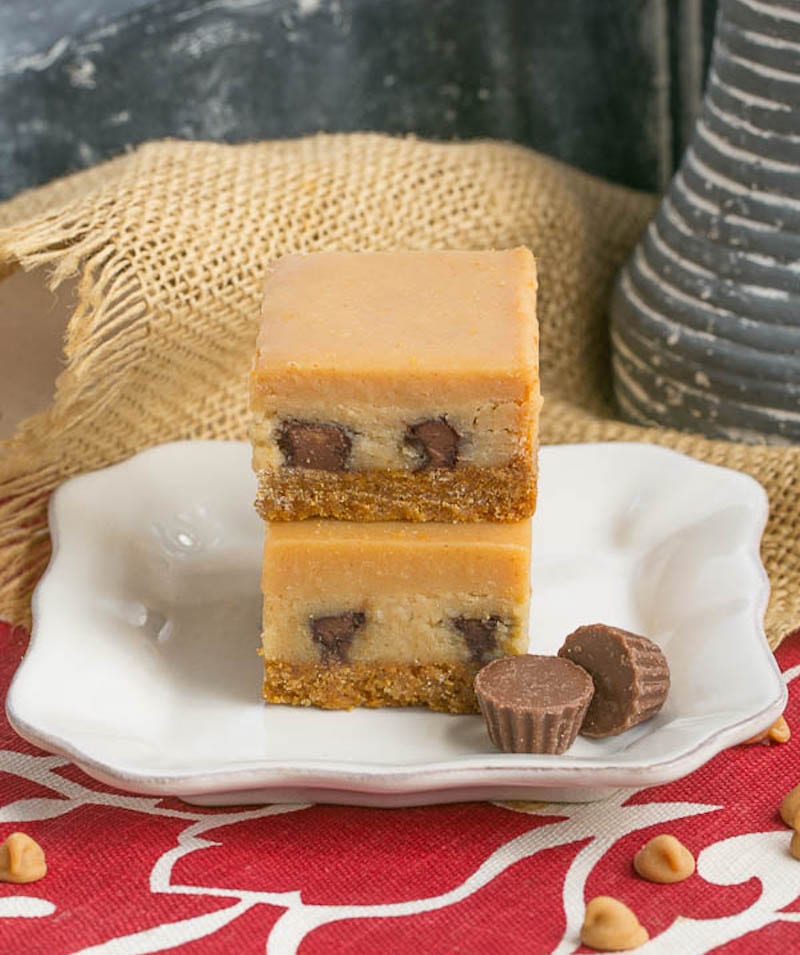 My friend, Danielle, has amazing peanut butter dessert recipes on her blog. I happen to dislike peanut butter straight up, but adore it in sweets. I love it so much that my typical super-duper willpower falls to pieces when I have peanut butter desserts in the house. So I planned to make her Peanut Butter Cheesecake Bars I accidentally purchased mini Reese's instead of the snack sized, but they were still extraordinary! Decadent with a capital "D."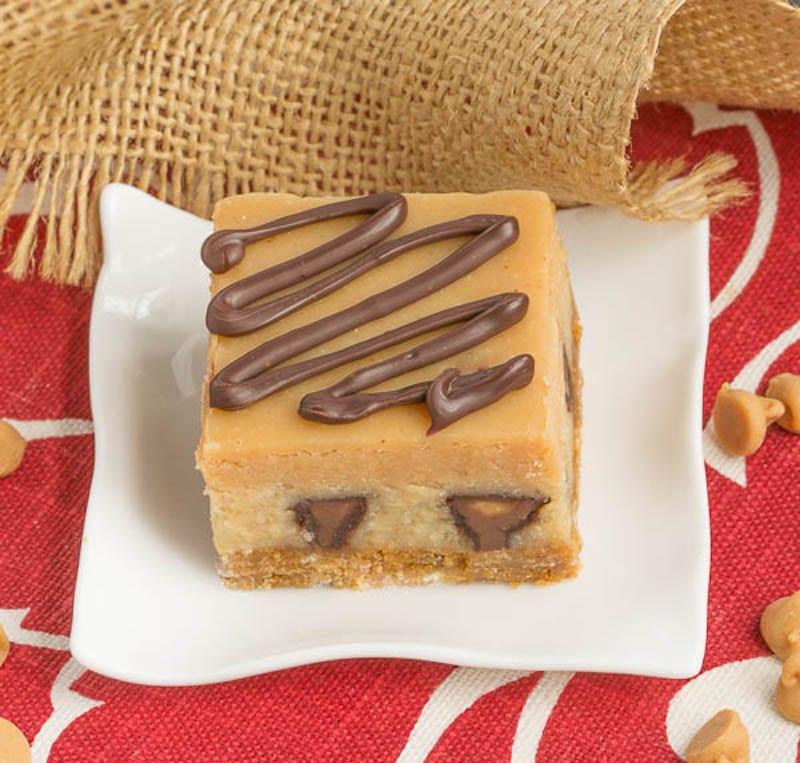 I had never used peanut butter chips before, but the resulting peanut butter ganache tasted like incredible fudge. The base was a graham cracker crust which was topped with yummy peanut butter cups, then a peanut butter cream cheese mixture. After baking them off, the ganache was poured over the top. Drizzling isn't my forte—especially when I'm in a rush, so I bedazzled one with a bit of melted chocolate, but I'd definitely add it for company. These were a fabulous indulgence! If you're like me and love peanut butter desserts, you need to rationalize a reason to make these. You won't be disappointed.

Peanut Buttercup Cheesecake Bars
Ingredients
Graham Cracker Crust:
8 tablespoons (1 stick), butter, melted
½ cup sugar
1½ cups graham cracker crumbs
Filling
Snack sized Reese's Peanut Butter Cups (I accidentally used 8 ounces of Reese's Minis)
8 ounces cream cheese, at room temperature
½ cup sugar
¼ cup peanut butter
Peanut Butter Ganache:
½ cup heavy cream
8 tablespoons butter
1 cup (6 ounces) peanut butter chips
2 tablespoons powdered sugar, sifted
Instructions
Line an 8 x 8-inch pan with nonstick foil. Preheat oven to 350º.
In a medium bowl, mix the melted butter, sugar and graham cracker crumbs. Press into bottom of prepared pan. Bake 9 minutes, then remove from oven and let cool. Leave oven on.
When the crust is cool, cover bottom with peanut butter cups.
To make the cheesecake layer, mix cream cheese, sugar, egg and peanut butter with an electric mixer. Carefully spread over peanut butter cups. Bake for 30 minutes. Let cool completely.
To make the ganache, microwave the cream and butter till butter is melted. Whisk in peanut butter chips till smooth. Mix in powdered sugar and pour over bars.
Chill firm before cutting. Cut into 9-16 squares. Drizzle with melted chocolate chips if desired.
Store in refrigerator.