If your Valentine is a peanut butter-lover, you know what to do… Fluffy peanut buttery Butterfinger cupcakes topped with a rich and creamy cloud of frosting!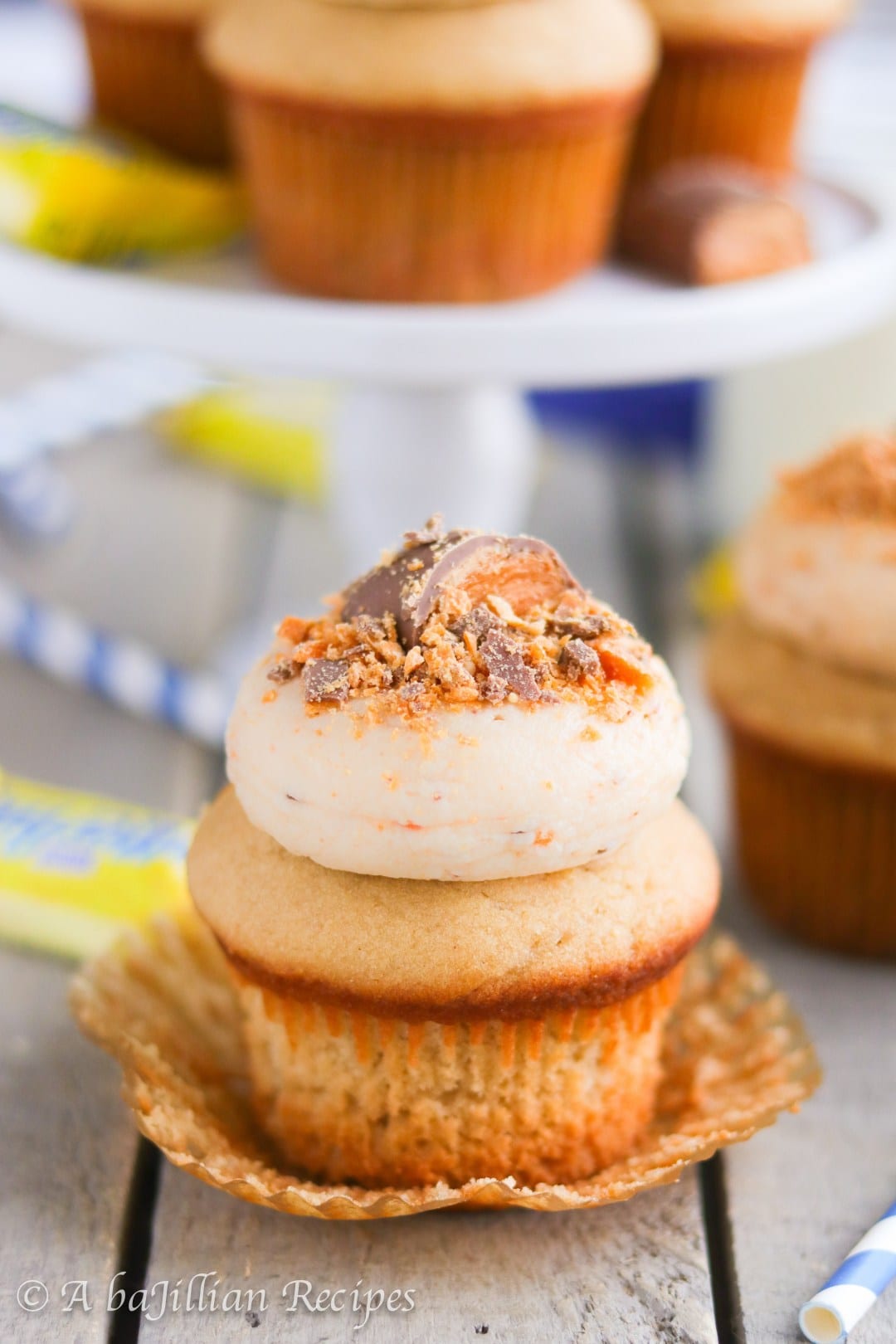 Of all the classic candy bars, I'd have to say that my favorite is the Butterfinger bar. Of course, tomorrow I'll probably change my mind and say that it's the Snickers bar or Reeses cup, but lately, I can't get enough of that flaky peanut butteriness of the Butterfinger.
Not only is it delicious AF (as fudge), but it's also a very versatile candy that can be stirred, blended, or incorporated into any kind of dessert. Whether it be something as simple as a milkshake, or something as decadent as a cheesecake, you really can't go wrong when it involves the Butterfinger.
Case in point with these Peanut Butter Butterfinger Cupcakes!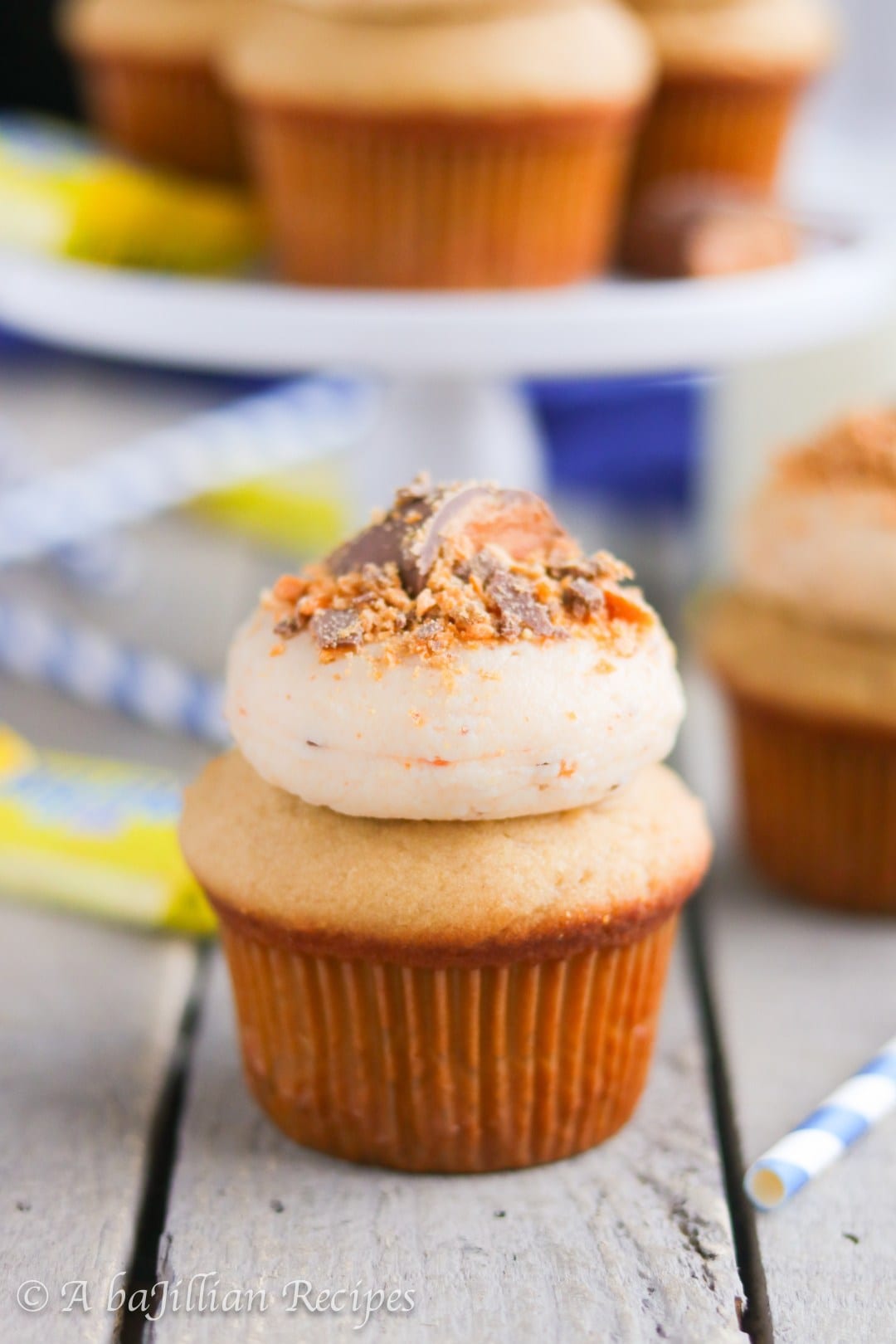 Scrolling through my repertoire of cupcake posts, I was astonished to discover that I had not yet made a peanut butter cupcake yet. After almost 6 years of blogging, how in the world was this possible?? Especially being the peanut butter fanatic I am. Luckily, these cupcakes definitely made up for that empty void in my blog.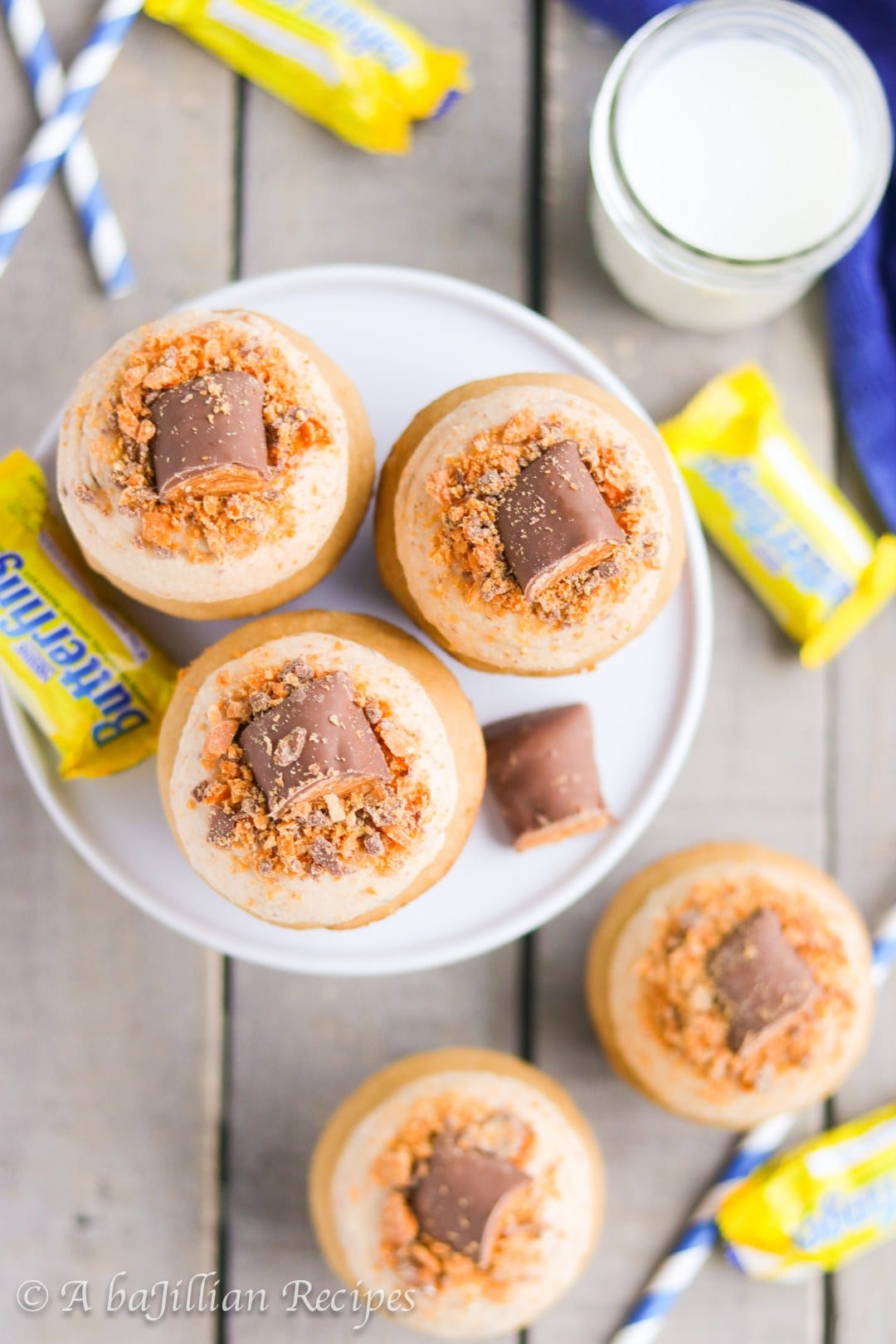 In my very humble opinion, everything about these cupcakes is perfection. Ok, so maybe that's not so humble, but still. The cupcakes themselves have the perfect moist to fluffy ratio, thanks to a generous amount of Greek yogurt as well as an extra egg yolk. Sour cream or plain yogurt can also be used in place of Greek yogurt.
To infuse these cupcakes with that peanut butter nuttiness, I added a 1/2 cup of creamy peanut butter to the batter. To enhance the flavor of the peanut butter, I added a combination of brown sugar and granulated sugar. I love brown sugar for the maple flavor it provides, and granulated sugar for its structure. Not too much sugar is called for in the batter since peanut butter also adds sweetness.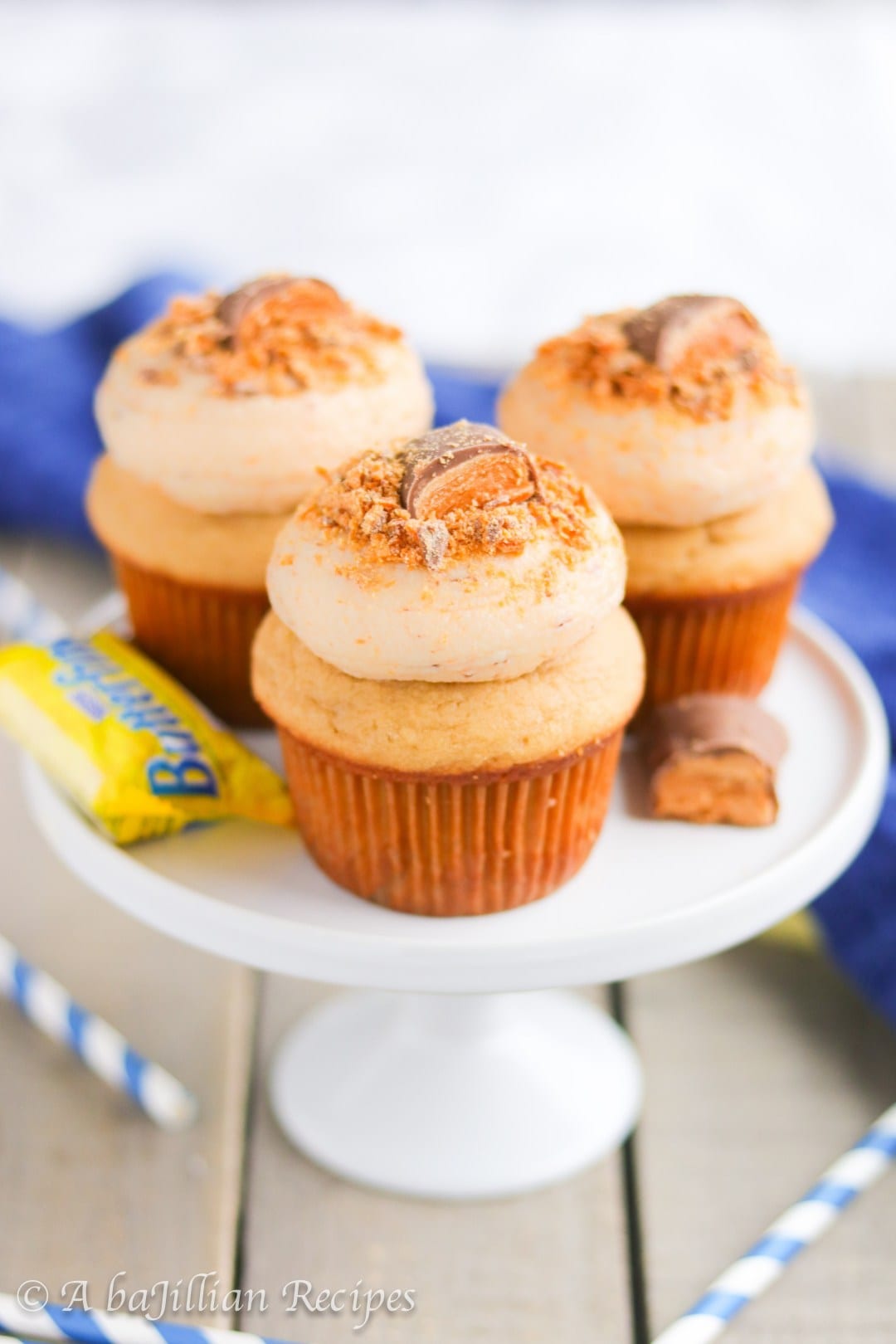 The rest of the ingredients are pretty standard–flour, baking soda, salt, vanilla, and little milk. Once everything is combined, you'll notice that this batter is pretty thick. It's more scoopable than pourable. Depending on how full you fill your cupcake liners, you should end up with 12-14 cupcakes. Being the dare devil that I am, I managed to fit all of the batter into just 12 liners. FULL liners, I might add. But I was pleasantly surprised to find that there was no overflow and they rose nice and tall in the oven. I'm thinking that it had to do with how thick the batter was to begin with.
See Also
One crucial thing I've learned when it comes to baking cupcakes is that baking them long enough is absolutely key if you want to prevent postbaking sinking. Y'all know what I'm talking about. When the cupcakes trick you into thinking that they're done since they look so perfectly risen and voluptuous in the oven. So you take them out, only to end up with concave cupcakes a minute later…womp womp. There's a delicate balance in underbaking and overbaking cupcakes. You don't want to underbake them, yet you don't want to risk drying them out by overbaking. Confusing and frustrating, I know. When it comes to testing for doneness, my tip is to gently press on the cupcake. If it bounces back instantly instead of leaving a dent in the cupcake, it's done.
To frost these cupcakes, I made a simple Butterfinger frosting. Since I wanted the peanut butter flavor to shine in the cupcakes, I abstained from adding it to the frosting. Plus, Butterfinger is also the star of these cupcakes so it DESERVES to be in the spotlight of this deliciously creamy frosting. The base starts off like any other classic American buttercream recipe–whip up some butter, beat in some powdered sugar, and finally a little vanilla, a pinch of salt, and a few Tablespoons of milk. The exciting part comes when you add the millions of tiny buttery flecks and flakes of crushed Butterfinger!
And if the Butterfinger frosting wasn't enough Butterfinger action for these fluffy cupcakes, a fancy little Butterfinger crown is added to the top.
Click HERE for the amazing Butterfinger frosting recipe.
Print

Peanut Butter-Loaded Butterfinger Cupcakes
---
Author:

Jillian Hatsumi

Yield:

12

to

14

cupcakes

1

x
Cupcakes:
1

and 1/2 cups all-purpose flour

3/4 teaspoon

baking soda

1/8 teaspoon

salt

1/4 cup

unsalted butter (softened)

1/2 cup

creamy peanut butter

1/2 cup

granulated sugar

1/4 cup

brown sugar

1

whole egg

1

egg yolk

1 teaspoon

vanilla

1 cup

Greek yogurt

1/4 cup

milk
Frosting:
Click the link above for the recipe.
---
Instructions
Make the Cupcakes:
Preheat oven to 350°F. Line a muffin tin with 12 cupcake liners.
In a medium-sized mixing bowl, whisk together the flour, baking soda, and salt; set aside.
In a stand mixer fitted with the paddle attachment, beat the butter, peanut butter, and both sugars together until light and fluffy, about 2 minutes. Add in the egg, egg yolk, and vanilla, mixing until combined. Add the Greek yogurt and milk, and continue beating until fully incorporated. Add the dry ingredients, and mix until just combined.
Evenly distribute batter among cupcake liners, then bake for 20-23* minutes, or until you gently press on the top and it springs back instantly instead of leaving a dent. Allow cupcakes to cool for 15 minutes before transferring to a wire rack to cool completely.
Make the Frosting:
Click the link above for the recipe.
Jillian Hatsumi
I'm Jillian, the writer, baker, chef, recipe creator, and amateur (very amateur) photographer of A baJillian Recipes. Though I'm not a classically trained chef, I like to think I know my way around a kitchen pretty well. Aside from baking, cooking, and EATING, I also enjoy acting, couponing (I LOVE saving money!!), running, working out, photography, and playing with my little fluffernutter, Olivia. She's a dog, if you're wondering...