Silky, smooth and rich, this dark chocolate gelato is the perfect way to cap off a special meal.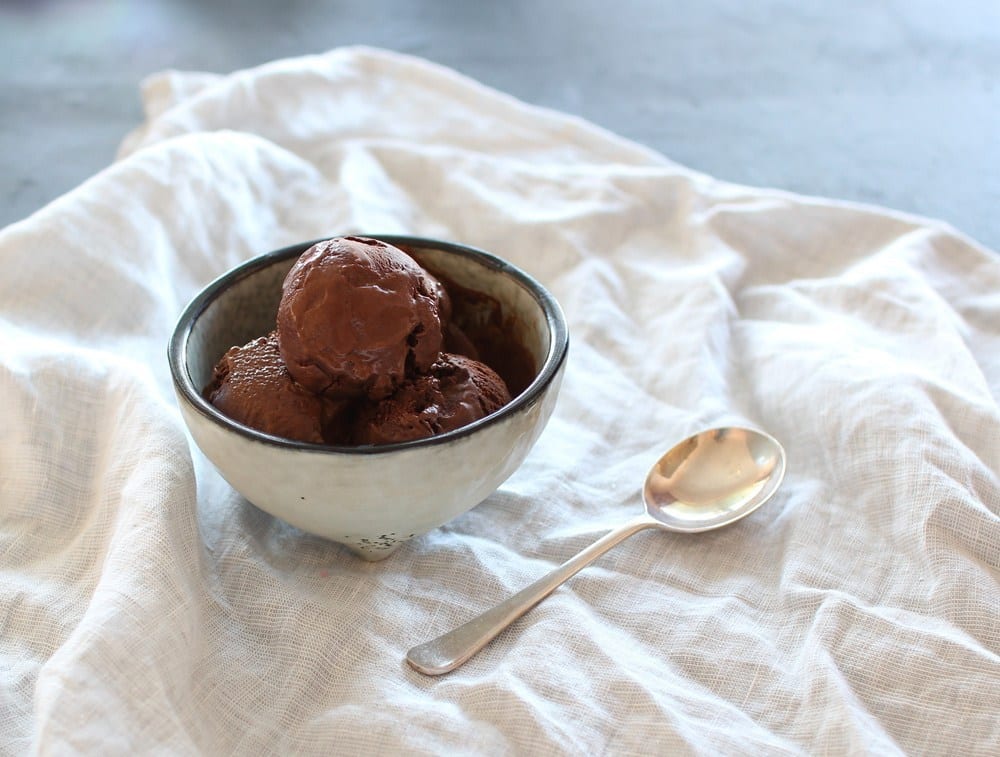 Is there anything more sublime than gelato? That delectable Italian ice cream, with its silky texture, is my idea of heaven. Frankly, I've been remiss in not making it before now.
I admit I had no idea of what gelato was until I toured Italy in the 1980s. Used to the creamy, aerated texture of regular ice cream, eating gelato was a revelation. Relying more on milk than cream, and often with less eggs, it tastes like a frozen (but not too frozen) milkshake. Without all that cream, gelato is richer in flavour and denser in texture than ice cream. There are a multitude of flavours available – some of my favourites tend to be the light fruit flavours like lemon, lychee and watermelon.
However, just sometimes you ache for something rich and velvety like dark chocolate. This double chocolate gelato recipe from BBC Food certainly does the trick. It's incredibly easy to make, yet tastes like the real deal. I used 62% cocoa chocolate which made for a slightly bitter dark chocolate flavour. If you're not a fan of that level of bitterness, you might opt for a 50% cocoa chocolate instead, or simply pair it with something sweet, like meringues, as I did.
While I used an ice cream machine, you can make it without – the instructions are below for both. And just be aware, once frozen, gelato can take a while to soften up so bear that in mind when serving. Ideally, it's meant to be served at about 15 degrees Fahrenheit.
Now that I've broken the ice (pardon the pun) and made my first gelato, I fully intend to try making a bunch of 'em this summer. I'm salivating already!
Click HERE for my version of this recipe.
Susan Knaap
I'm Susan - food lover from the best little country in the world - New Zealand. I'm an 'accidental' cook who fell into it, hook, line and sinker when I turned the big 5-0. Not exactly sure why it happened; perhaps some previously defunct piece of DNA came good. Anyhow, I'm making up for lost time and spending countless hours in the kitchen cooking up a storm. Desserts are my Archilles heel, followed closely by good old-fashioned baking - it's good for the soul; not so much for the waistline!