Soft peanut butter cookies team up with their delicious teammate, chocolate ganache, for a sweet dessert sandwich.
By Lizzy Wolff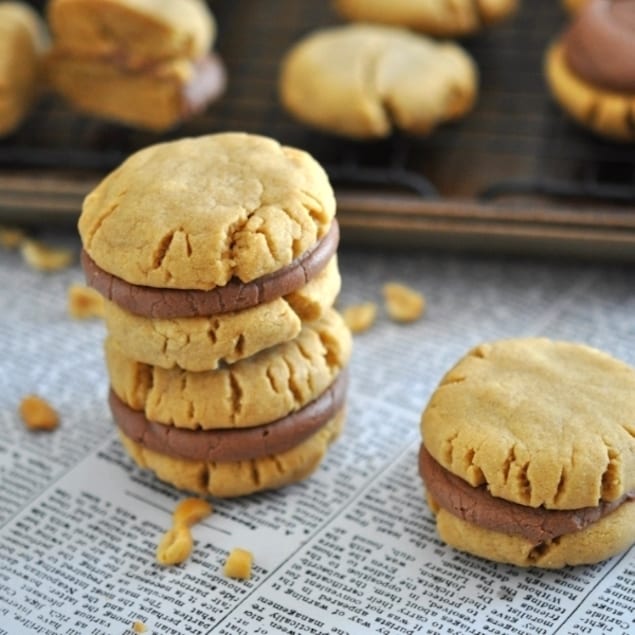 For a long time, I didn't know what it was with peanut butter and chocolate. After these cookies, though, I totally understand. I usually don't go for peanut butter cookies cause they can be so dry. But these are thick and soft and the ganache in the middle is what every peanut butter cookie has been missing since the beginning.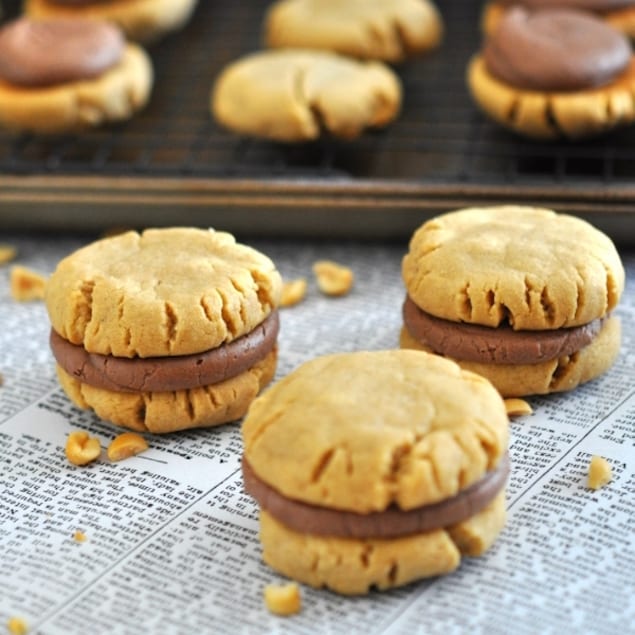 Print
Peanut Butter and Ganache Cookie Sandwiches
---
Description
Soft peanut butter cookies team up with their delicious teammate, chocolate ganache, for a sweet dessert sandwich.
---
for the cookies
½ cup

butter, softened

1 cup

peanut butter

½ cup

white sugar

½ cup

packed brown sugar

1

egg

½ teaspoon

vanilla extract

1 teaspoon

baking soda

¼ teaspoon

salt

1 3/4 cups

all-purpose flour, exactly
for the ganache frosting
8 ounces

chocolate, semi-sweet

1 cup

heavy whipping cream
---
Instructions
Beat butter, peanut butter, and sugar until fluffy. Add your eggs and vanilla and beat until thoroughly incorporated.
Combine dry ingredients with a whisk.
Slowly add dry ingredients to peanut butter mixture until well combined (in three batches).
Form dough into balls with your hands. The dough should be easy to handle, not sticky at all. Using a glass, press each ball down until it is a disc that is about 1/2″ thick. You can also fix any cracks around the edges with your fingers if you'd like (I did).
Bake in a preheated 350 degrees F oven until for about 5-7 minutes. It's super important not to over-bake these. I took mine out at 6 minutes. If they are any more than very slightly browned around the edges, they've been in too long.
Cool completely on wire rack. Next you'll make your ganache frosting.
Heat your heavy cream in the microwave, or on the stove, until very hot (almost boiling). Put your chocolate in the hot cream and let it sit for about two minutes. Using a whisk, mix the cream and chocolate until it is smooth, dark, and shiny. Let the chocolate chill in the fridge for a few minutes, maybe 15. Then place it in the bowl of a mixer and beat until it's thick and holds it's shape!
Using a round tip (or a Ziploc with the corner cut out) pipe ganache onto the bottom of half of your cooled PB cookies. Place another cookie on top and nom nom nom all day long!
Lizzy Wolff
Lizzy Wolff, creator of Sugar + Butter, loves to make you drool on your keyboard. It's a real thrill for her. For more recipes, click 'website' below.