Pasta With Mexican Black Bean Sauce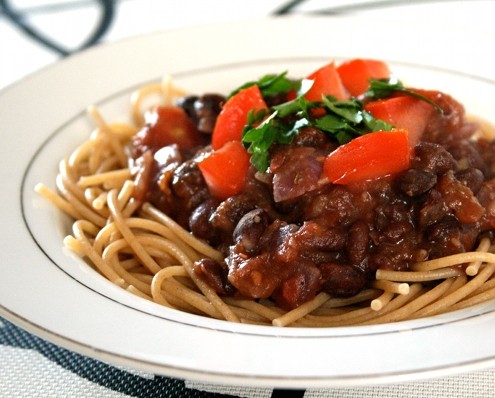 Why should the Italians have all the fun with pasta? Brady Evans decides to add a touch of Mexico to her carbs.
By Brady Evans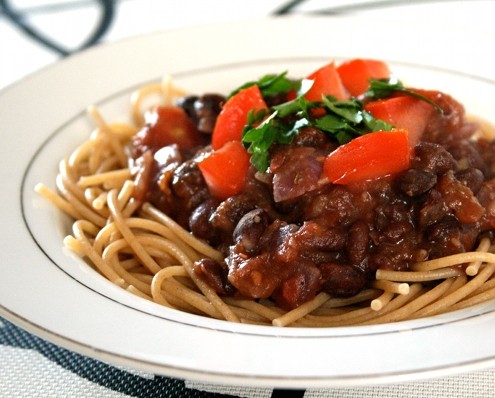 Pasta is so easy and perfect for a weeknight meal. Italian food, unfortunately, really has the market cornered when it comes to pasta dishes.  It is amazing how fresh this meal seemed with this Mexican style bean sauce served over spaghetti rather than rice.  What's more – this carb cooks up in 15 minutes rather than 45 (brown rice)!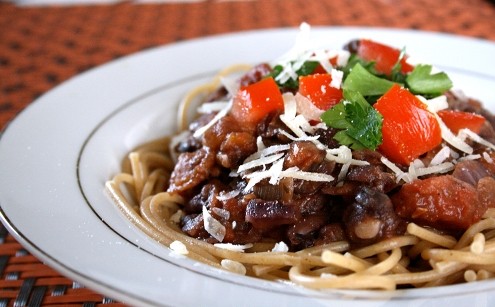 The recipe calls for an ingredient that I don't always have on hand: canned stewed tomatoes.  They pump up the flavor significantly and easily, but I'm sure regular canned diced tomatoes can be used.

Pasta with Mexican Black Bean Sauce
whole wheat pasta topped with spicy black bean sauce
Author:
adapted from American Dry Bean Board
Ingredients
Nonstick cooking spray
1 medium onion, chopped
1 clove garlic, minced
2 cups (475 mL) canned stewed tomatoes, undrained
2 tablespoons chopped green chiles
1 tablespoon chopped fresh cilantro
1 teaspoon chili powder
½ teaspoon sugar
¼ teaspoon oregano
2 cups (475 mL) canned black beans, rinsed and drained
8 ounces whole wheat pasta, cooked according to box directions
Instructions
Coat a large skillet with cooking spray. Place over medium heat until hot.
Add onion and garlic; saute until tender.
Stir in tomatoes, green chiles, chili powder, sugar, and oregano.
Cover and bring to a boil.
Reduce heat, and simmer 15 minutes, stirring occasionally.
Using an immersion blender, puree beans to desired consistency.
Serve over hot cooked pasta and garnish with fresh cilantro.
Brady Evans
Brady Evans is a cook who specializes in stretching cooking boundaries towards a more healthy lifestyle. She loves making recipes with unexpected ingredients and share her passion for cooking through her very successful and mostly-vegetarian blog, Branny Boils Over.