Laura Bednarski muddles away at a slice of cucumber, and ends up with a refreshing cocktail for today's festivities.
By Laura Bednarski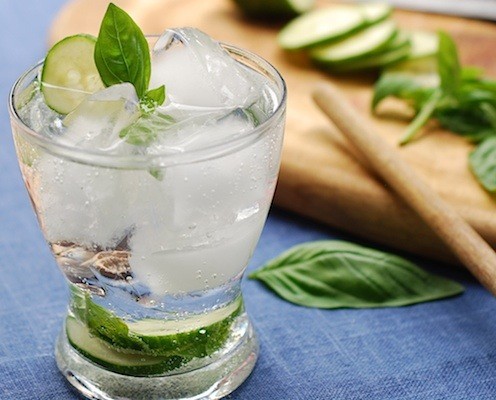 Our friends Lena and Jennifer came over a few weeks ago to muddle about the kitchen with us. We often cook together and just let it all out in suburbia with the best food and drink we can muster. This particular meal was marinated pork tenderloin grilled to perfection with a glorious sauce made of grainy country mustard and orange juice, French rolls, wild rice with dried cherries and scallions, sautéed baby spinach, mixed salad greens with a light vinaigrette and apple tartlets ala mode for dessert.
For a pre-dinner drink Jennifer purchased a vodka infused with cucumber and vanilla. I usually stick to beer and wine but I would definitely give this one a go. Her friend at the liquor store told her to muddle some cucumber slices and basil leaves in the bottom of the glass. Oh when I heard we would be muddling I had a big smile on my face. Frankly, I just love the word muddle.
If you have never muddled or don't know what muddling is here is the Webster definition.
– to make turbid or muddy
-to befog or stupefy especially with liquor
-to mix confusedly
– to make a mess of : bungle
So we put the basil and cucumber in the bottom of a rocks glass and took the back of a wooden spoon and started smashing. Other than being great fun the food scientist in me knows the reasoning behind. You are crushing the cells of the herb and vegetable thus releasing the flavor.
After we finished muddling we added lots of ice, infused vodka and seltzer water. I have to say I enjoyed this drink immensely. It was light, refreshing and the flavored vodka combined with the cucumber and basil was unexpectantly good. So refreshing on a hot July evening or late afternoon.
The brand of Vodka she used was Effen. I went to their website which is beautifully done. It looks like they have four flavors. Cucumber, black cherry, dutch raspberry and original. Wow imagine the possibilities.
Laura Bednarski
Laura Bednarski is a regular contributor to Honest Cooking. Laura has always had a love and passion for both food and photography. She pursued a degree from Purdue University in Food Science and then went on to work as a commercial food stylist in Chicago for many years. While raising her two children and cooking at home for a family she picked up her camera and found some great light and created a food blog "a suburban kitchen". In her suburban kitchen she creates seasonal food for her family and takes photographs. Her love of photography has been rekindled and her Nikon gets a workout on a daily basis as she searches for the perfect light to photograph all that she cooks/bakes.